Nisa Lyndem speaks for her Khasi culture in north-east Indian and the beautiful silk dyed shawls that bear its tradition.
I am a Khasi. I was born In Shillong, a picturesque town in the state of Meghalaya in North-East, India. Khasi households are headed by women and the lineage is traced through the mother. They are known to be the largest surviving matrilineal community.
My strong connection to the North-East was evident from an early age, as I was exposed to two different ethnic cultures. My father is a Khasi whereas my mother is a mix of Khasi and Mizo (a tribal group from Mizoram, India). With early exposure to cultural practices in the Northeast, my interests in traditional art practices were almost innate. My curiosity towards the traditional craft of the region blossomed since my first visit to the Eri silk weaving clusters in Umden and Diwon village, Ri bhoi district of Meghalaya, India, as well as handloom weaving clusters in Thenzawl, Mizoram. Ever since then, I felt there was a need to preserve our culture, especially in small communities like ours. I have been looking into various ways to promote these crafts and felt that documenting and writing about them would be of most value to me.
Handloom weaving with its unique and traditional techniques has been an inherited and old age process of the Khasis. Eri silk or as we call it ryndia in our native language, is traditionally a handspun, handwoven fabric, worn with pride by both the men and women in Meghalaya. Ryndia is a significant cultural symbol of the Khasis and is truly a reflection of the community. The fabric, in its undyed off-white state, or other times the maroon and mustard plaid design exudes the cultural essence of the Khasi people. Ryndia pieces are treated as heirlooms which get better every year.
Eri silk production also provides livelihood to families in the region. It is a traditional art inherited from generation to generation and treated as a means of occupation, making the clusters self sustaining communities. Ryndia or Eri silk in Meghalaya is produced from start to finish by women who spin, weave and dye Eri silk individually in their own homes or in clusters. Eri silkworms are reared by the weavers in baskets and placed throughout the homes. Mature worms are collected and put on cocooning mountages. The ready cocoons are then sundried, degummed and hand-spun using a traditional spindle.
The Eri silkworms are reared by the weavers and are one of the only silks extracted from cocoons without killing the silkworm. Hence, it is also known as "Peace silk" or "Ahimsa silk". With its rustic look, Eri silk has great thermal properties making it cool in summers, warm in winters and has also been certified as eco-friendly. Umden village has gained recognition for producing the finest Eri silk in India and Umden- Diwon village has recently been declared as the first "Eri Peace Silk" village in the world.
Ryndia is exclusively handwoven by the weavers and is organically dyed using only natural and locally available raw materials such as plants, minerals and insects.  Natural dyeing is an art that the weavers have acquired and learned from their forefathers. The weavers of this village have been practising the tradition of organic dyeing for generations but there has been little written record of it. The dyeing process is 100% organic and the weavers still follow the same process that has been practised since olden times. The mordants or colour fixers are also obtained from natural sources like plants and tree bark.
Traditionally the only three main colours used were lac red, Turmeric yellow and black from iron ore. Today, with training from government schemes and NGOs the artisans have been able to increase their repertoire of colours.
Artisans in Northeast India are most often afraid to take the challenge of experimenting but are open to the idea if approached by someone else. Sustaining and promoting handicrafts, especially languishing art, is important for cultural sustainability. Other than government schemes and NGOs, emerging designers and business owners could also play a huge role in raising awareness and exploring design ideation for the development of the craft so as to preserve and retain the cultural essence of the Fabric.
About Nisa Lyndem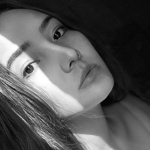 Born in the culturally rich region of Northeast India, Nisa Lyndem is a PhD scholar who studies tribal handloom and handicrafts of the region. Her current thesis is titled "Cultural appropriation and semiotics study of textiles handwoven in Nagaland". Having documented and interacted with Artisans from this region at a young age, she had come to realise that there was little existing literature on textiles related to these small but culturally rich tribal communities. Besides cultural textile study, she is a firm believer in connecting intangible cultural heritage with sustainable employment for local women today. Handloom weaving in the Northeast is extensively done by women and enables them to stand on their own feet. She believes handloom weaving should form part of an approach that enhances all aspects of the women's lives, including being financially independent, having the feeling of personal contentment and having the choice of working from home, while taking care of their families. Visit www.culturescopene.com
✿
Like the article? Make it a conversation by leaving a comment below.  If you believe in supporting a platform for culture-makers, consider becoming a subscriber.
Tags