Devyani Gupta's furniture morphs into curved forms that tell ancient stories.
Vakr is a Delhi-based design studio that brings unique design ideas to life through the poetics of combining modern computer-aided technology with traditional craftsmanship. The ethos of Vakr is based on an immersive approach to elevate high-end furniture through an exploration of sensual, organic and sophisticated forms fueled by a commitment to explore Indian craft as a global language. The studio's customisation of furniture results in unconventional and dynamic designs that redefine the body's relationship to its surroundings.
Vakr started with a single mindset of contextual, high-end furniture by exploring India's rich arts and crafts when evolving and expanding the "sculptural furniture" vocabulary became necessary. The studio was born out of the need to address contextual furniture design that complies with the modern, minimalist look and evokes a feeling of luxury. With numerous design innovations, the studio has formalised combining vernacular and contemporary materials by involving local artisans.
Vakr supports indigenous arts and crafts, incorporating them into their designs to create innovative, unique and contemporary products. They believe that the pieces in any space must prompt conversation about India's craft and culture and the advent of technology and materials. Guided by the laws of physics and the nature of the materials, Vakr breaks from the utilitarian conforming mould that the design language of furniture typically follows by introducing bold aesthetic elements into these pieces, making them statement pieces. The studio works consistently on evolving the design language to seamlessly fit into the modern vocabulary, giving every client something unique. Each piece is unique owing to the natural texture of the materials and the handcrafted nature of the piece.
At Vakr, the endeavour is to produce designs where technology is a significant part of the process. Yet, the final pieces are achievable only through handcrafted precision, epitomising expert artistry and experienced thinking from conceptualisation to production of each product.
Vakr strives to achieve minimum wastage during manufacturing, intending to move towards a zero-waste policy. The materials utilised in producing prototypes and samples are entirely biodegradable, reflecting Vakr's commitment to environmental sustainability. Any residual foam is repurposed for cushioned packaging purposes, and the shipping crates utilised are constructed from reusable wood materials, as opposed to traditional cardboard. These measures align with the studio's values and address the growing concern for ecological responsibility.
The white ball on the coffee table from the Lehar series serves a dual purpose. While it adds a unique touch to the table's aesthetics, it also functions as a soft, ambient light. The ball is meticulously crafted to complement the concrete by creating a warm and inviting atmosphere in one's living space.
Dravam is a limited edition series that embodies the fusion of molten sculptural forms and timeless Indian artistry. Dravam, derived from the Sanskrit word for "fluidity", perfectly encapsulates the essence of this collection. Here, molten geometrical shapes come to life, adorned with intricate motifs from diverse art traditions such as Pichwai, Madhubani, and Warli.
Regarding the making process of the Dravam series, the molten forms are a distinctive feature of this collection. The process of creating sculptural furniture is one of great precision and care. Devyani Gupta, founder of Vakr Studio, explains how the process involves several crucial steps. The first step is the creation of various iterations of a form, such as the cylinder, to understand how this basic form "melts" and shapes itself into something unique. The next step involves considering the practical aspects of the form, as it is a functional furniture piece. Once the clay model is ready, it goes into the computational design phase. Gupta and her team take certain lines, analyse the flow pattern of these lines into a computational design and re-form it on the computer. The final shape is then ready for execution, which is a waffle-cutting process, not 3D printing. They cut thin slices that are joined together, totalling about 50 pieces. This process can be used for any material.
Finally, the artisans will engrave and finish the piece, adding the final touches. This process ensures that the final product is a work of art, with every detail having been carefully thought out, and executed with precision.
About Devyani Gupta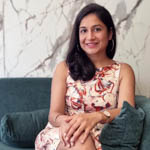 Devyani Gupta is a multidisciplinary designer specialising in product design, combining tech-based mechanisms with traditional craftsmanship through the exploration of different materials and techniques. As the Founder and Principal Designer at Vakr Studio, a Delhi-based furniture design studio, she has been conceptualising and producing customised bespoke luxury handcrafted products that blur the line between furniture, art and sculpture. A graduate of Sushant School of Art & Architecture and with a master's degree in Advanced Architecture from IAAC, Barcelona, Devyani's journey towards architecture and design is a path less taken. She is also an avid reader, photographer and traveller who reimagines product design in a progressive light with the vision to bring new reforms to stagnant trends in India. Visit www.vakrstudio.com and follow @clicks.by.devyani.
Tags