Renowned as a celebrated travel destination for culture seekers from all pockets of the globe, Oaxaca attracts leagues of visitors over the span of a year, including thousands of national tourists. In addition to historic architecture and dance, the well-deserved fame of this region is based on a prodigious array of cuisine, libations and handmade artisan works. Different towns produce their own specialties, however there is a commonality in these offerings – the slow made process.
To indulge in a plate of mole with chicken, and to envelope yourself in a handwoven textile, is to pay tribute to the fascinating traditions of this diverse state, while also actively supporting the makers themselves. Further to this, as the knowledge of these production processes are typically passed down from one generation to the next, to partake in these rituals inevitably serves as a means to pay homage to these family histories and traditions. For the makers, it is a way to provide for themselves and their families, but also to honour their family, as well as the guests who are invited to take part in these precious ceremonies.
While it is still a hotly contested topic between the states of Puebla and Oaxaca as to who owns the right to claim mole as their own, this rich sauce is undeniably acknowledged as the national dish of Mexico. Mole (pronounced moe-lay) is an incredible labour of love, if making it entirely from scratch. There are various types that are commonly consumed in Oaxaca – from coloradito that features mashed plantain, onions, garlic, spices, chocolate, and seeds, to mole verde with cilantro, tomatillos, chilies, pumpkin seeds, onion, garlic and chicken stock. While this thick sauce is commonly served over meat with rice and handmade tortillas, it can also be found in breakfast treats like enmoladas, along with handmade tamales.
Mole negro is the most difficult type to prepare and is also the most common dish served at Oaxacan weddings. After partaking in the comprehensive cooking process, I appreciate the dedicated hours that go into creating this culinary delight – and admittedly find it slightly daunting.
The making of mole negro is typically a two-day affair, with entire families of women coming together to chop, toast and stir enormous vats of bubbling liquid. While the recipes vary slightly per region and per family, the basic ingredients typically include five types of chillies, garlic, onions, raisins, peanuts, almonds, pecans, sesame seeds, cinnamon, tomatoes, tomatillos, oregano, celery, carrots, lard and Oaxacan chocolate. The chocolate itself is even a process, as local women usually make their own by combining hand ground cacao, cinnamon and sugar. In fact, every element of this sauce possesses its own step – from seeding and toasting chillies and nuts on a comal to preparing the handmade chicken stock.
As with mole and Oaxacan cuisine, the scope of quality, handmade textiles that are produced in this region is simultaneously a source of intrigue and admiration. While there is a large amount of factory-made, synthetic garments with lower price points on offer, the authentic gems that speak to my textile loving heart are those that are made by hand with natural materials and traditional tools, as was practised by generations past.
In my work as an artisan liaison and product developer in Mexico and Guatemala, I have the good fortune of collaborating with an insanely talented roster of local artisans. One of these groups is Katyi Ya'a – a multi-generational, democratic collective of indigenous women in the Mixtec region near the coast of Oaxaca. Together, they process, spin and weave organic coyuchi cotton entirely by hand. The group was formed in an effort to collaborate around sourcing new clients, producing custom orders, and gathering as a unified front to strive for fair pay and ethical working standards.
While many artisans in this region weave for a living, most buy their threads pre-made, which is understandable as spinning cotton is an immense amount of work. The women in this collective who make magic happen with wooden drop spindles are regarded as the "abuelitas"—or the grandmothers—as it is mainly the older members of the group that possess the skills and patience to execute this step of the process. In addition to their weaving work, Katyi Ya'a also sells drop spindle and wheel-spun thread in three different weights. Their cotton is grown on small plots, is free of pesticides and is often planted alongside corn. The overall goal with these efforts around planting and working with coyuchi is to revive and maintain this sublime natural resource.
Local cotton grows organically in shades of camel, white and green. It is first picked by hand, sorted, then beaten with large sticks on mats of woven banana leaves – a process that one of their group representative, Isabel Nicolas Hernandez, jokes helps to work out the frustrations of a difficult week. After this, the resulting clean, puffy cotton is guided onto the spindle with expert hands that are coated with a natural mineral powder to keep the material from sliding out of grip.
The cotton is then woven on traditional backstrap looms, with their signature open weave pieces being painstakingly separated thread by thread when needed during the weaving process. This is to ensure that there is even spacing throughout the piece after washing and drying and that no large holes are apparent. This step of adjusting the spacing is often done with simple tools like sharpened animals bones, as they are inexpensive and easy to source. The result is a sublime, airy textile that is ideal for the hot and sticky climate of this region.
At present, there is an increased worldwide focus around slow made – from food to textiles and beyond. The underlying values around this movement highlight quality over quantity, tradition over trend, and community over corporations. For Oaxaca, this is how life has always been and continues to be—only now it has been moved to the international stage.
In sharing a meal of mole negro, or running inquisitive hands across a handwoven organic cotton scarf, we have the incredible opportunity of participating in rituals that pay tribute to those who have left their spirits behind. They've done so by guiding their loved ones through their ancestral knowledge, as something to be continued with love and care. To invest in slow made is not only to help support the local economy, but also to savour history in the finest way possible.
Author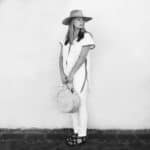 Ehren Seeland is an artisan liaison and product developer, as well as the Founder and Creative Director of Hecho – a curated emporium of ethically made artisan works that marry contemporary design with traditional processes. She studied art and design in Canada and Scotland, worked as a designer in New York City, as well as in international development within the realm of higher education. She currently lives and works full-time in Oaxaca, Mexico, and collaborates with retail clients in Asia, Australia, Canada, Europe, South Africa and the United States. Her can follow her latest developments on the Hecho website at www.hecho-shop.com and in her Instagram feeds at @hecho_shop and @ehrenseeland
✿
Like the article? Make it a conversation by leaving a comment below.  If you believe in supporting a platform for culture-makers, consider becoming a subscriber.
Tags