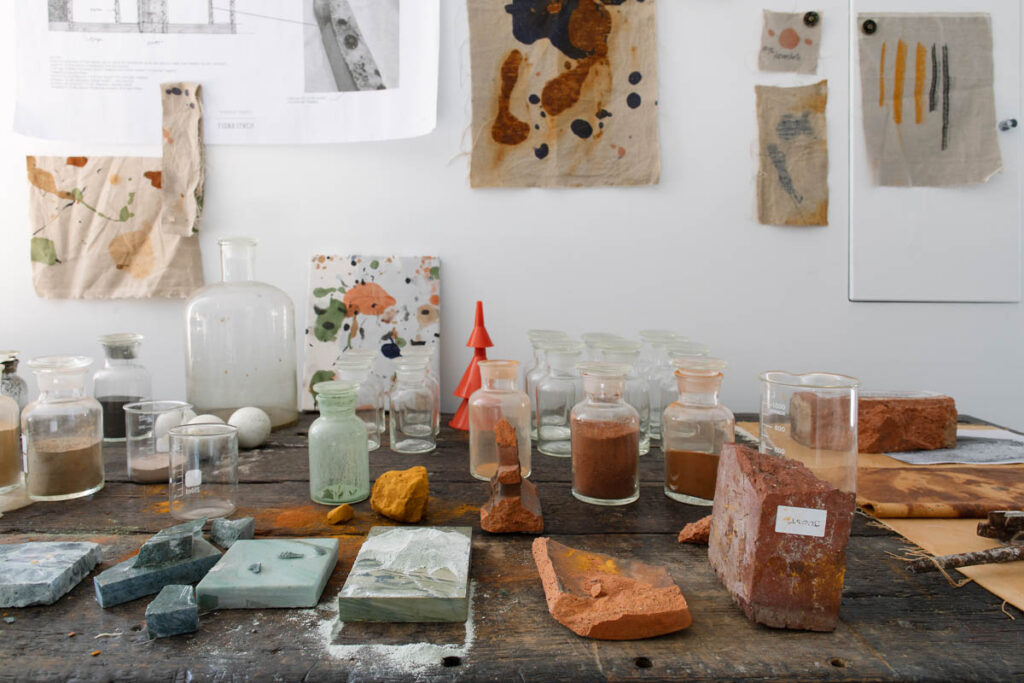 Stewart Russell at Spacecraft recovers robust colours from the debris of human activity, envisaging a sustainable future.
In Dakar, Bangladesh, rivers are coloured pitch black from the chemical dyes used in the textile industry. With each change in fast fashion, last year's colours are flushed into the waterways, creating a toxic mix of carcinogenic effluent.
Colour comes at a cost. Most of our world is coloured with chemical dyes mass-produced by companies such as DuPont, which began business by supplying gunpowder to armies in the US Civil War. There is often little regard for the impact of these chemicals on the environment.
By contrast, many of the stories that you find here in Garland feature natural dyes, which are public domain. They are sourced directly and carry on traditions passed down through millennia. Natural dyes are a key currency of world craft. Makers from different countries gather in workshops where they exchange recipes that transform plants found in nature into all colours.
But we now live in an anthropocene era, where there is little nature left that is untainted by humans. Accordingly, there is a movement with the same ethos as natural dyes that draws instead from the fabricated human world. Those working in wild pigment are inventing new ways of transforming human detritus into beauty.
The Spacecraft textile studio has been particularly creative in the development of pigments from the mineral base of the anthropocene.
Spacecraft was established in 2000 by Stewart Russell and Donna O'Brien. Mineral pigments have been a particular focus of Stewart's. He has been interested in sourcing iron pigment from the wild since he was a student at art college when he experimented with the use of his own blood as a dye.
In 2021, Spacecraft was approached by Fiona Lynch to work with building materials that were discarded in the construction of Ace Hotel in Surry Hills, inner Sydney. The site once contained the kiln of convict potter, Jonathan Leak. As the only pottery in Sydney, Leak's business was reported to have produced 40,000 bricks weekly, along with bottles, jars and other earthenware.
Lynch commissioned Spacecraft to make a textile to cover the wall of a restaurant on the top floor. So Russell started processing the site materials into mineral pigments. A challenge was to grind broken bricks into a fine enough powder for screenprinting.
We realised that the mineral pigments that were going into a solution had to go through the same screen mesh that we were printing with. We spent a lot of time trying to work out what particle size we needed to break the materials into in order to be able to print them.
They managed to find a way of milling in the studio, partly with the use of a rudimentary pestle and mortar. A mild acid was introduced to encourage rust which would produce colour variations.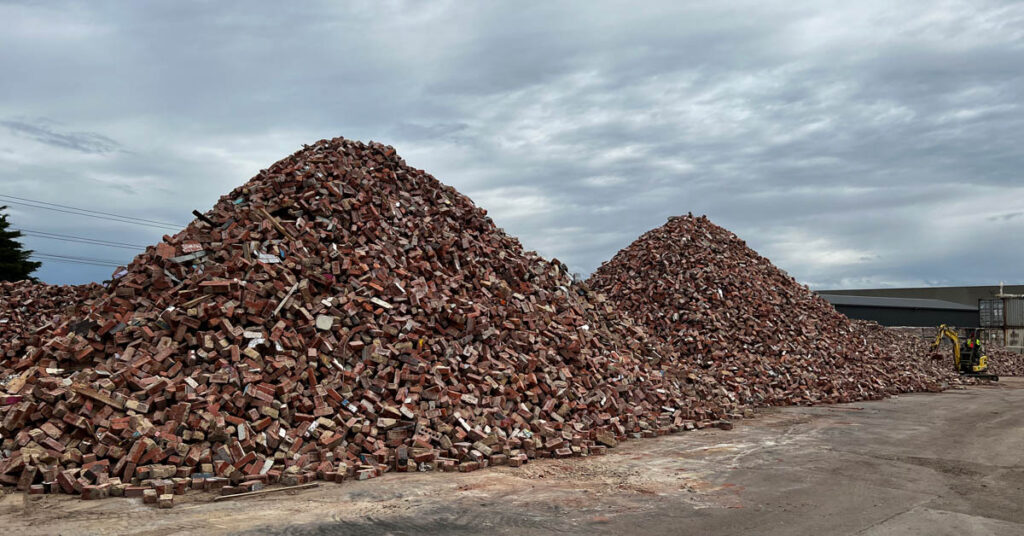 For other projects, Spacecraft uses a company in the Melbourne bayside suburb of Mordialloc that salvages bricks from the buildings it demolishes. They mill these to a fine powder that can be used in agriculture, gardening and clay tennis courts.
Brick powder was also used to make a flag for Joost Bakker to adorn his Future Food System House at Melbourne's Federation Square (video). "We used an old damask tablecloth because of his relationship with hospitality." It flew for the whole year as an emblem of the circular economy.
While working at a textile workshop in the Tiwi Islands, off the coast of Arnhem Land, Russell tried to interest local Yolŋu makers in using the same ochres that were popular in their artworks, which employed a brilliant range of ochres. But this would require taking ochre off the island temporarily for processing.
However, because ochre was considered a sacred substance, it could not leave their land. So instead, Russell developed a recipe for iron power that matched the amount of iron in the red soil. "It was to see if this would open the doors a little bit to using other colours and other types of pigment. And it was really successful and we made some beautiful prints."
Russell has also been fascinated by the pigment known as "ivory black", which features in the black backgrounds of Rembrandt's paintings. Rather than use ivory, Russell has been interested in carbonising animal bones to achieve a similar effect. He is currently researching the creation of biochar from wallaby bones.
For a recent commission at Shepparton Art Museum, Russell collected the charcoal from a fire around which local elders had gathered at an event organised by the local Indigenous organisation, Kaiela Arts.
Cynthia Hardy and Lyn Thorpe created the watercolour designs that were then screen-printed onto wool with a pigment produced by grinding the charcoal into particulate. The prints were then upholstered onto furniture for the museum.
The result was a permanent mark of the fleeting ritual that occurred at the birth of the museum. It formed a parallel function to a wedding ring, which binds a shared moment in time to the future.
Spacecraft is forging a practice to work within the parameters of an anthropocene world, while not foregoing the pleasures and meaning of adornment. But more than that, the studio finds ways of incorporating the history of the site into its new form.
In making colour out of the very bricks or charcoal that were part of the life on the site, the final work is a kind of reliquary with a direct relationship to its reference. It is like the use of ochre in recent First Nations painting to represent the landscape where that ochre comes from.
These practices reflect a circular ethics in making that establishes a reciprocal relationship with the world it represents. They reveal a future that is coloured by what we left behind.
About Stewart Russell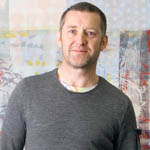 Stewart Russell was born in Scotland in 1965 and currently lives in Melbourne. His art, curatorial practice and fabric printing have been constants on a creative journey that has seen him establish studios in Sri Lanka, Edinburgh, Colombia and London. In January 2000, Russell and long-term collaborator Donna O'Brien relocated from London, where Russell had been director of London Printworks for six years. In Melbourne, he established Spacecraft, a print studio where he divides his time between fashion and art projects. Visit spacecraftaustralia.com and follow @spacecraft_store
✿
Like the article? Make it a conversation by leaving a comment below.  If you believe in supporting a platform for culture-makers, consider becoming a subscriber.
Tags