The objects in The Nullians are sourced from second hand/antique shops, markets and online over 18 months. These turned pieces are made from the core of the balga by white men in the 1960's and 70's. The balga (Nyoongar name), botanical name xanthorrhoea, is commonly known as "blackboy" or "grass tree". All were collected from Nyoongar Country which is the South West of Western Australia from Geraldton in the north to Albany in the south. These remains of the balga or grass trees have been turned into a cultural expression of Western Australianness.
This installation is a play on the notion of "Terra Nullius", with the common reference to the Balga trees as "blackboys". "Blackboys" is an oxymoron: it actually signals an Indigenous absence. So for me, we, the Indigenous people, are the "Nullians" of "Terra Nullius". These plants were valuable to Nyoongar people long before the settlers arrived here in Australia. The balga was used by Nyoongars for spear making, fire making, tool making, glue, medicine, shelter, food and drink.
In the 60s and 70s, turned balga was highly prized for the home and tourism trade. Each piece was hand turned and is unique. Looking closely at these objects one can see the diversity of colour, shape, size and texture, just like the diversity among Aboriginal peoples who are not "all the same".
Xanthorrhoea is not a wood as such but is in fact a grass and therefore the core is not woody but compacted fibres. The resin was used to coat tin cans during the war to prevent rust and for French polish. It was burnt as incense in churches, soap making, perfumery and in the making of early gramophone records. It was not known then how carcinogenic the balga is: it is worse than asbestos dust. Now they are no longer turned.
The Nullians talks about family and belonging to a group. It reflects the thinking or mentality of the 60s & 70s and touches upon the political correctness in naming. In compiling the collection, I have been reclaiming the balga.
Balgas are the oldest living plants on a world-wide scale, living for many hundreds of years. They are uniquely Australian, the lasting remnants of an endangered plant that has been undervalued by the colonisers. Today, back in favour, they are a prized garden exhibits.
When I was travelling around Opportunity Shops looking for them, the prices for turned balga ranged from $1 to $50 for a lamp stand. People found them for me as well. I met one of the last remaining turners in Katanning, Jim Garston. His eyes lit up when he was talking about his craft. Much of it was sold overseas and was worth a bit in its day.
The exhibition is an installation of over (or up to) 200 pieces of turned balga grass tree. The works are vessels such as bowls, vases, as well as lampshades, bookends, candlesticks. The artists are unknown woodworkers from WA. The works are vessels such as bowls, vases, as well as lampshades, bookends, candlesticks.
They are displayed as a collection and can be arranged in a variety of ways, scattered across a number of surfaces and heights. Ideally, the space is around nine square metres with room for the audience to move around the cluster.
The work was first seen in July/August 2017 in When the Sky Fell: Legacies of the 1967 Referendum, curated by Clothilde Bullen at PICA. I'll be showing it again in Joondalup Art Gallery.
Author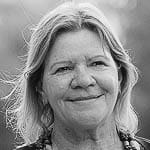 Sharyn Egan is a Noongar woman who was born in Subiaco (Western Australia) in 1957. At the age of three Egan was taken from her family and placed in the New Norcia Mission until she was thirteen years old. She never again saw her parents. In 1994, at the age of thirty-seven, she began creating art, which led to her enrolling in a Diploma of Fine Arts at the Claremont School of Art in Perth. She completed this course in 1998 and immediately enrolled in the Associate Degree in Contemporary Aboriginal Art offered by Curtin University of Technology – she completed this in 2000. In 2001 she was awarded a Bachelor of Arts (Arts) from CUT. She has participated in many exhibitions and community roles. Egan has worked as a lecturer of art and in training and assessment for Swan and Challenger TAFE Colleges. Recently she designed a public art commission for the Perth Stadium and is making public art for the Blacktown Native Institute Memorial in Sydney.
✿
Like the article? Make it a conversation by leaving a comment below.  If you believe in supporting a platform for culture-makers, consider becoming a subscriber.
Tags