I was introduced to Navon in 2011, by SuSu, a French woman living and working at a boutique hotel situated along the Mekong River. The hotel had ordered cotton indigo towels for the pool and the weavers had made too many—the hotel could not purchase them all. Susu, in her benevolence, suggested I may want to sell them in my newly opened fair trade store. I purchased some of them. They were really more like shawls, and surely enough, they sold well. I ordered more. I went to visit Navon at her home to learn more about the cotton. What I didn't realise is that moment I met Navon it would be a defining moment for the direction of my business, and the beginning of a love affair with two TaiLeu cotton villages in northern Luang Prabang.
My first attempt at designing a product was inspired by Navon's fabric. She was making a natural black dyed thick cotton, perfect for a lightweight, mid-season jacket. I was working with Houey Hong Vocational Training Center for Women in Vientiane. The seamstress there, Kiam, could realise my design from an image and a sketch. I matched the cotton, with a black and white key-pattern from a Vientiane supplier, and hand-carved teak buttons from Lon, a local Luang Prabang wood carver. The women at Houey Hong didn't believe Navon's black was natural. I had seen the ingredients go in the pot, and swore it was. The jacket was a success. It was original. Tourists, and resident foreigners alike, bought it because it had a Lao motif without being ethnic, and it was metro-chic enough to wear at home. It also could be sold at a higher price, better margin, than our existing products, which meant we could sell few but gain better income.
From this product grew a village enterprise. Demand was so that Houey Hong could not sew enough in a timely fashion. It required a lot of coordination with three different sources for components. Also transporting cloth to Vientiane, only to turn around again to be sold, was expensive. I knew we had to sew in the village. After trying my luck with aid agencies I met someone who was looking for a small project in Laos, a Malaysian foundation, who supported training projects. With this project, we not only had funds to train four women to sew, buy equipment for them to sew at home, but also to purchase the raw materials needed to catapult the production.
The more the interaction with the village, the more textile patterns emerged. There seems to be an unending library of patterns. In some part, the ability to sell more of their textiles has allowed older patterns to re-emerge. The older patterns are mostly more complex and take more time, therefore the cost is higher, and the market can now sustain such products. On the other hand, many of the weavers are elderly, and in conversation with the manager of The Arts and Ethnology Center store, Kai, he said there was one particular sinh (Lao skirt) in demand, but it was no longer available as the one artisan who supplied this particular pattern could no longer weave due to health reasons. Recently, Navon and I recreated a cloth she would place under the offering during baci ceremonies in her home as a wall textile for a new hotel, a celebration of TaiLue pattern. So we have revival, death and modification, all at the same time.
The impact of Japanese visitors over the years has also been an influence that has enabled modification. Rummaging through piles of orders, I discover beautiful check patterns or contemporary ikat patterns in indigo and white. How can you expect your own designs to be preserved for you alone when you are influenced by designs of others sighted at an opportune time in a weaver's house prior to delivery? In a way you must let go and let the textiles take their directions. Many textiles also go to the Thai market. One fashion design company in Chiang Mai buys 8000 metres of TaiLeu cloth every three months from the region. Woven in a variety of natural dye patterns, the cloth is transformed by their Thai sewers into modern casual wear for the Japan market.
After developing the business for six years in Laos, working with different artisans and different villages, I had to ask, what was it that made these TaiLeu cotton villages so successful? There are many factors: rich cultural heritage, proximity to market, number of people involved in craft, natural resources, people's general industriousness. However, it really lies in the women who act as the conduits for the artisans in the village and trade. In these two particular villages, there are several women like Navon. They are pivotal in creating, and nurturing the market. Although they compete, as well as work together, it is the organisational skills of these women that makes the villages succeed.
Author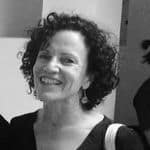 Emi Weir arrived in Luang Prabang 7 years ago from Sydney. In 2010 she co-founded Ma Té Sai, a social enterprise and fair trade store. The name means "where is it from?" in Lao language, and over the years the business has built strong relationships with artisans from many different ethnic groups, and communities around the country, promoting authentic Lao handicraft. The signature range is made from cotton encompassing traditional and modern patterns woven by Taileu women north of Luang Prabang. In a recent project shei raised funds to support women from the Taileu villages to learn to sew, now Ma Té Sai's cotton range is dyed, woven and sewn in the village. She firmly believes village production is the way forward with investment in people and smart phones. www.matesai.com.
✿
Like the article? Make it a conversation by leaving a comment below.  If you believe in supporting a platform for culture-makers, consider becoming a subscriber.
Tags