Worn Land is a project by FORM Western Australia involving jewellers Yuko Fujita, Nicky Hepburn, Pennie Jagiello, and Natalia Milosz-Piekarska. Each traveled to the Pilbara in north-west Australia to create ornament inspired by their experience. The results are exhibited 23 September – 17 November in the Goods Shed, Perth.
Nicky Hebpurn
Huge skies, long horizons, red, red, dirt, this is what we all see, but I got a chance to see a lot more.
The small details, the makeup, the material of the country.
In the Pilbara, the country determines life. Mining, trains lumbering through the desert, 4 wheel drive vehicles kicking up dirt, isolated towns, long wharves, ships and people.
I investigated the natural environment, walking the land and examining the material in the country. While I walked, I noticed the plant life, the shells, the rocky hills of the Burrup Peninsular, the building cycle of termite mounds, wood with blood in its veins. I saw country split into gorges hiding lush green havens, spinifex carpets, rainbow skies, and a stillness, a raw proud beauty that permeates the landscape.
In response to the strength and beauty I discovered in the land, I used organic materials in many of my works, aiming to shift the emphasis away from the use of precious metals.
My work for Worn Land is a response to the material of the landscape. The colours, textures, light, forms and details of the Pilbara.
In 2014 I spent some time in the Pilbara. I was one of four Melbourne artists, the others being Pennie Jagiello, Yuko Fuijta and Natalia Milosz-Piekarska, who undertook residencies with FORM in Port Hedland, in Western Australia's north-west. As part of our visit to the region we, as jewellers, conducted workshops and programs with the local community and Aboriginal artists. We undertook field trips, and began research and development for a body of work in response to the landscape. Worn Land is a result of this residency program.
My work for Worn Land is a response to the material of the landscape. The colours, textures, light, forms and details of the Pilbara.
This necklace reflects the interrelated nature of the material of the land. Red soil, forming hills on the horizon, dry cracking ground, gorges deep into the land. Mountains of powder black magnesium, dead black tree shadows and steel, rusting, blackened and pulled from the earth as ore.
The stones in this ring were collected on a huge property called Meentheena near the edge of the desert. The stones formed a huge river bed that sometimes had water. The rocks were a conglomerate that contained small and slightly larger thunder egg shaped pieces of Calcite, Carnelian, Agates and Quartz. This land was very very old and had many faces and colours.  
I investigated the natural environment, walking the land and examining the material in the country. I saw country split into gorges hiding lush green havens, spinifex carpets, rainbow skies and a stillness, a raw beauty that permeates the landscape.
In the Pilbara the country determines life.
Have you often drawn inspiration from the land in your jewellery work? If so, in what way?
I have always been influenced by the natural environment. Particularly walking through different landscapes, forest, bay, shore lines and collecting bits and pieces as I wander. It is the collective experience of spending time in the environs as well as the sounds, light, textures and details that seems to have the greatest impact on my work. Nature cannot be rivalled in terms of making, but I try to create works that evoke a similar feeling of my experiences while immersed in the landscape.
What do you remember about the Pilbara that was different to other places you had visited for inspiration?
The overwhelming dominance of the land/country. There is the amazing red dirt, huge skies, long horizons, rocky gorges and divine light, but the very essence or richness of the country brings mining, isolation, money, poverty, history, and often desolation. Then there is also the amazing surprises, beautiful beaches, tracks of water and green springing up like oases in the middle of what seems like nowhere, bringing with it tiny colourful flowers and buds camouflaged amongst the spinifex. Alongside all of this is a quiet, strong beauty that permeates the land and those that visit.
Artist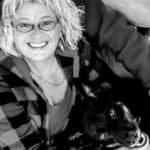 Nicky Hepburn is a contemporary jeweler, living and working in Elwood, bayside Melbourne, Australia. Her delicate work reflects her love of investigating and collecting objects from the natural environment. Nicky is currently preparing for an exhibition in Perth, Australia, in September 2016, with work created from her experiences in the Pilbara, Western Australia. See nickyhepburn.com.au.
Pennie Jagiello
These works are from my series created for the Worn Land exhibition opening late 2016. I was asked to make a body of work in response to a residency with Form in the Pilbara Western Australia beginning in 2014. These pieces explore this iconic landscape, our relationship with land and sea and how our everyday existence from natural to built environs are affected by what we discard.
My ongoing exploration of what we leave behind continued across the Pilbara expanse. A unique part of the Australian environment that I had not experienced prior to this residency is now forever ingrained within me. The iconic red earth that infiltrates the living and the inanimate also became an important aspect of my experience reflected within the work I have made, constructed entirely from man made materials I collected upon my journey.
Some materials at first glance appear to be natural. But upon closer inspection, beneath the ingrained layers of earth and erosion of surfaces, is revealed what has become a new nature, unnaturally natural or perhaps a second nature. These wearable landscapes not only become a way of physically carrying and sharing an experience with others but importantly taking onus for leaving more than our footsteps behind us.
Was there anything special about how you came across these materials?
I am no longer surprised but incredibly saddened that everywhere I go I always come across man-made items that have been left behind especially in remote areas. The materials I have collected have been abandoned perhaps with a property being vacated, a dumped vehicle, or often it is the simple act of a picnic that has been enjoyed in the great outdoors, but once the moment has served its purpose it is often presumed the wide expanse will devour what is no longer needed—out of mind out of sight. While I have been incredibly lucky to experience another part of Australia, alongside the beauty I feel it is necessary to highlight the damage we cause on a daily basis. Nature can exist without us, but we can not exist without it.
While I am immensely inspired by the natural beauty of the Pilbara, I feel there is more to using its natural materials to convey what I have experienced when it is entwined with man-made debris. I feel obliged to remove and utilise these discarded materials as I myself am not exempt from adding to landfill.
The pieces I have made have been constructed entirely with this found man-made debris without adding any new or virgin materials.
While areas of the Pilbara are subjected to mining for various minerals, I am also conscious of materials that are used especially within the jewellery industry.  Any unwanted material that I have removed, such as in the process of carving my work, I have retained for further use so I am not creating more debris. We create so much waste, I do not see the need to use anything else within my work, but that which has been discarded.
I hope my works convey a sense of place that is the Pilbara for its unique beauty, preserved while worn, not worn out.
Artist
Inspired by the life of the ocean, which she finds both "terrifying and fascinating", Melbourne-based jewellery designer and sculptor Pennie Jagiello breathes new life into discarded material such as electrical cabling. In creating her unique pelagic designs, Pennie aims to highlight issues affecting the marine environment while saving waste products from adding to the ever increasing amount of landfill. Penny collects most of her material off the beach and turns trash into precious and beautiful objects. See www.penniejagiello.com.
Tags