Our May Laurel goes to a broom maker from Madhya Pradesh, whose elegant implements bring beauty to the home.
Kanta Kadse is recognised for her outstanding work in the diminishing craft of Khajur brooms. Based in Mandla, Madhya Pradesh, her skill involves intricate hand-work transforming date palm leaves to humble yet striking everyday brooms of functionality and decor.
The craft has been in their family for generations. Kanta's great-grandfather started making brooms and Kanta has learnt it from her father. Initially, they would make simple, everyday brooms for daily use without any design element. Slowly they started adding design elements to it and made the brooms more elaborate. In 2002, along with Kanta, twelve other women got together to make these brooms and started selling them in different craft exhibits. (This is as told by her son, Santhosh).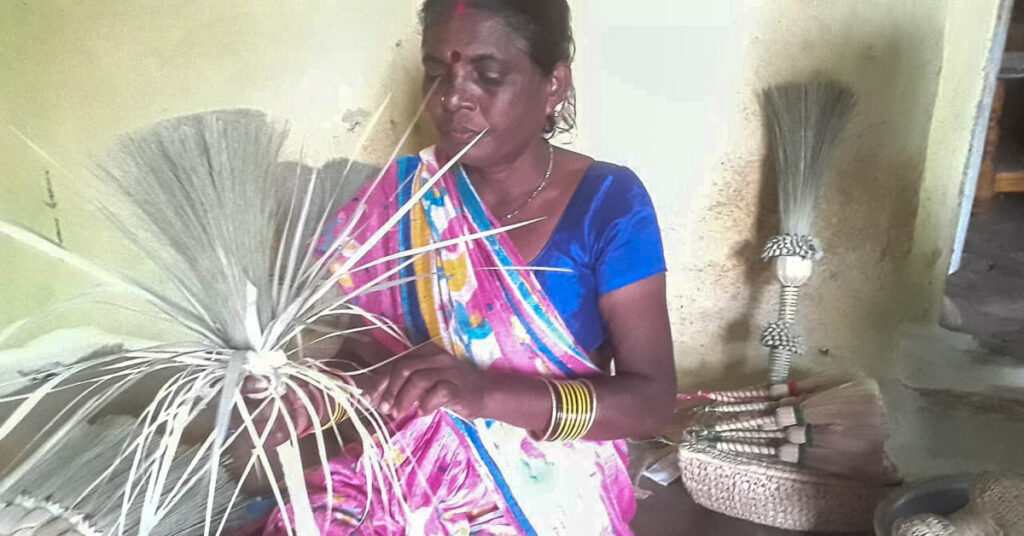 Kanta Kadse's work is part of the Śilpa series. Śilpa is a Sanskrit word whose translation includes art, skill, craft, labour, ingenuity, rite and ritual, form and creation. Śilpa digital catalogues are a non-profit initiative by Border&Fall, intended to directly connect consumers to karigars free of cost. You can see other artisans in the series in this Dropbox folder. If you know others in India who might benefit from their own version of this catalogue, please direct us to each other:  connect@borderandfall.com
✿
We talk to Malika Verma about the origins of Border&Fall and the values that underpin the Śilpa series.
See also
✿
Like the article? Make it a conversation by leaving a comment below.  If you believe in supporting a platform for culture-makers, consider becoming a subscriber.
Tags