Our October laurel goes to Nigerian ceramicist Ozioma Onuzulike for an epic Nigerian prestige gown woven out of hundreds of small clay beads.
Ozioma Onuzulike writes about his work:
It is well known that after the slave trade era, trade in palm oil, palm kernel and other natural resources of Africa became more intense. My part of Africa was particularly noted for palm oil and palm kernel production in servicing the lopsided trade/power relations with the Western world. I see the palm kernel shell (the remnants of the palm oil/kernel production) as very historically charged. In their natural form, they look like beads—again, a trade token (popularly called Slave Beads) that carry a lot of historical baggage.
I have made millions of palm kernel shells in terracotta, turning many of them into glass beads in a very laborious studio process. With them, I have woven mixed media ceramic structures that resemble Africa's prestige cloths (such as the Nigerian Akwete and Aso Oke) or imported ones (such as the lace fabric) that are also highly regarded in Africa as markers of social status. It is like weaving Africa's history – past and present.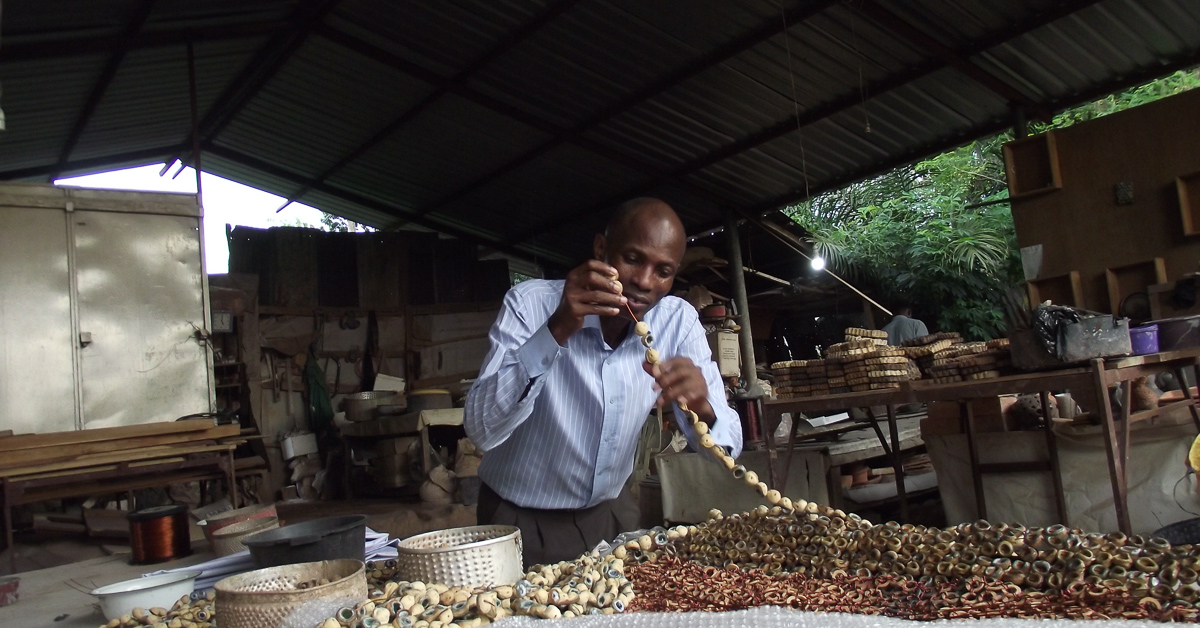 Born 1972 in Achi, Enugu State, Nigeria, Ozioma Onuzulike graduated First Class from the Department of Fine and Applied Arts, University of Nigeria, Nsukka, where he is currently professor of ceramic art and African art/design history and the Director of the Institute of African Studies. His solo exhibition, Seed Yams of Our Land, was held at the Centre for Contemporary Art (CCA), Lagos, Nigeria, in 2019, along with a presentation of his poetry collection of the same title also published by the CCA. His works are included in the ongoing exhibition at the Museum of Archeology and Anthropology, University of Cambridge, UK, arising from the [Re:]Entanglements Research Project led by Professor Paul Basu. Onuzulike is a fellow of the Civitella Ranieri Centre, Umbertide, Perugia, Italy, where he undertook a residency under the UNESCO-ASCHBERG Bursary for Artists, and an alumnus of the prestigious Skowhegan School of Painting and Sculpture, Maine, USA.  Follow @ozioma.onuzulike
My father was an elephant: Clay dreams in Nigeria
Ngozi Omeje shares her journey through the soothing medium of clay and how it helps honour her family and inspire good works.
✿
Like the article? Make it a conversation by leaving a comment below.  If you believe in supporting a platform for culture-makers, consider becoming a subscriber.
Tags