Our October laurel goes to a Ukrainian embroiderer who sustains tradition despite the war around her.
Roksana Makieva writes about the how, where and why she makes the traditional vyshyvanka embroidered blouse in Ukraine today. 
This shirt is embroidered and sewn entirely by hand and it does not have a single machine seam. For this shirt, I use unique linen fabric, that was made also by hand, around 60 years ago in one Ukrainian village. To create such beautiful embroidery I use ancient techniques that traditionally was used in Ukraine from old times.
I was working in my studio and it took six months of daily work to create this shirt. My studio is located in Kyiv the capital of Ukraine and you probably know that there is a war now, but it didn't stop me. Rather the opposite. It is the place of my peace and creation. I work there daily making different embroideries, patterns and paintings.
The shirt represents a part of the traditional cloth that was popular in the Kyiv region. This is a specific colour style and technique of embroidery. Decorative symbols of ornaments have numerous stars in different configurations that reflect the universe. Because the symbolism of embroidered ornaments has a very ancient base. But this composition of ornaments is my own contemporary creation, this is the unique feature of all my works. I'm creating clothes for modern people based on antique techniques and symbols.
Ukrainian costume has been created over centuries, it is a rich source of information about the history and culture of the country. And one of my aims is to continue to preserve our traditions.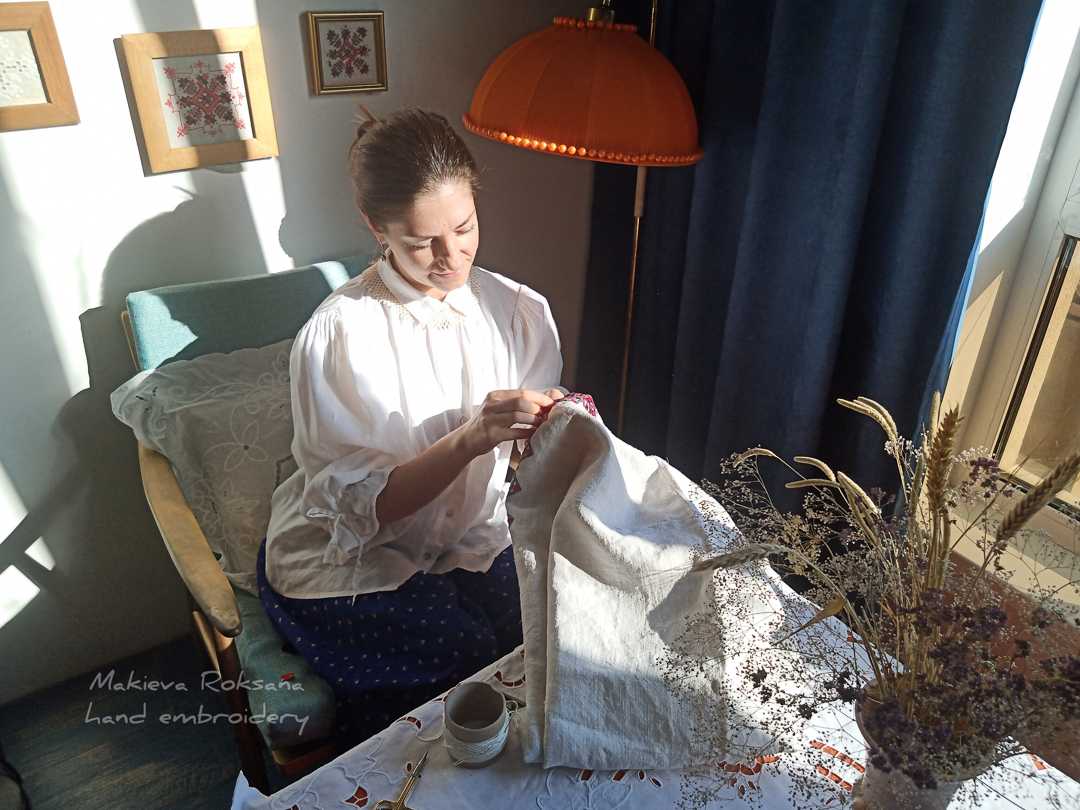 Follow @makievaroksana and like MakievaRoksana.Embroidery.
✿
Like the article? Make it a conversation by leaving a comment below.  If you believe in supporting a platform for culture-makers, consider becoming a subscriber.
Tags