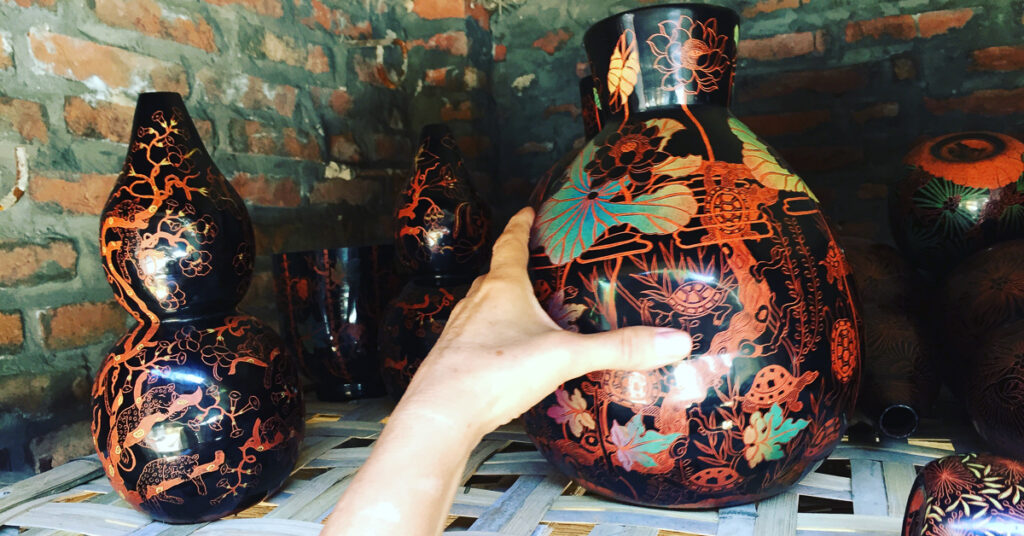 Susanna Pang follows the journey of Veronica Gritsenko who found a way of fusing Ukrainian folk scenes with Myanmar lacquer craft.
My first encounter with lacquer art was in 2010 when I travelled to Myanmar as a tourist. I was enthralled by the beauty of this art not only due to its exceptional decorative and colourful appearance. It was more about its primitive and tedious process and the culture and history behind these lacquer creations. Coincidently I read a book Burmese Lacquerware written by Sylvia Fraser-Lu and had an urge to write to her trying to find out more. It was Sylvia who introduced Veronica Gritsenko to me. This was how we have begun our friendship. And indeed Veronica's journey in the search of Burmese lacquer art has become somewhat legendary.
Veronica Gritsenko, a Ukrainian scientist, artist and scholar first came across Myanmar culture in London and met a Buddhist monk in 1995. She then visited Myanmar with him in 1996 and fell in love with this extraordinary and beautiful country. After completing her studies in Asian Arts at Sotheby's Institute and the School of Oriental and African Studies in London, Veronica went to Bagan in 1999, where she set her sights on lacquer art and tradition. The ancient city of Bagan was the political, economic, and cultural centre of the Bagan Kingdom from approximately 1044 to 1287 CE. She was in both marvel and sorrow that such a beautiful and ancient art form was in decline, being produced mostly for the tourist market. In 2000, Veronica founded Black Elephant Studio lacquer workshop in Bagan, Myanmar. Eventually, she developed her unique technique based on ancient methods and materials such as bamboo. She created original designs and innovative methods of decoration.
With the objective of elevating the practice of lacquerware from a craft to an art form, Veronica spent years researching and experimenting with crafting techniques and color formulas. She has introduced new pigment colors such as lilac, coral, beige, and shades of blue and green, and has enhanced the quality of the base, creating strong layers that prevent cracking and breakage. As a result, her lacquerware is amazingly resilient, strong, and unique. She has been working with her talented team of local craftspeople in Bagan to create contemporary designs while using traditional methods. The imaginative, colorful and detailed illustrations are absolutely magical. She insists on using ancient techniques and methods to produce the correct weight and consistency of the lacquer pieces, the result of which is a piece of art that lasts a lifetime.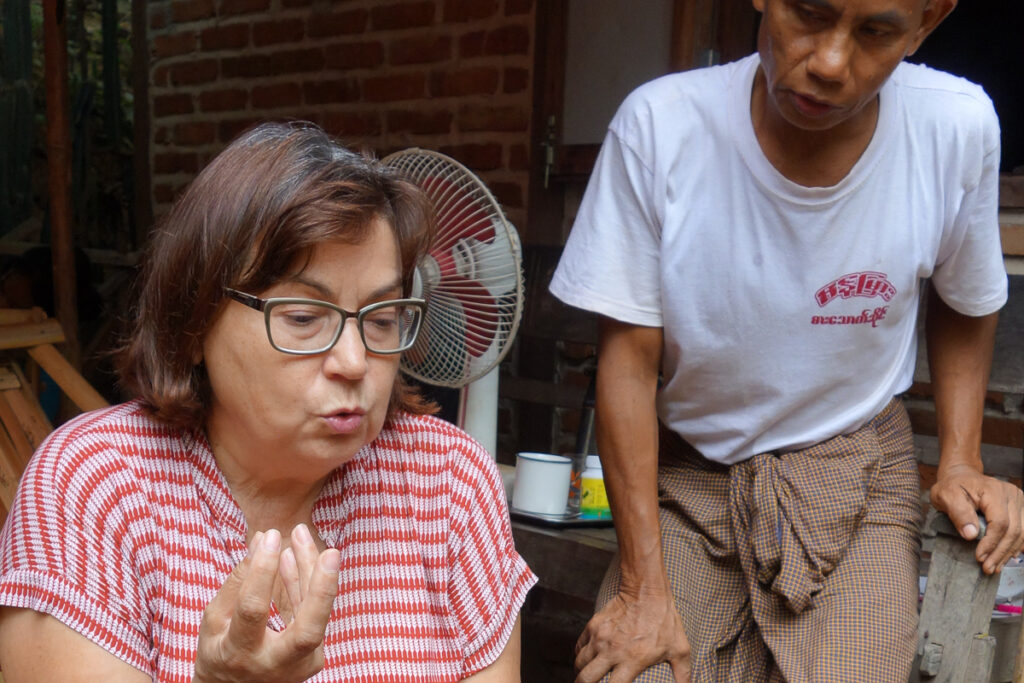 Veronica designs all patterns and personally applies pigments to decorate each piece of her lacquerware. The patterns are intense, complex and symbolic fusing of Ukrainian folkcraft culture with her interpretation of oriental art. Some symmetry geometric patterns are similar to those pysanky eggs in Ukraine. Chinese ink painting and Japanese kimono design also inspire her to create the designs. She has her own "recipes" for producing and mixing mineral pigments. Her background as a scientist does help. All these make her lacquerware look so different from the others in Myanmar.
Lacquer making involves many steps. Veronica researches the ancient method to create this lacquerware in Myanmar. And the fact is that the craft is dying in Myanmar as locals are now producing work that is highly skewed to the tourist market. Lacquer making requires a hot and humid climate that Myanmar suits.  However, the process of creating high-quality lacquer involves natural resources such as natural lacquer, bamboo, pigments and a large amount of time, skills, planning to ensure the sourcing and creation process is done to the highest standard. Each piece takes over nine months in the making.
Lacquerware in Myanmar dates back to the thirteenth century. Lacquer is called thitsi referring to the sap of the thitsi tree which is extracted and used for coating and varnishing pieces of furniture, vessels, and religious pieces made from bamboo and wood. It is famous for its unique style of incised lacquerware decoration called yun.The surface of the object is engraved with a fine iron stylus called a kauk. The incisions are then filled with colouring matter. This decorative technique probably took its inspiration from China where needle-etched lacquerware was made as early as the Waring States period (475-221 B.C.) and the Han dynasty (206 B.C.-A.D. 220).
 The best-incised lacquerware designs are characterised by a rhythmic liveliness and freedom of movement.
The decorative process begins with the etching of a freehand outline of the design into the smooth glossy black surface of an object. No stencils or patterns are used. The lines vary greatly in density and complexity depending on the design. The best-incised lacquerware designs are characterised by a rhythmic liveliness and freedom of movement. They resemble drawings more than etchings.
Veronica has been invited to give lectures at the British Museum, Asia House in London and Asia Society in New York, USA as well as participating in conferences and exhibitions. In 2007, she established Institute for Traditional Bagan Lacquer to help preserve ancient Myanmar lacquer art for future generations. Her works were acquired by the British Museum, Victoria & Albert Museum, Royal Botanic Gardens Museum and Turquoise Mountain in the UK, as well as the Museum of Oriental Art in Turin, Italy. Over the last twenty years, Veronica spent most of her time staying with her team in Bagan and went through her ups and downs despite the political unrest in Myanmar. In early 2020, she originally intended to take a short break and returned to Ukraine for treatment due to a leg injury. Never did she think that she has now been stuck in the country and cannot go back to Myanmar since the blow of the ruthless military to Myanmar, the global pandemic, and now the war in Ukraine.
I would like to pay tribute to her efforts and hard work in preserving Bagan lacquer making over the past 20 years. And naturally, I hope she can survive this war and will be able to return to her workshop in Myanmar one day.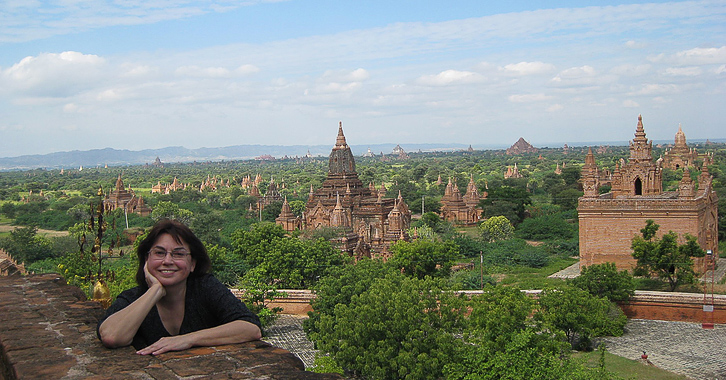 Follow @v_blackelephant and like veronica.g
Susanna Pang is the founder of Gallery by SOIL
✿
Like the article? Make it a conversation by leaving a comment below.  If you believe in supporting a platform for culture-makers, consider becoming a subscriber.
Tags