Prita Tina Yeganeh, The Sanctum of Qanat (Untitled 1), 2023, Gold pigment on 100% natural silk; Traditional Iranian Kāḡaḏ-e Abrī mono printing (adapted for the silk medium); complex multi-layer print; photo: Louis Lim

Our July laurel has adapted the traditional Iranian Abrī printing technique to works on silk that create intricate micro-lattice patterns.
The Sanctum of Qanāt is a hand-printed silk textile created through my personal expression of the ancient Iranian water-mono-printing tradition – Kāḡaḏ-e Abrī (کاغذ ابری ). Translating to 'cloud-like paper', my practice adapts this paper printing process to include textiles which I call Abrī.
This Abrī textile was created alongside my mother in my bush studio on Turrbal and Yuggera Country in Meanjin (Brisbane). Working slowly on this piece for a month, we started by washing, then consecutively mono-printing the raw silk six times in a water medium containing a variety of gold pigments. Through my research and experiments with new patterns, textures, and additives, I was able to push the possibilities of complex multi-printing techniques in this work. Creating delicate micro-lattice patterns which mimic the intricate shape of sand profiles and sinuous lines of underwater channels, to define a landscape known from within and without. The silk print was then completed with hand-drawn markings. The gold linework is a symbolic and meditative act, depicting the weaving of my ancestor's knowledge into the physical nature of our desert landscapes through Qanat.
The nature of this ancient process ensures that no two prints can ever be the same, each unique and captures a moment in time.  The practice of Abrī encourages surrender, to the spontaneous energy of an ancient water practice.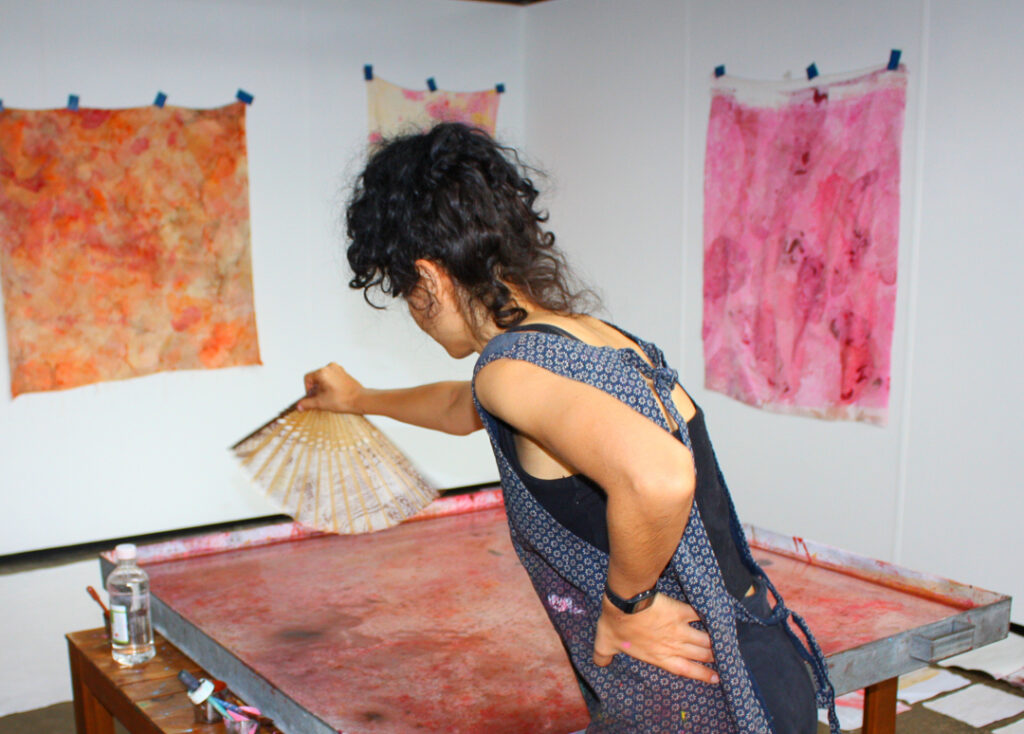 The story of the work
"My ancestors' knowledge of hidden waters binds my spirit to the desert. To honour my ancestors, I first honour the Sanctum of Qanāt."
The Sanctum of Qanāt uses the practice of Iranian water printing to physically translate the interdependent nature of Iranian identity to desert water and desert landscapes.
In this project I explore Qanāt, a 3,000-year-old process for accessing desert water. My ancestors used their intimate knowledge of landscape, geology and territory, to build vast underground channels and sustainably collect and transport hidden water. Creating an oasis and place of sanctum in the otherwise arid deserts of the Iranian plateau.  I interpret Qanāt as more than an ancient living process, it offers me the history and origins of my own distant culture. Revealing an Iranian identity deeply rooted in ancestral connections to land and place and informing what is now the origin stories of our diverse desert cultures.
The Sanctum of Qanāt shares the idea of Qanāt through textile – A way for me to return home to the soils and landscapes I am yet to walk on, giving form to new ways of belonging from afar.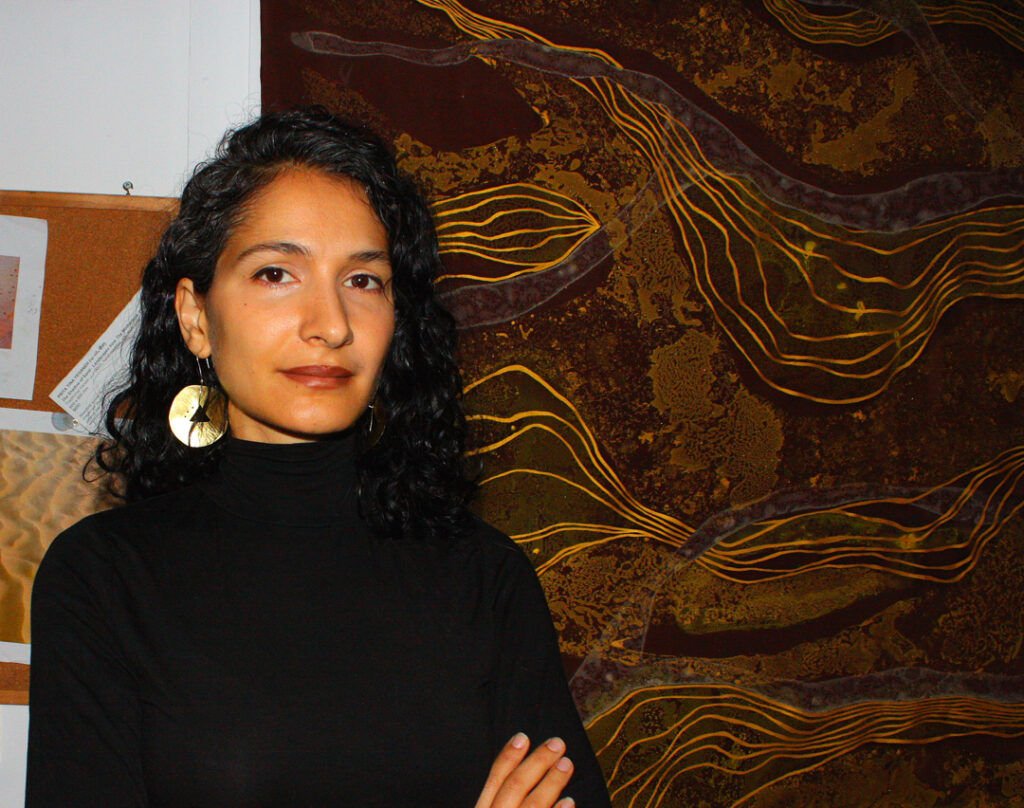 Prita's work was featured in Flinders Lane Gallery Annual Unsigned Artist Exhibition 20 June – 15 July 2023; and The Making of Mohammadi, Northern Rivers Community Gallery, 28 June – 20 August
Follow @pritatinayeganeh.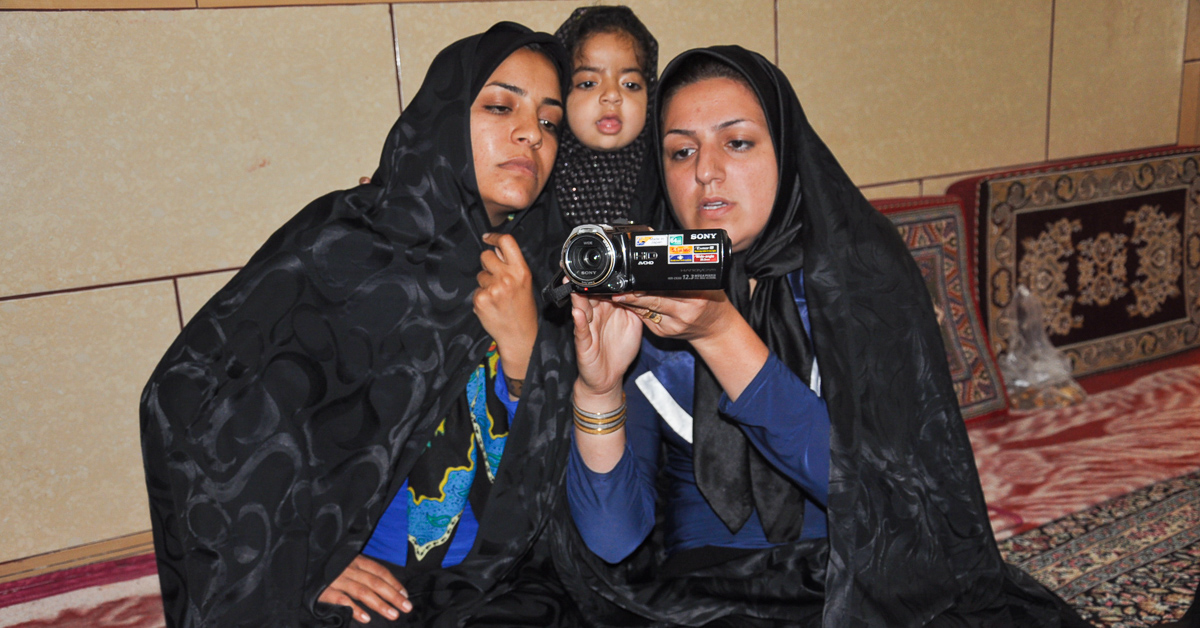 Make the Qanats flow: Women revive a patriarchal tradition
Nina Aminzadeh Goharrizi heralds an inspiring project from the Takab district of Kerman province, Iran, in which local women take tradition into their own hands.
✿
Like the article? Make it a conversation by leaving a comment below.  If you believe in supporting a platform for culture-makers, consider becoming a subscriber.
Tags