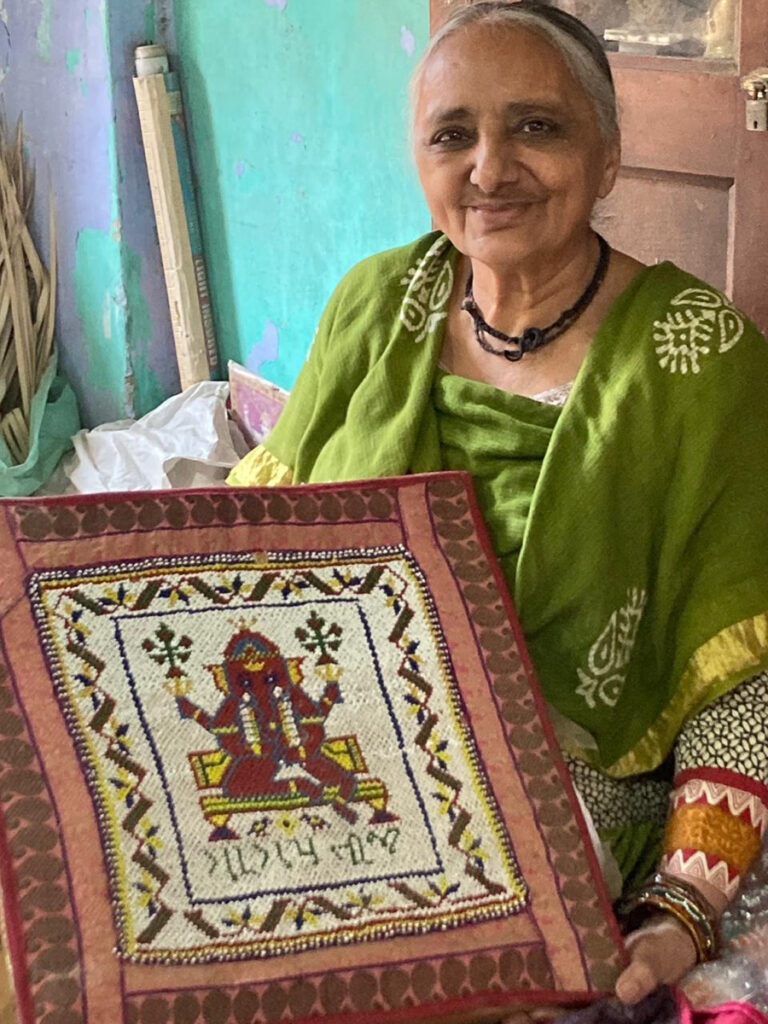 LOkesh Ghai profiles a bead artisan whose beautiful work reflects an epic commitment to her craft.
Sitaben was born in a humble farmer's family near Amreli, in Gujarat, West India. In 1960, when Sitaben was just three months old, her family migrated to Ahmedabad for better livelihood opportunities. Her father was a Gandhian and worked at a textile mill as a loom operator. In Ahmedabad Sitaben learnt hand embroidery and thereafter bead craft from an elderly woman whom she observed making miniature (toy) sofa-set and animals with plastic beads. Sitaben made the same in small glass beads as key chains. These she sold at a Khadi shop in Ahmedabad. This incident gave her the confidence to continue with bead craft. Sitaben says, "I did not go to any design institute to study the craft, I am self-taught." Sitaben is not a traditional artisan, however her work is based on the tradition of bead craft of Saurashtra, Gujrat.
At an early age of 16, she was married, although, this did not last long. Sitaben decided to focus on bead craft. Ms Villoo Mirza, who was then the Chief Designer and production coordinator at Garvi-Gurjari, Gujarat State Handloom and handicrafts Development Corporation Ltd. narrates, "a divorced woman was looked down upon, it was rare for women to be divorced in those days. Sitaben's father was supportive and stood by his daughter. We use to call him Kaka, he was a master at the craft of rope making. He taught her how to string beads. Together they would make beaded parrots that would adorn rope swings." These were sold at the Sate Emporium.
According to Mirza, Sitaben's first major break came around 1988 when Jasleen Dhamija connected an American Israel artist to Garvi-Gurjari for a project in which Sitaben played an active lead. This was one of the first collaborations by the organisation that was showcased in galleries of New York and Chicago. Sitaben worked with new materials, especially agate sourced from Camay. The American artist Annie Afsar experimented with the craft of necklace making, such as adding feathers in jewellery. Sitaben's expanded her technique through this experience.
Sitaben's second major assignment was a training workshop for tribal women of the Padhar (fishermen) community, near Nal Sarovar. Sitaben and her father were master craft trainers during this workshop. Sitaben also closely worked under the guidance of Carmina Fernandes, then the marketing designer at the organisation. The famous Indian classical dancer late Mrinalini Vikram Sarabhai was then the Chairperson at Garvi-Gurjari and suggested that Sitaben make jewellery based on the ones worn by tribal women in West India. These necklaces in desi-beads became were very popular with the market, particularly during the Navratri festival. Carmina recalls Sitaben was one of the most successful vendors to Garvi-Gurjari, during 1980 -1990. Sitaben used to work with a group of five women whom she had trained, but things soon started changing after her father's passing away.
Later, Sitaben has also worked with Sewa, Ahmedabad. She has conducted a number of projects independently. Through a project by the National Institute of Design (NID), she trained a group of women in Uttarakhand, North India affected by the tragedy of 2013 landslides and floods.
In recent times, Sitaben has also worked for several fashion designers, although rarely credited for her creative contribution. This is an ethical issue faced by many craft people in India.
Sitaben dreams to teach her craft to womenfolk in the remote and interior villages as a means of empowerment. She also wishes to pass her craft to the next generation and is generous with teaching. She has been a regular visitor to the National Institution of Fashion Technology (NIFT) and NID. Senior Faculty, Swasti Singh Ghai, Department of Textile Design, NID, says that "Sitaben is a creator endowed with a delight for colours, mastery of patterns, the curiosity of a child and the patience of earth—just the right ingredients which make any skilled craftsperson very creative. Any suggestions for variants of her lively creations are always met with an assured and encouraging yes: a true mark of the expert who can find a way out, no matter what."
In India, it is rare to come across a single woman and a senior citizen who through her craft has sustained herself. Sitaben is a remarkable story of courage. Her obstacles are multiple, but she continues to persevere.
When the Covid19 pandemic started Sitaben says, "I panicked and panicked for the first two days. Then I started making bead necklaces and this made me forget all worries".
Sitaben starred in Garland's story-making event Heart of a Necklace. 
✿
Garland suggests that readers buy from the original artisan. There are versions of her work that goes under the name of a designer. Please support her by purchasing necklaces under her name, as found in the Boroughs.
✿
Like the article? Make it a conversation by leaving a comment below.  If you believe in supporting a platform for culture-makers, consider becoming a subscriber.
Tags