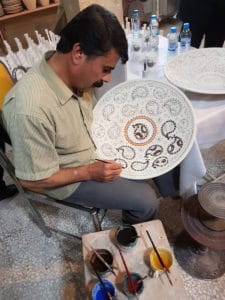 Persian arts are particularly known for their embellishment. Designs in carpets, ceramics, glass and wood inlay feature ornate arabesque patterns that celebrate beauty in nature.
In the West, modernism aimed to remove the decorative in order to reveal the thing itself. Postmodernism welcomed it back, but as pastiche, mixed up with everything else. In a digital age, embellishment seems crowded out by a flickering array of images. Is the decorative still relevant? In a global climate of growing protectionism, perhaps the act of embellishment is more important now than ever. Rather than create hostility towards foreigners, we can develop a positive sense of place. To decorate our world is to make a place for ourselves, and others.
You are invited to submit images for the online exhibition Embellish. This is open to artists and craftspersons from Iran, of Iranian background, inspired by things Persian or those who express the decorative spirit through their work. These will be displayed on a web page as part of the forthcoming September issue, and disseminated through our social media platform.
Images are due 22 August 2016. You can submit 1-3 images. You are encouraged to include an image of the form before decoration was applied, if possible. Images should be at least 1200 pixels wide.  Submit information here and upload images here. 
See previous exhibitions: 
هنرهای ایرانی خصوصا به داشتن تزئینات فراوان شهرت دارند. طراحی فرشها، سرامیکها ، شیشه ها وچوبهای منبت کاری شده که با فرمهای اسلیمی مزین شده اند، زیبایی طبیعت را جشن میگیرند.
در جهان غرب  مدرنیته به منظور آشکارسازی "زیبایی اجسام به خودی خود" به حذف تزیینات پرداخت. پست مدرنیته دوباره از تزیینات استقبال کرد، اما به صورت ساختگی و در ترکیب با اجزای دیگر. در عصر دیجیتال، به نظر میرسد که تزیینات با مجموعه ای از تصویرهای لرزان شلوغ شده اند. آیا هنوز تزیین کاربرد دارد؟ در حال و هوای جهانی و رو به رشد حمایت از تولیدات داخلی، احتمالا کاربرد تزیینات مهمتر از هر زمان دیگری است. به جای ایجاد خصومت با  اتباع خارجی می توانیم یک حس مکانی مثبت ایجاد کنیم. برای تزیین جهانمان جایی برای خودمان و دیگران بسازیم.
از شما دعوت می شود تا تصاویر کارهای هنری خود را در نمایشگاه اینترنتی hsillebmE ارائه دهید. این نمایشگاه آماده دریافت آثاری از هنرمندان ایرانی، دارای پیشینه ایرانی، متاثر از هنرهای ایرانی و همچنین همه آثاری که دارای تزیینات هستند، میباشد.  این آثار، به عنوان بخشی از شماره سپتامبر آینده  در وبسایت  و شبکه های اجتماعی به نمایش گذاشته می شوند.
آخرین فرصت ارسال آثار، 1 شهریور 1395 می باشد. شما مجاز به ارایه یک الی سه تصویر می باشید. در صورت امکان، این تصاویر شامل تصویری از کار، پیش از مزین کردن به تزیینات باشند. برای هر تصویر، حداقل 1200 پیکسل عرض تصویر قابل پذیرش است. می توانید پیوند (لینک) ارسال اطلاعات،  پیوند ارسال تصاویر و پیوندهای نمایشگاه های گذشته را در متن انگلیسی بیابید.
✿
Like the article? Make it a conversation by leaving a comment below.  If you believe in supporting a platform for culture-makers, consider becoming a subscriber.
Tags