As part of our quest to go behind the scenes, we asked Theo Tremblay to list the ten most important rules in running a printmaking workshop. Editions Tremblay Print Workshop is located in Canopy Arts, Cairns, and collaborates with major artists in North Queensland.
Ten Golden Rules
Points 1-3: Listen, Listen, Listen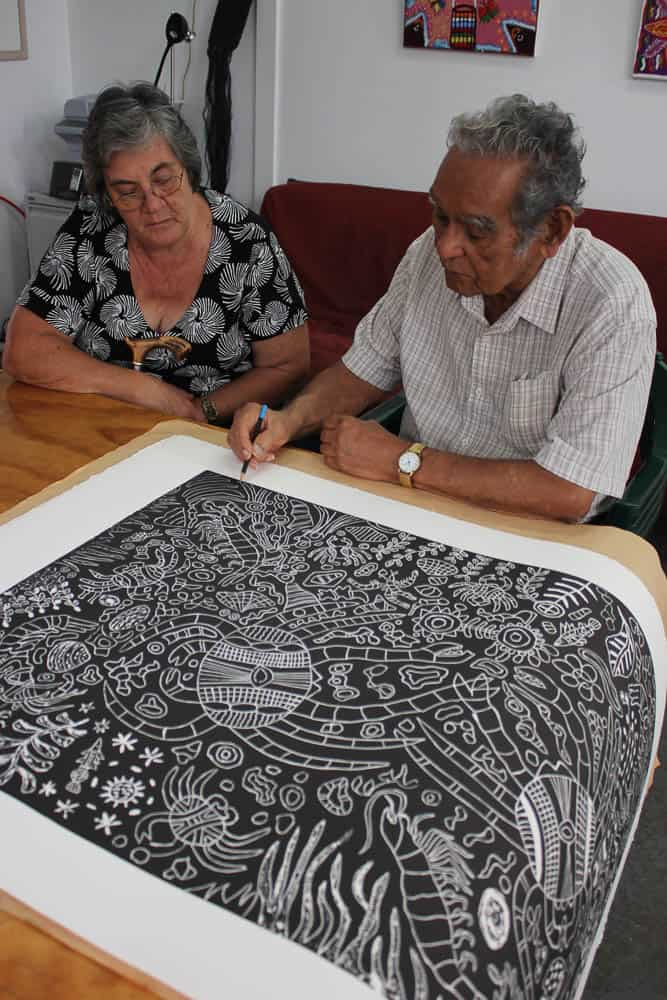 Point 4: has got to be H&S. Harmful vapours produced by chemical process should be kept out of doors. The best extraction systems try to eliminate them, but there is always leakage and compromise. If you can't, then don't use them or use a gentler product. Common areas need to be kept tidy (of course). Gloves, aprons, covered shoes, anti-death masks for microscopics and vapours—a must. In my workshop, I make sure bottles of toxic chemicals and solvents have different shapes and profiles—otherwise it can be SO easy to pick up the wrong thing when in a rush and not paying attention to labels.
Point 5: Communicate, Collaborate, Create is our mantra. Communication is the key to working collaboratively. Artists often need to communicate where and what circumstances they come from. Visiting Indigenous artist in their community and understanding something about their stories, names of places, family relations, traditional foods & medicines, traditional practices and vocabulary in advance can earn credits and bypasses emotional and intellectual frustrations that can occur in a collaborative relationship. It is an intimate and special relationship with an artist like no other. Embrace it, understand it, savour it.
Point 6: Match up appropriate media that artists can readily approach with confidence. Small failures can come later, as part of the creative process. If drawing is a strength, then lithography, soft-ground etching might initially be offered. If carving is an artist's best mode of expression then relief printing would be offered. Master printer Fred Genis spoke of collaborative printmaking like dancing with a partner. The printer often has a leading role. This responsibility carries power and can make or break a project. I know of an artist who was bullied into submitting to a colour variation for a project. The artist said nothing, got up and left and the printer thought all was good. I read the matter quite differently.
Point 7: Encourage small steps of creative and technical innovation. Failure in small doses is healthy and a part of the learning process. One person's experimental failure is another's find. Failure is very much a part of life and stimulus of change.
Point 8: Ergonomically well thought out. The workshop is where we (want to) spend a huge portion of our working life. It is our dream machine, box of magic and chamber of secrets. Natural light, plants, excellent sound system, kitchen, bar fridge, bookshelves, masses of table space, mezzanine storage, napping couch—oh, yes! And more. Home away from home. Sometimes it IS home, like now, where my family share a 1000 sq metre vintage WWII shed in the middle of Cairns. When printing, everything needed to ink, handle paper and print has to be within as few steps as possible. Limiting public access to the workshop is necessary while printing.
Point 9: Be a conduit between artists, funding agencies, gallery directors, and collectors. Printmakers have wonderful opportunities to bring people together and share in the pie. We stress financially, sweat and bleed like everyone in the arts. We can also share the successes and failures of ourselves and others. Our well-being and the quality of our art depends on it.
Point 10: Commitment. Printing is not just a job, but a lifestyle. I was lucky—my father was a mechanic/inventor and my mother was a legal secretary for the Boston and Maine Railroad. If success is measured in the balance of the accumulation of wealth, lifestyle, wellbeing and personal growth, it is also dependant on variables and personal circumstances. Once we show commitment, the world lights our passage. Empathy—a rare commodity, rises: teaching opportunities become available, printing equipment is handed down, gallery artists push work our way. Without commitment, we are amateurs with an expensive habit and piles of prints in drawers, never to see the light of day.
✿
Like the article? Make it a conversation by leaving a comment below.  If you believe in supporting a platform for culture-makers, consider becoming a subscriber.
Tags