Balnhdhurr is a Yolngu word for a mark left by one group as a message for others to follow. It is the title of a touring exhibition of work produced in the Yirrkala Print Space, at the Buku-Larrŋgay Mulka Art Centre, northeast Arnhem Land in the Northern Territory. It is a testament to the commitment, talents and skills of generations of Yolngu artists who over 20 years of operation at Yirrkala Print Space have utilised the medium of printmaking to share their stories with each other, and with national and international audiences. Below is an edited version of the catalogue that accompanies this exhibition.
Yirrkala is perched on the coastal peninsular where the Arafura Sea meets the Gulf of Carpentaria. Since the 1950s the artists and their artwork have gained international and national acclaim and are represented in major public and private collections.
In 1975 Buku-Larrnggay began as an act of self-determination in the post Mission era. It has always dedicated itself to the maintenance and preservation of Yolngu law and culture. The Yirrkala Print Space began in 1995 when a purpose built area was designed to host a printing press and "seize the means of production" into Yolngu hands. It was Basil Hall who assisted in this first installation and training and he has made annual visits until the present day. Since then, the inaugural print the studio has produced over 800 editions by 135 artists and is now an integral component of the art centre and community.
As one of the few printing studios based in a remote Indigenous community, its philosophy is to provide an environment to educate, engage and strengthen the vision of Yolngu through artistic skills development and exploration of new techniques. It acts as a training area for emerging artists and is staffed by Indigenous printmakers.
So for twenty years, without interruption, the Yirrkala Print Space has achieved what no other has—an Indigenous owned and run remote print studio. In this time, the Yolngu printmakers of the studio have produced prints using a variety of different techniques—woodblocks, linocuts, etchings, screenprints, collagraphy and lithography. Over this period, the skills learnt from Basil hall and print coordinators Dianne Blake, Araluen Maymuru and Annie Studd have been handed down amongst the generations of Yolngu printmakers who have passed through the Yirrkala Print Space.
For many of the artists, the new processes provided exploration into new palettes, genres, styles and media. When sanctioning the production of art by mechanical reproduction, the elders were concerned to prevent copyright infringement of sacred design (which is much more serious in Yolngu culture than in mainstream law). They decreed that "to paint the land you must use the land". This limits miny'tji (sacred design) to original works in natural media and therefore bars it from being reproduced multiple times by mechanical printing techniques. This has been observed in all prints made by Yirrkala Print Space.
Basil Hall is not the only one to have visited the Print Space. Inspiration and guidance has come from other printmakers working for him such as Simon White, Jacqueline Gribbin and Merran Sierakowski, and independently such as Paul Machnik, John Wolseley, Alicia Scobie, Heather Burness, Adrian Kellett and Sean Smith, each with their own contribution to the Print Space. Important bodies of works such as Djalkiri (2010), Seven Sisters (2012) and Midawarr Suite (2013) are the direct result of these collaborations.
The platform provided for artists to expand their artistic endeavours has produced works included in prestigious national awards and in exhibitions worldwide. Young participants in recent projects—Young ones (2010) and Yuta (2012)—have begun to establish themselves as the next generation of Yolngu artists, and the Print Space offers them an empowering and valuable practice as a foundation on which to develop.
Early linocuts
In 1995 when the Yirrkala Print Space began, the initial medium chosen was black and white linocut prints. The process of carving with a razor into a block of lino (similar to that used on floors) was familiar to the artists from wood carving traditions. Once covered with ink and rolled through a printing press, the image appears. It was amazing that the first attempts at printmaking emerged as fully resolved fine art. An early decision was made not to chase artists but to let them enter the space at their own volition. This happened quickly and gained momentum into 1996. Another early decision was to make small editions, thus requiring the artists to return and engage with the new process more frequently.
Early colour reduction linocuts
The complexity of reduction linocut, introduced in 1997, enhanced and developed the artist's printmaking understanding. The process of reduction linocut involves a series of progressive cuttings, inkings, and printings; the image slowly emerging as the original lino is destroyed. There is no going back! This was the beginning of colour in the Print Space.
Nyapilingu Wapitja the triptych by Naminapu Maymuru-White, originally editioned in black and white became a linocut reduction in 1996 under the guidance of Basil hall. The work went on to win the Work on Paper Award at the 1998 13th Telstra National Aboriginal and Torres Strait Islander Art Awards.
Early Collagraphs
A collagraph refers to a collage of materials glued onto a "printing plate" (generally a square of board). Once dry, it is varnished so that it can be painted with ink and printed onto paper. Often these prints are considered mono as each one varies due to the hand-inking. By 1999, the print space had increased production and more artists had involved themselves in the new studio. It was a period when the artists were creating, inking and printing all of their own work, learning and developing while sharing new ideas, knowledge and styles in the studio.
At this time, Gaymala Yunupingu began a suite of prints that talked about the effects the local mining company, Nabalco, was having on her country (Nabalco Suite 1999). These works drew on parallels between sacred animals, trees, birds and rocks to the huge mining tools as a visual metaphor. Sadly she died in 2005, but remains the most prolific print artist and the true guiding spirit of the Yirrkala Print Space.
Early screenprints
The first screenprint made on-site at the Print Space was created in 2000. It was by Gaymala Yunupingu and editioned by Dundiwuy Mununggurr-Wunungmurra, Marrnyula Mununggurr and Dianne Blake, the printmakers at that time. This heralded a new era of printmaking in Yirrkala.
The artists painted directly onto large sheets of acetate in bright acrylic paints that were exposed onto silkscreens. For each colour, a different acetate and screen were made, that was then printed one at a time onto the paper. Lining up each layer to fit perfectly required good skills of registration. The step into a world of bright colours, not traditionally used in the area, allowed the artists to explore a whole new genre of artistic storytelling. Traditional motifs printed in fluorescent pink, crocodiles that were purple, trees that were orange, it was a joyous explosion of colour and expression. It also allowed the full expression of the brush stroke to appear. For some, it was spontaneous loose vivacious brushwork and for others it was the precise marks of the marwat, a crosshatching brush made from human hair, used in bark painting. The artist paints line by line away from their body. This system of painting is particular to Yolngu.
Japanese Woodblocks
In 2007 printmaker Jacqueline Gribbin held a workshop on Japanese Woodblock prints. Designs are carved into the woodblock and, once inked, printed onto a delicate rice paper, the back of which is burnished using a barren, a specialised tool that rubs the surface of the paper and transfers the ink. Using two or more blocks enables the use of several colours and creates works of multiple colours. The process so exacting and dynamic it is almost like a dance with a required and definite rhythm.
Etchings
An etching is a print made by using either a soft or hard ground to resist acid in order to make recessed lines on a printing plate in which the coloured ink collects. The process allows for different tonal qualities across a single matrix. Colour can be applied in specific areas and the intensity of the acid etch affects the intensity of colour. Sugar lift etching refers to the ground used – a mix of paint, sugar and water which lifts away from under a hard ground and creates a soft tonal value to the printed work.
Etchings are made with a damp printmaking paper on a printing press with strong pressure. The plate used almost exclusively at Yirrkala is one made of zinc.
Berndt Crayon Etchings 2008
In 1947, on a field trip to Yirrkala, anthropologist R.M.Berndt collected 365 crayon drawings done by the men on butcher's paper. These extraordinary drawings were the inspiration for a print project. The original crayons went on to be exhibited nationally and internationally as the Yirrkala Drawings.
The use of pencils on soft ground etching plates (coated with wax which is displaced by the pencil) recaptured the feel of the works from sixty years ago. Gathering together the direct descendants of the original drawings all artists were reconnected to their forbearers and the images and law the drawings held. Basil Hall was instrumental in introducing this technique to the Yirrkala printmakers. The collection of prints are astonishing in their colour and texture.
String figure prints
As part of the 1948 American-Australian Scientific expedition to Arnhem Land anthropologist Frederick McCarthy (see Robyn McKenzie Quarterly Essay) concentrated on collecting and recording string figures. Working with Ngarrawu Mununggurr as his principal guide and collaborator, he made a collection of string figures, constituting one fifth of all "known" string figures in the world at the time, which remains the largest of its kind that is collected at a single time and place, from a single community, 193 in total. Made by slipping the finished figure off the maker's hands and affixing it onto a cardboard support, the ephemeral nature of string figure making as a performance process was thus turned into a fixed and stable two-dimensional form. These mounted figures, both strange and beautiful, the product of a cross-cultural encounter between Yolngu and western anthropology, inspired a further exchange in a series of String Figure prints.
In Yirrkala in 2010, five string figure designs were transferred by the artists from their hands to a cardboard support, and then pressed and secured. In Canberra, with printmaker Heather Burness, they were placed on etching plates treated with a soft-ground medium, and run through the press, leaving an imprint capturing the fine textured detail of the bush string. The acid biting into the metal plate then made these marks permanent and replicable. In the lines of the figures can be read the controlled manipulation of the string to form a pattern, against which play the random energies of chance.
In 2013, after a request by the MCA for their exhibition 'String Theory', another seven string figures were captured onto a soft ground plate and sent to Basil Hall editions for editioning.
Ngarra—Young Ones Portraits 2010
In 2010 a workshop aimed at disengaged youth, facilitated by Alicia Scobie and the local school, produced Ngarra – Young ones Portraits a set of self-portraits made by the youth of Yirrkala. Nothing like them had ever been produced at Yirrkala before. They owed nothing to the established Yirrkala art styles or authority nor relied on any sacred knowledge or previous art production experience but instead employed digital photography; photocopying and chine-colle linocut printing that produced a contemporary "Facebook" feel.
An expanding group continued to attend the Print Space one day a week to edition their self-portrait prints. This phase went from early September 2009 until the end of 2010. The pool of involved young people swelled weekly. In the end 35 artists created 38 images.
The Print Space is an area for young emerging artists to develop and hone their skills and ideas and this project gave an opportunity for these young people to portray themselves in a contemporary manner in order to gain the confidence to tackle issues concerning their remote community and life.
Gunybi Portraits 2013
A visit by renowned Canadian printmaker Paul Machnik in 2013 pioneered a new etching technique for the print space. Gunybi Ganambarr is renowned for his innovative and groundbreaking approach to the traditional realms of Yolngu art. using a sharp needle tool he scratched into the surface of aluminium plates these two extraordinary portraits. One is an idealised Yirritja Madarrpa woman; the other is an idealised Dhuwa Ngaymil man. Gunybi is from the Ngaymil clan implying that this is a self-portrait to match that of his wife, a Mardarrpa clan woman. On her face the miny'tji (sacred design) is glowing: the intensity of the beauty/fire causes men to shield their eyes. And if they are drawn in too close they will be consumed by it. His Dhuwa man reflects the strengths of the Barracuda.
Seven Sisters 2012
A constellation of seven sisters in the sky inspired a body of prints created by seven Gumatj clan sisters in 2012. Each sister created her own large print as well as a single star that was arranged in a constellation to form The Seven Sisters Collaboration.
The Yunupingu sisters were all great artists and three in particular, Gulumbu Yunupingu, Barrupu Yunupingu and Nyapanyapa Yunupingu, involved themselves heavily in the Print Space and created bodies of work that show their exceptional artistic expertise. Each artist, with their distinctive individual styles, earned titles relating directly to their personal imagery—the Star Lady, the Fire Lady and Lady Garkgark. Two of these celebrated artists have tragically passed, but their prints and artistic legend are commemorated in this collection of their work from 20 years.
Mother / Daughter
Banduk Marika is the best known print artist from Yirrkala and one of the most famous Indigenous print artists in the country. She began to work in lino as early as 1980, decades before the Yirrkala Print Space existed. She has frequently produced prints through Yirrkala Print Space since her return to the community. Maybe it is not surprising, that Banduk's daughter, Ruby Djikarra Alderton, became one of the youngest and best printmakers and artists to work in the studio. her leadership was crucial in the success of the Yuta Project and drawing young people into work at the studio. her involvement signalled a generational change in the art centre.
The Yuta Project 2012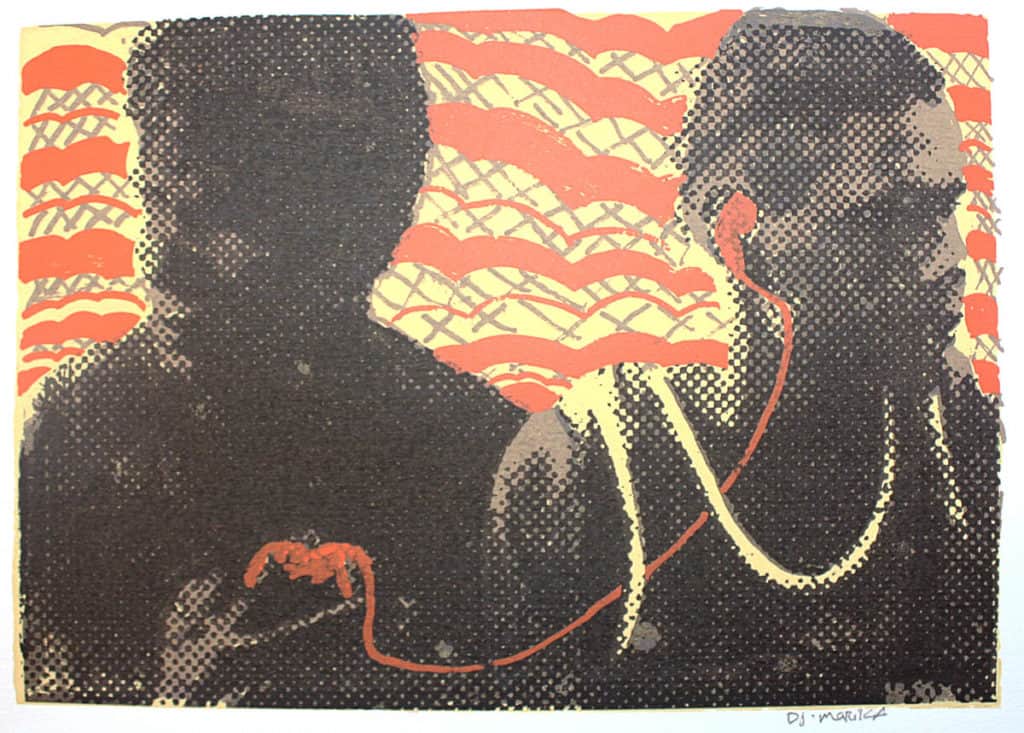 In early 2012 Sean Smith from The ownership Project alongside permanent printmakers Annie Studd and Ruby Djikarra Alderton facilitated a workshop which saw a body of unique digital screenprints created by the youth of Yirrkala. The aim of this workshop was to empower youth by providing a safe space where they could involve themselves artistically without boundaries or judgment. The project directly targeted youth who were not engaged with mainstream schooling and were at risk from substance abuse, suicide, teenage pregnancy and violence, lack of motivation and low self-confidence.
The young participants were given cameras and sent into their community to photograph images of local scenes, places or people, capturing the elements relevant and important to their daily lives. With Photoshop manipulated images and hand drawn illustrations printed together, the Yuta prints are complex and resolved works of art that have been appreciated by audiences both nationally and globally. In 2014, the UNESCO online journal published an article examining the Yuta Project and its positive effect on the young artists and community.
Gapan Gallery
The main event each year since 2003 is the Gapan Gallery held out at the Garma Festival in August. In a dell of stringy bark trees on the edge of the escarpment an outdoor gallery is created each year by clearing the forest floor, covering it with white sand, painting the trees in gapan—the local white clay—and hanging the framed prints in the trees. This annual exhibition is the primary focus for the printmakers and artists. At this special event the work of that year premieres. The studio is making and editioning work on a daily basis. A theme naturally develops between the festivals and focuses the print space; a visiting printmaker might come and influence the work; an exchange, collaboration, a workshop, or an artistic push to develop an idea; all of these things shape and mould the direction the prints take in a year.
Drawing from the well of knowledge and expertise gained over the years or from reaching out to learn more, the prints from recent years are a diverse assortment of twenty years acquired learning.
Afterword
Yirrkala Print Space is always a hub of activity. It always has been.
It's not unusual for an artist to arrive with a fully formed idea in mind, demanding the means to realise it. At other times the print staff might grab a visiting homeland artist and get them working on a plate. It could be a lithograph from an exchange with Native American artists; an embossed print created from a collaboration with Basil hall; a linocut from an award-winning bark artist; a small subtle etching or a large bright screenprint, usually made to the tune of loud R&B and the squeak of the roller. These are the daily layers and levels of the Yirrkala Print Space.
Somehow, in one of Australia's remotest areas, a space has been created where high standards of excellence in printmaking and creativity have flourished and been persistently maintained in a humble and thoughtful way. It is only now in looking back that we can really appreciate how special this journey has been and share it with a wider audience.
The Yolngu word Balnhdhurr describes the situation where one group goes on ahead but wants to leave a message for those following behind. An impression is scratched into the ground with a sign directing the future viewer to follow the right path. And so it is here.
Will Stubbs is manager of the Buku-Larrŋgay Mulka Art Centre
✿
Like the article? Make it a conversation by leaving a comment below.  If you believe in supporting a platform for culture-makers, consider becoming a subscriber.
Tags