Prao village
This story is a true memory from my childhood in 1987. I grew up in the village called Prao, a small village in the middle of forest and mountain, located in the northern of Thailand. It takes about one and a half hour to drive to the north from Chiang Mai City. The village does not consist of any big roads, shopping malls and fancy facilities. There are a lot of big rice fields everywhere, surrounded with green and beautiful scenery. At that time, most of the people still travelled by riding bicycles or walking, including me and my grandmother. My grandmother always took me everywhere with her bicycle.
The location of my house is near to morning market and temple. There is a small creek located in front of our house. Furthermore, we have all year round fruit trees that we can climb up and harvest them such as mango, lychee, longan, coconut, banana, passion fruit, santon, hog plum and tamarind. When we had a lot of fruits left over from each session, we preserved them and shared them with our relatives and neighbours. Moreover, we have an organic garden that have some plants we did not actually plant like holy basil, culantro, lemongrass, ginger, turmeric, galangal, levy gourd and more. She always asks me to get some herbs for her when she cooked the meal. Sometime we just pick some of herbs from our neighbour.  
Also, we have pets that we actually can make profit from, for instance pigs, chickens and ducks. My grandmother usually feeds the pigs and ducks, however I would like to help her to feed chickens as all of them will come around me. Also, we usually have to do a fire at night in order to prevent the mosquitoes from biting our pets.
She has a big garden with different kind of flowers that I am not allowed to pick. One time I accidentally picked one of her yellow flowers that she needed to keep for her craft work. After that, she was so angry. She put that flower into my month and asked me to eat it. I was so scared. I have never ever picked her flower again since that accident.
Also, I love to do gardening. I remember one time I was planning to plant climbing lily and sell them later. I successfully multiplied them into many pots. One day, I got back from school and I found ducks had eaten all of my climbing lily. I cried afterwards in my little gardening area. My grandmother approached me and consoled me, saying we will plant them together again. We always have a lot of fun and good memories together in our house. She is my second mom, my first teacher, my nanny and my everything of me.
Lanna culture
Originally, Chiang Mai used to be the capital city of Lanna kingdom. Lanna has their own language, culture, traditions and history. Lanna and Siam kingdoms are consolidated about 200 years ago as a Thailand country.  Therefore, Lanna culture still exists in Chiang Mai and other cities in the upper northern provinces of Thailand.
The meaning of  "Lanna" word is "millions of rice fields".  Lanna art or also known as the chiang saen starts in Buddhist Era 18th – 21st in northern part of Thailand where the Ping river flows through. Lanna art is very ancient.  It is expected that there is a successive succession of Tavaravadee and Lop Buri art in this region has became famous since Haripunchai. The centre of Lanna art was originally from Chiang Saen, called the Kingdom of Yon.  Later, when Phaya Mung Rai moved to build the city of Chiang Mai. The center of Lanna Kingdom became Chiang Mai. Therefore, Lanna art played an important role on developing the upper part of northern Thailand.
Lanna's art and culture symbolise the center of harmony for people in the community. The art is seen in daily life such as food, clothes, architecture, ceremony and more . The process of making each elements has their own story and believes in it . In terms of the music and performance in Chiang Mai, there is a unique characteristic compared to other parts part of Thailand and neighbour countries.
According to the geographic of northern area that there is a big forest landscape and the location is in the north. The weather is always cool and succulent. The character of Lanna art is quite gentle, delightful and delicate. This is where my art works received their inspiration. The calm and the concentration create the energy though the body movement, drawing lines and colours.
Nowadays, a new generation of northern Thai people try to preserve and resurrect Lanna culture to the next generation—wishing the growth of Neo Lanna art and culture can be passed to next generation with a prosperous future.
Australia
I graduated from Bachelor of Fine Arts at Chiang Mai University with second class honours. My major study is Thai Art and minor study is drama. I work as a freelance dance teacher and performer during my study, I continue the same after I graduated. I did not have a chance of having a proper training in dancing, apart from Latin America when I was a competitor. However, I would like to achieve my goal by going to study overseas and get trained in a qualified dance course. That is the beginning of my journey.
I came to Australia in 2006. The main purpose of this journey was to complete my qualification in dance teaching and also to improve my English skills.  During that time, I had so much passion on dancing, I hoped that this journey would fulfill my dream in dancing career. I was thinking to go back to his hometown in Chiang Mai, Thailand after I graduated my diploma of dance teaching and management and establish my dancing school. In fact, this journey life took longer than I expected. Then, I continued living in Australia after my graduation in 2008 as I received the offering to teach at Victorian Ballet School in Fitzroy. However, my dream did not stop. I planned to form up a group of Thai people in Melbourne who have the passion and ability to perform Thai cultural performance and produce the modern thai performance together in overseas. In 2012, I founded SILP Productions Inc to promote Thai, Thai Lanna art and culture in Melbourne, to create a unique performing art productions from the combination of Thai, and Thai Lanna's Spiritual and a touch of Thai- Australian experience into the contemporary art.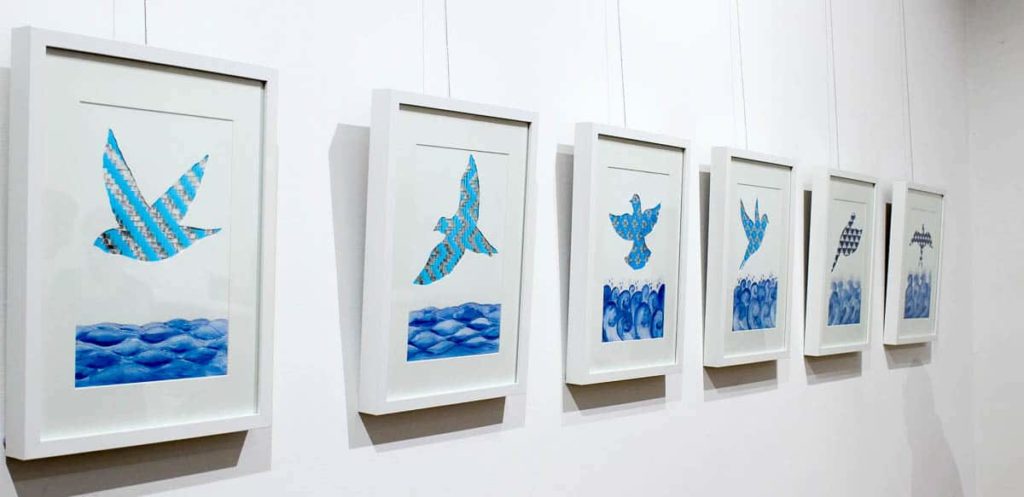 Freedom was my first visual art included in a group show. I spent a whole month to produce the series. I would like to show the techniques that truly represent myself in a piece, as I have so much passion in arts and crafts since I was young. Plus, I got inspired by my grandmother who is good in art. I always watch her when she practices at home. I always ask her if she needs any assistant.
I have seen this weaving technique used by my neighbors who made craft work in my village and I also learnt this technique when I was in grade 4 as part of art subject. I still remember the basic pattern and I still use that pattern in Freedom series. I also created a modern pattern, to show the development of my work from the traditional to the modern way. The painting and drawing technique, I was practicing since primary school as well. I enjoy learning art subject so much and I always do my best to show my talent to the teacher. This is the reason why I choose to continue studying in Fine Arts in university. The university gave me the opportunity to practice more about art skills and explore more about art works.
Author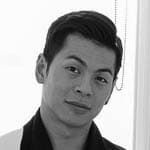 Nakarin Jaikla is a dancer and artist who founded and directs SILP Productions Inc. to promote Thai arts and culture in Melbourne. He can be found on Facebook or the web at www.nakarinjaikla.com.
✿
Like the article? Make it a conversation by leaving a comment below.  If you believe in supporting a platform for culture-makers, consider becoming a subscriber.
Tags