Ilka White is inspired to make work in response to the bird on behalf of whom she speaks.
(A message to the reader.)
---
In many cultures, you're born into a system that gives you a totem. In my early 30's it felt like my totem chose me. Whenever I see a White Faced Heron now there's a shiver of recognition, like a good omen. I take special notice of what's happening at that moment.
I was riding my bike towards the city along Napier Street Fitzroy, feeling pretty low in spirits. Suddenly my mood lifted as if grace had swept in and I started to feel like I wasn't riding alone, like I was accompanied. I had a sense of something overhead. I had to crane my neck because of the visor on my helmet before I saw her. A White Faced Heron was flying directly over my head: long neck out front, legs behind and wings outstretched in a slow beating of the air. Flying below the level of the power lines. So close! My progress was slow as I rode uphill but Heron kept pace, staying directly above me for at least a city block.
I made a drawing of Heron with wings outstretched and myself on the bicycle from a birds-eye view. These silhouettes were woven into a long white cloth for a solo show in 2004 called Whitework. Shortly after that exhibition, white stencils appeared on my local bike path: silhouettes of someone on a bicycle accompanied by birds, all viewed from above.  It felt like a zeitgeist moment.
Years later I participated in a "Council of All Beings" as part of a deep ecology workshop with John Seed in Warburton. In the words of Joanna Macy, "The Council of All Beings is a communal ritual in which participants step aside from their human identity and speak on behalf of another life-form", feeling into their worldview and considering their needs, their habitat, their relationships.
Of course, I knew I must speak for the White Faced Heron.
To help us enter more fully into their point of view, we were given five minutes to make a mask representing our chosen entity. There was a stack of paper plates, scissors and textas, staplers and string. I made a quick Heron mask and others in the group made Yam Daisy, Owl, Sheep, River, Quoll, Red Gum, Golden Sun Moth and so on. Tasmin made an archetypal egg, representing the unborn. We met and discussed the concerns brought to the circle by these beings. Sometimes the needs were contradictory and we had to negotiate possible solutions that considered everyone present.
In a recent Garland conversation, someone proposed that it was supremely arrogant to think anyone could know what another being is thinking or feeling. On one level this is true, but considering other species and recognising their interconnected relationships might at least move us a step closer to respectful ways of dwelling. We might at least acknowledge and discuss the impacts of our choices on the wider web of which we're an integral part.
When I lived by the Merri Creek in Melbourne my favourite place to sit was a billabong-like reserve where I'd often see a White Faced Heron. One day I meditated there on how the Heron might perceive the world. It shifted my perception. I became acutely aware of the movement of air against the surface of my body. I noticed the shifting drafts and the direction of the wind. With my eyes closed, I imagined how Heron might see and feel. I considered the middle ground, distant movements in the grass, the surface of the water.
I made another Heron mask with the wild grasses that grew around the billabong. I refined my hasty paper plate model and jeweller Darren Harvey helped me with the frame. Wearing the grass mask I returned with photographer Kristian Laemmle-Ruff to the billabong and sat in the chill of a midwinter dawn, feeling my way into being Heron.
This place I call the billabong is a reclaimed patch on the creek edge, which was once an informal neighbourhood dump of car bodies and refuse. Like Ceres Environment Park upstream, it had been cleaned up, replanted and protected from dogs by a fence with two gates.  All along the Merri Creek, the management committee and "friends" group has carried out this kind of slow, beautiful work over decades.
After much of the creek's health was restored a Sacred Kingfisher was spotted near the Ceres site, prompting a celebration that has grown into an annual festival.
Potawatomi ecologist Robin Wall Kimmerer considers how settler people might become indigenous to place again. How people like me might re-orient ourselves to a culture of belonging. She emphasises the need for new rituals, without appropriating those of indigenous cultures who've embodied this stuff for countless generations.
Central to the Return of the Sacred Kingfisher procession is a huge cane Kingfisher animated by puppeteers, its wings flapping over the multicultural throng before we gather on the green to dance the "Kingfisher boogie" with a crowd of all ages and species. One year I guided dozens of East Brunswick school kids in swooping as a flock, holding aloft little rainbow lorikeet puppets we'd made from recycled bottles.
Masks and puppets, costumes, processions and dances can transport us from our every day into a state of widened perception and collective intent. Of all the animals, humans may be the only ones who are "self" conscious, forgetting we're part of the ecosystem and thereby destroying what supports us. How might we adopt a more constructive role?
I live now on Dja Dja Wurrung country, by a confluence of creeks Uncle Rick Nelson calls Boolaydj Kiarp Bolealong. I sit here, under a favourite Black Wattle tree, accompanied by a sentient world with its own agency. I wonder, could our role be as emissaries, channels or instruments for the world to blow through?
What if, my Father suggests, a Council of all Beings was part of the planning process of every local government? Indeed, what if our elders, artists, ecologists, field naturalists, poets, herbalists and songwriters were the ones who led this sort of process? Perhaps a Council of all Beings would govern with a more visceral awareness of weather and of our ecological survival. Certainly craft and story, invocation, history telling, ecological literacy and movement are powerful modes of communication.
I am encouraged by the "butterfly effect", recognising that even small works can influence widespread change. I am recognising that what we choose to pay attention to informs what we make and do. What are we enraptured by? What, from a textile point of view, might we wrap ourselves in, and thereby honour?
As I make cloth, or crackers, or compost, I think of the White Faced Heron who lives in this country too. Then my mind follows the Shouldered Brown Butterfly and rests on the Artichokes and the Comfrey. I remember personal epiphanies amid Sand Dunes and conversations with the Sky and the work that flowed from those encounters.
I realise I belong to the whole lot… and that spirit lifts me all over again.
✿
Information about the Kingfisher Festival can be found here. You can read about Joanna Macy's 'work here and John Seed's here.
About Ilka White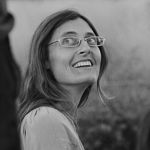 Ilka White lives in Dja Dja Wurrung country, central Victoria. Direct engagement with the natural world and a love for 'primary' skills and world textile traditions inform the way Ilka lives and makes. She taught Weaving and Textile History at RMIT University for many years and has since worked throughout Australia as an independent artist, teacher and community facilitator. During a recent residency at Castlemaine Art Museum, Ilka wove a collaborative web from her community's reflections on their connection to each other and to the wider ecological web of which we're all part. Visit ilkawhite.com.au and follow @ilkawhite
✿
Like the article? Make it a conversation by leaving a comment below.  If you believe in supporting a platform for culture-makers, consider becoming a subscriber.
Tags