Noorjehan Bilgrami was charged with commissioning works from Pakistani artisans for the new Islamabad International airport. We present stunning images and video of this remarkable collection, demonstrating the vivacity of craft in Pakistan today. We asked Noorjehan about one particularly striking installation involving truck art around the baggage claim area.
The truck mural was commissioned especially from the airport. Versions of the art form were sourced from all over Pakistan. It is still a lively art form which has not been replaced by the more anonymous digital decoration you might see on vehicles in other countries. This art is very much in demand also for interiors and furniture, but it is not yet seen in galleries. However, we are working on a possible exhibition by truck artists in Koel Gallery, 2019.
Author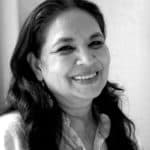 I am a visual artist, residing in Karachi Pakistan. For four decades I have been involved in the revival and documentation of traditional crafts of Pakistan. Whenever I need a respite I paint—that is a luxury I indulge in periodically. In Karachi we have in one complex of KOEL( Koel is a small bird of the Indian subcontinent that sings in monsoon season to herald rain, used a lot in Urdu poetry as a symbol of romance) is an art gallery of contemporary visual art, a small gallery shop called Maharat, that gives space to craft products that have excelled; a cafe with a seating of 90 persons and a shop of handwoven, natural-dyed fabrics and apparel block printed and embroidered. There a couple more projects in the pipeline inspired by the airport.
✿
Like the article? Make it a conversation by leaving a comment below.  If you believe in supporting a platform for culture-makers, consider becoming a subscriber.
Tags