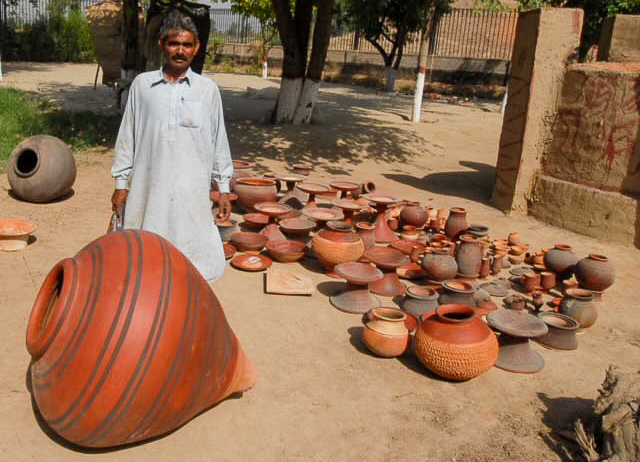 Noorjehan Bilgrami and J. Mark Kenoyer honour Muhammad Nawaz (1954-2013), who brought back to life the ceramic traditions of the ancient Indus Valley.
Indus Valley Civilization, one of the world's earliest known civilizations (2600 – 1900 BCE), is a contemporary of ancient Egypt and Mesopotamia. It extended over 1.3 million sq. kms, with 1,500 known settlements and several large cities. The discovery of the ancient cities of Harappa in the Punjab province and Mohenjodaro in Sindh unearthed a highly developed culture that was extraordinary in many respects. The craftsmen of the ancient Indus Valley were some of the most skilled in the world. They worked with wood, stone, ivory, metal, clay and other materials.
The late Muhammad Nawaz was a short, bright-eyed potter with an extraordinary curiosity to learn. Born and raised in the Punjab, he was already a master potter who made the wheel-thrown and paddle and anvil made pottery common throughout the northern Punjab. In 1986, he joined the Harappa Archaeological Research Project, where he was trained in excavation by renowned Archaeologists Dr G. F. Dales and Dr J. M. Kenoyer who were excavating at the important site. In the course of the excavations, Dr Kenoyer began asking Nawaz to help him understand how the ancient pottery might have been made. Nawaz would look at a broken sherd, examine the clay and suggest the technique and firing of the ancient vessel. Eventually, he began working full time with the project to replicate ancient vessels in collaboration with Dr Kenoyer and other project members.
Nawaz had a deep passion for pottery and experimented with many different clay mixtures and pigments until he had mastered the wide repertoire of ancient Harappan potters. Recent studies of his replicative clay mixtures using highly specialized scientific techniques have confirmed that the samples he made are almost identical to the ones made by the ancient potters. He helped to excavate one of the ancient kilns found at the site and through his experience with firing pottery, he was able to reconstruct and develop a fully functioning updraft kiln identical to that used 5000 years ago.
Noorjehan Bilgrami met Nawaz in the course of her documentation of ceramic traditions for her book Craft Tradition of Pakistan.  Nawaz's child-like innocence and his positive cheerful personality were so endearing that a strong bond was formed that continued until his untimely death. He supplied his phenomenal terracottas for sale in her atelier and helped run workshops for students at Indus Valley School of Art and architecture in Karachi. He was the most popular figure in all craft fairs and at the annual fair at Lok Virsa Folk Heritage institute in Islamabad.
In 1998, Noorjehan and Nawaz travelled together in conjunction for an exhibition on the Indus Civilization that was organized by Dr Kenoyer in collaboration with the Asia Society, New York and the Department of Archaeology and Museums, Government of Pakistan. Noorjehan was also curating an exhibition of traditional textiles, Tana Bana: The Woven Soul of Pakistan at the University of Wisconsin, Madison, USA. Samples of his pottery made in the USA continue to be used in teaching archaeological ceramics classes at the University of Wisconsin, Madison. An entire set of his Harappan pottery replicas is also on display in the Lahore Museum, where hundreds of visitors can see the exquisite shapes and designs of the ancient potters of Harappa.
In November 2013 he and his son Allah Ditta participated in a week-long workshop organized by Dr Kenoyer and in collaboration with the staff and students at the Taxila Institute for Asian Civilizations at Quaid-i-Azam University in Islamabad. Unfortunately, after returning home from that workshop, he died suddenly in his home at Harappa, on Nov. 29, 2013. His passing left a huge void in the world of craft heritage, but thankfully his legacy has been carried forward by his son.
Allah Ditta has continued to tradition of Harappan pottery replicas started by his father. He was commissioned to produce a large collection of outstanding examples of Harappan replica vessels and figurines as well as terracotta jewellery for The Pakistan Pavilion at Expo 2020 in Dubai. This exhibition was one of the favourite attractions in the pavilion and received many outstanding accolades!
Through this transference of knowledge Nawaz's beautiful spirit lives on!
About J. Mark Kenoyer
Jonathan Mark Kenoyer is the George F. Dales Jr. and Barbara A. Dales Professor of Anthropology, at the Department of Anthropology, University of Wisconsin, Madison. He obtained his Ph D in 1983 at the University of California Berkeley and has been teaching archaeology and ancient technology at the University of Wisconsin, Madison since 1985. He has a special interest in ancient technologies and crafts, including ceramics, beads, textiles and textile production, socio-economic and political organization as well as religion.
About Noorjehan Bilgrami
Noorjehan Bilgrami is a visual artist, curator and an educationist. She is the Principal Curator Pakistan Pavilion, Dubai, EXPO 2020. She is the Founder Member of the Indus Valley School of Art and Architecture, she served as its first Executive Director and Chairperson of its Board of Governors. She is grounded in the traditional crafts of Pakistan and her atelier Koel spearheaded the revival of handloom weaving, hand-block printing and the use of natural dyes. Noorjehan was awarded the Japan Foundation Fellowship to research on natural indigo in Japan. Her own art practice is meditative, exploring issues of inner reflection through a vocabulary that is intensely personal, while it touches upon universal themes.
✿
Like the article? Make it a conversation by leaving a comment below.  If you believe in supporting a platform for culture-makers, consider becoming a subscriber.
Tags