As children, artists Kate Hill and Eugene Howard grew up in a village of north-east Victoria, named Boorhaman (of uncertain origin) on Bpangerang land. Established by settlers in 1836, Boorhaman sits near the Torryong Ovens River, just north of Wangaratta, with a population of 126 (2016 Census).
Kate Hill attended the Boorhaman Primary School, which has been the subject of community discussion since its closure in 2008. Kate and Eugene decided to return home and created the Boorhaman Residency Program. This residency model has been trialled through a pilot program in Spring of 2017, with participating artists Dylan Martorell and Chaco Kato.
Garland spoke with Chaco Kato about her installation of knots and the discovery of a local rope workshop.
✿ How did this residency come about for you?
Eugene and Kate have been working as sub-member of Slow Art Collective for a long time.and I knew they are working on this residency project for a while. I think originally they invited Dylan only but as they got an extra funding, they invited me as well.
✿ What was your aim in the residency?
I wanted to engage with the site deeply. I knew how much Eugene and Kate put so much effort to make this happen, just because they are so in love with the site and place.
Myself, I felt very special immediately and I understood. For me, site-specific work like this is very special. So, I was very excited and really wanted to make special piece which I have not done before. For that, I had to put myself very deeply into the site. I have to sit and try to imagine to merge myself within the site and come up with some images in my head.
Anytime I am in the process like that, I always realise how much I don't understand the actual space. I saw a space, I walked around the space, I smelled the space, but that is not enough. When I start to connect one point to another by string, then I start to realise the true distance and shape and tone of the space. It is hard to explain, but I feel like I can hear the voice or more like the sound of the space. It is truly exciting to be able to interact, intersect, intervene with the environment.
I wanted to create something substantial, which I haven't done or even seen before. I didn't want to go to the safe option. That is always the risk, but somehow I can't resist. Basically, I wanted to have a good dialogue with the environment by using my full potential.
Certainly, I couldn't have done it by myself, but Eugene and Kate made it come true. All the engineer work, I feel very helpless cos I can't even climb the tree that high, but I really wanted to have it in that high. Thank god that Eugene is so tall!
✿ What did you discover during the course of your residency?
For this project, I took my 14-year-old son as an official assistant. I usually spend a lot of time with him, while driving him to soccer, school, shopping, etc., but as with all teenage boys, he is usually quite preoccupied. When I talk or ask something, his mind is either on the phone, daydreaming, or actually a lot of time he is asleep. However, when we were knotting together, he was really relaxed, quiet, happy, chatty, singing and fully engaging with each knotting action, with the environment and the conversation with me. I had such a lovely, and best quality time with him for the five days.
Also, in the workshop, and open day, in the big loom area, people started to chat immediately. It was lovely to see them being so happy and talking each other. The biggest discovery and confirmation of this project for me was to recognise that the activity such as knotting or weaving can become a great catalyst for conversation. That was really encouraging, gave me a great insight for future work.
Also, this type of my work (solo site-specific work) is about the conversation and dialogue between me and environment. It has been a while since last time I have done something like this on the outside and spent a long time to "experience" the environment during the process. All the elements, like air temperature, birds, the smell of hay and sunset, and all the senses, were activated while I was knotting. Because it is such a repetitive, simple action, you can easily zone in.
My work is always unpredictable in terms of the final shape, scale, timeline and actually, I have never known if it would work or not. ( I can't rehearse in my studio!) But I just trust it and do my best. It always turned out something unexpected and much better than I thought in my head! This time was exactly like that.
I first intended to use the rope which made out of cheap plastic. Somehow I have an issue that I can't buy "good" materials just because of the amount of money. However, Eugene and Kate put a flag when I started, just because of the environment as well as health hazard concern. And then they found the rope factory that they make their own biodegradable ropes! I just decided to follow the flow and trusted they can get the ropes on time and also helped to create the piece. (And of course, they did!)
So, I was very happy and appreciated that I used the material. Without doing this residency, I would not have known and used the great biodegradable cotton ropes!
So, residency, like this, there were a many discussion, suggestion, and conversation. That is a beauty of the collaboration. Without this experience, I probably still keep using the plastic ropes from Bunnings! That is why I love working with other people. It always gives me abundant unexpected knowledge and a new way of doing things.
✿ Did you learn anything about the rope factory? How it still possible for them to be making rope today?
Eugene went there and he sent this!
"This is the natural fibre being made in the factory, I got a sneaky tour out the back with the guy who runs all the old machines. These machines are making your rope! He explained how it is all spun and how many fibres etc. the fibre is grown in Australia too. 💛"
✿ Can you say something specific about the site as you experienced it?
I have done quite a few residencies in last few years, but this Boorahman residency was very special. It was in the very small quiet farming town. Only about 200 people live there. So you can imagine there was a big attention to this project. Many people were supportive, but also some of them were sceptical. My work was quite big work so it was exposed, was easily seen from the main road. So people who drove by were constantly checking out what was actually going on in the schoolyard.
At the end, people really embraced the project, kids came and join the workshop as well.
I had a workshop just before the open day. I wasn't sure if how many people would turn up in such small town. But actually, the workshop was fully booked. A lot of women came from the town including young girls, and also a craft group. They brought their own craftwork (eco-dyed silk for weaving, crochet work, etc.) and did a bit of "show and tell", that was truly lovely.
Once they started weaving in the weaving station, they immediately started to chat. Not overwhelmingly, just slowly and quietly. It was lovely to see how people mingled. From my own experience with my son, I felt strong and very certain that this setting (like weaving, knotting in life-size large scale, people can just jump in, engage their activity with other people next to each other) can provide a platform which allows people to communicate safely and comfortably.
I did feel much slower in myself and much more tuned in for surrounding environment: sound, smell, rhythm, and much more peaceful during my residency. It sounds like a cliché, but the magnificent giant 200 years old lemon scented gum tree had an amazing impact on me: a sense of being protected. The landscape, which you can see the horizon in far away, must have been very effective on my mind and brainwaves. I just felt really calm and peaceful all the time. It is hard to explain in words without being too corny but the atmosphere or energy level was truly different from being in the city.
During the residency, I was knotting and knotting everyday, 9-6. That was great! I had never got bored. Nor felt hard. It was more a matter of: "wanting to keep going one more, and one more".
Someone asked me, "What's in your mind when you pulling the rope out in each knotting process?" I thought about it and I realised that I had zero in my mind and also empty in my head. So, that is why I feel so good! In the moment, I was just pulling the rope. The other day, the guy who came to helped me knotting and he said "I need to do this to clear my head".
It was like days and days of meditation. But it was much more than that. While I was working on the piece, I experienced quite profound feeling. When you are knotting hours and hours, your mind starts to slip and "zone out" (or "zone in"?). It is interesting to think about, as for some people, learning a knot is like a torture. But actually , this can be an ultimate rewarding activity.
✿ What was the final shape of the work and what determined it?
The installation was like a big macrame screen (10 meters x 4 metres high) and long length of extra ropes was spread out to behind and forward of the screen. I was originally cut and trim the extra bits (it was a mistake of the calculation !) but when I was sorting out the extra bits, I saw very interesting potential.
Artist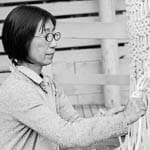 I am a visual artist and a mother of two children. I came from Japan about 20 years ago and settled in Belgrave, which is at the entrance of Dandenong Ranges, about 40 km from the centre of Melbourne. My artwork explores across many mediums from installation to small drawing, children's book illustration. Essentially my signature medium is a large-scale shelter-like installation making use of various types of string. Traditionally, string is a material associated with craft, which I use to explore its further possibilities as art. My work exemplifies a radical freedom of form and improvisation which resonates with the Deconstructivists and Punk roots. Ever new ideas arise from each new body of work, evolving my previous working processes. I am also an instigator of Slow Art Collective, which embraces collaboration, community engagement and sustainability. Breaking down barriers between artist and audience, employing a collaborative creative process rather than having pre-planed outcomes and integrating the work with an existing context are all central to her artistic practice.
Tags