Garland #7 is associated with the Castlemaine State Festival, a fascinating event in the state of Victoria, Australia. As a preview for this issue's Southeast Asian focus, we look at a Filipino artist who has been commissioned to make one of major art works for this festival.
La Trobe University and Ateneo de Manila University celebrate their Artist in Residence and Exhibition Exchange Partnership Program established in 2005 with a major exhibition of contemporary art of the Philippines in March and April 2017. Mutable Truths will feature ten artists who have undertaken the annual residency at the La Trobe University Visual Arts Centre (VAC) in Bendigo: Poklong Anading, Martha Atienza, Lyle Buencamino, Charles Buenconsejo, Buen Calubayan, Marina Cruz, Kawayan de Guia, Leeroy New, Mark Salvatus and Ronald Ventura.
The VAC was established in 2005 to fulfill La Trobe University's cultural mission in Central Victoria through an ambitious exhibition program and providing a focus for discussion relevant to contemporary ideas and art practice. In 2017 the VAC will become the home of the The La Trobe Art Institute (LAI) which was established in 2013 to build on existing curatorial, exhibition, education and engagement programs in order to broker cultural partnerships and foster game changing initiatives within the creative industries.
Each year since 2005 a winner of the prestigious Ateneo Art Awards for emerging artists under the age of thirty-five has been invited to take up a residency at the VAC. The six-week residency culminates in an exhibition of new work created in Australia—a challenging commitment which has been met with astonishing success.  The exchange of ideas between artists, curators and students from the two countries has provided a rewarding experience and enriched the cultural intelligence of the participants.
While based in Bendigo, the Filipino artists are invited to visit La Trobe's Mildura and Melbourne campuses, and to explore as much of the three cities a possible in the short time available. The experience of Australian life, landscape and culture has informed much of the work created during the ten-year program.  
The partnership between La Trobe University and Ateneo de Manila University, through Ateneo Art Gallery, was established in 2005 when Dr Trevor Hogan, Director, Philippines Australia Studies Centre, Director, Research, School of Humanities and Social Sciences, La Trobe University, introduced the newly appointed Director and Chief Curator of Ateneo Art Gallery, Ramon E.S. (Richie) Lerma, and the newly appointed Artistic Director of the La Trobe University Museum of Art, Dr Vincent Alessi.
How fortunate I was to have found colleagues at La Trobe who shared our desire to construct a bridge that would not only have a strong foundation built on mutual respect, but also one that would be traversed continuously and in both directions motivated by the enlivening discourse of visual art. These journeys have left an indelible mark on both Filipino and Australian artists and academics, most of whom have gone on to become leading lights in their fields; the roster of those who have crossed—or better yet broken down—borders are a veritable who's who in the contemporary art scenes in both countries. In my opinion, there is no greater proof of the importance and enduring promise of the La Trobe University – Ateneo Art Gallery partnership than this. (Ramon E.S. "Richie" Lerma, Director and Chief Curator, 2001-2015, Ateneo Art Gallery.)
The current Director and Chief Curator of Ateneo Art Gallery, Maria Victoria T. Herrera, has continued to support the program which is viewed by both institutions as an important and successful partnership.
Coinciding with the ten-year reunion exhibition, Manila based artist Leeroy New has been invited to create a large scale sculptural work for the Castlemaine State Festival. La Puerta Del Laberinto (Door to the Labyrinth) is a major public artwork to be installed on the forecourt of the Castlemaine Art Museum. The commission is the 2017 reciprocal exhibition in the biennial exhibition exchange program between Ateneo Art Gallery and La Trobe University.
Leeroy New was the winner of the 2008 Ateneo Art Awards and took up the VAC residency in 2009. New had already established an ambitious practice of public art installations, having shown many large sculptures formed in fiberglass and resin in urban landscapes and on building throughout Asia. Budgetary constraints forced New to explore new materials on his arrival in Bendigo. He was undeterred and gathered materials from local recycling yards to create several large sculptures for his exhibition Psychopomp, each were highly resolved and compelling works. The experience changed New's practice and he continues to work with discarded materials.
New's sculptural works have been translated into the context of fashion. One of his silicone-cast wearable pieces was chosen by Pop icon Lady Gaga as an outfit for her Marry the Night music video and for the cover of that single release. Recently he has shown his brand of experimental fashion sculptures at Forum Fashion Week in Istanbul. New has also designed sets, puppets and costumes for various local theater and dance groups and is a constant collaborator of edge-work, site-specific performance company Sipat Lawin Ensemble.
New has always gravitated towards designing spaces and creating large scale sculptural installations, among them the Balete installation (2009) at the facade of the former Rizal Library in the Ateneo de Manila University as well as the otherworldly facade of the Sputnik Comic Bar (2008) in Cubao X. Chrysalis, a 40ft high bamboo and rattan boat-like structure, was a collaborative project with the local government of Ilocos Norte for their Himala sa Sand Dunes festival which took place at the Paoay sand dunes.
Leeroy New's Puerta Del Laberinto at the Castlemaine Art Museum is on from 17 to 26 March as part of the Castlemaine State Festival.
Mutable Truths: Perspectives on Philippine Contemporary Art Practice is on from 16 March to 30 April at the La Trobe Art Institute in Bendigo.
Author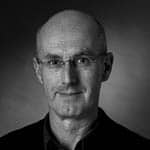 Paul Northam is an artist, musician, curator, and a passionate advocate of the visual arts in Bendigo. He has had a successful career encompassing a variety of artistic and commercial endeavours including formal arts education at the Tasmanian School of Art and later La Trobe University. In 2007 Paul was appointed Managing Curator of the La Trobe University Visual Arts Centre (VAC) Bendigo where until 2017 he oversaw an ambitious and challenging exhibition program, and a dramatic increase in visitor numbers resulting in the VAC becoming widely recognised as an important contemporary art space in the region.
✿
Like the article? Make it a conversation by leaving a comment below.  If you believe in supporting a platform for culture-makers, consider becoming a subscriber.
Tags