Songül Aral recreates the traditional Anatolian gold and silver headdress that connects with her ancestors. 
(A message to the reader.)
---
For those who do not know the word "Anatolia", we can say that it is "the firmly planted plane tree of history". It is the land where civilisations take root. Anatolia includes the lands of Turkey in the Asian continent. The eye can witness the beauty of its geography and the ear can hear the resonance of a vibrant history.
I am a "weaver" born nearly five decades ago in Turkey's Malatya province in the east of the country located in Anatolia. I began by taking care of the colourful weavings that my grandmother made with the help of simple tools. She made tools from pieces of wood sitting on the ground in the villages where she went during school holidays in her childhood. Her toys were the looms on which yarns were wrapped.
When I was a little girl, what drew my attention was not the equipment for making handwoven fabrics. It was my grandmother, the weaver, who was dressed like a big doll. My focus was on the silver plates that she wore over her head. There were three pieces of cloth she tied on her head and she attached hand-made silver plates to her hair with a hairpin, in the middle of her head, and decorated these with pattern drawings.
She believed that if she didn't wear these plates she would get a headache. They were like something spiritual protecting her from the outside world. These sılver plates were patterned wıth tradıtıonal motıfs are extremely old. In my memory of this village, almost all the women and girls made these colourful textiles and wore an ornate silver plate on their heads. Over time, I learned the names of these weavings that village women knit on the floor or on the loom:  "rug, cicim, sili and dowry".
Later in life, these became the focus of my research. The silver jewellery is called tepelikler and is an essential ornament for women in Anatolia. This gold and silver jewellery carried on top of the head signified the prestige and wealth of women. In many historical, written and visual sources, women have a headdress. Unfortunately, many examples of uniquely beautiful motifs and stone ornaments on the headdresses have been melted down for reuse. For this reason, a certain number of specimens have survived to the present day and are under protection in museums and collectors.
As a textile designer, I have included studies on samples of headdresses in my masters and doctoral dissertations. At the same time, I started to re-create these headdresses with threads made from metals that were alternative to gold and silver. While producing these samples, I sometimes use a porcelain plate as a weaving loom, and sometimes I use simple tools such as a wooden nail frame or a plastic frisbee plate. My aim through these designs is to create an interest in the past by means of easily accessible, simple and portable weaving tools.
We note particular features when studying the headdresses found in the museums of Malatya. The headdresses are circular. On the head, they are attached to cloth covers or directly to the hair, and the inner part is made in the shape of a bowl in accordance with the shape of the head and in the metal mould casting technique. On the other hand, the cover placed on the headdress is felt (fez) and is flat at the bottom.
The edges of the headdresses are sliced ​​or straight. Thin knitted bands help fit the headdress under the chin. The domed form is fixed with a rivet in the middle.
Niello and filigree processing techniques have been used in the upper surface decoration of the silver headdresses. Natural, synthetic and glass beads are also used in the surface and surrounding decorations of the headdresses.
About
Songül Aral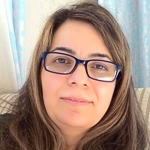 Merhaba, nasılsınız. Ben Songül ARAL. Türkiyeliyim. Malatya'da doğdum. Halen İnönü Üniversitesi Güzel Sanatlar ve Tasarım Fakültesi Geleneksel Türk El Sanatları ve Grafik Tasarım bölümlerinde öğretim üyesi olarak görev yapmaktayım. El Dokumalarımız ve Madeni Takılarımız çalışma alanımı oluşturmakta. Bu iki el sanatını basit üretim tezgahları ve materyalleri ile birlikte kullanarak günümüz tasarım dünyasına sunmaktan mutluluk duymaktayım. Umarım bu makale ile sizlerin de ilgisini Tepelikler'e çekebilecek ve onlarla tanıştırabileceğim. Sağlıklı olmanızı diliyorum…
Hello how are you? I'm Songul Aral. I am from Turkey. I was born in Malatya. I am still working as a faculty member at İnönü University Faculty of Fine Arts and Design, Traditional Turkish Handicrafts and Graphic Design departments. Our Hand Weavings and Metal Jewelry make up my field of study. I am happy to present these two handicrafts with simple production benches and materials to today's design world. I hope that with this article, I will be able to attract your attention to the Tepeliks and introduce them to them. I wish you to be healthy …
✿
Like the article? Make it a conversation by leaving a comment below.  If you believe in supporting a platform for culture-makers, consider becoming a subscriber.
Tags