Henry Wilson reflects on his iconic coin tray, an indestructible base for our precarious days.
As consumption becomes ever more intangible, it is striking to see a successful product emerge that offers the precise opposite. The bronze-cast Vide Poche is a weighty tray designed for everyday use. It harks back to the metal coins that used to weigh down our pockets. We speak to the designer Henry Wilson to learn how it evolved and one of its users to discover how it is used.
Henry Wilson studied at Design Academy Eindhoven, the legendary Dutch institute that specialises in conceptual design as reflected in the work of graduates such as Martin Baas and Forma Fantasma. "People would start these kinds of small studio practices where they would make things because mostly because people weren't picking up production items for young designers."
Wilson's first product was called the A-Joint which helped establish his studio. This joinery system could be repurposed to be used for tables, temporary housing, market stalls, etc. This seemingly simple shape has been a great success: it won the 2011 Bombay Sapphire Design Award. While working with a foundry in Sydney, he began to consider alternative products.
According to Henry Wilson, the concept of Vide Poche came from a relationship with a French girlfriend at the time. "It was more of a kind of a little love letter to her. She would talk about when she was in a bit of a mood. As I was looking for something like my case or wallet she'd go "It's in the vide poche". She would flip back to French for a word that she couldn't find in English."
"Vide Poche translates as 'empty pockets' and I thought, that's kind of a fun thing to just try for our first product here." As a sand cast product, the Vide Poche has a reversible design that can be flipped. Wilson made the prototype out of timber, which was then turned into aluminium using 3D printing. This was used to make an impression on the sand for casting. After casting, it was "rumble polished", which involved burnishing the metal with river stones.
The product has strong Sydney roots. Wilson finds local foundries to be better quality than those overseas. "Every time the sand gets compacted around it is slightly different, so there's this element of craft."
While he sells in Australian outlets, the US is his strongest market. The Vide Poche is a popular individual father's day gift but has also been used in the fit-out of a Sydney hotel. It's not cheap ($AUD 380) but it is certainly built to last. The bronze alloy is 90% copper, which lends an impressive weight. "It's gunmetal bronze. You cannot destroy one of those things."
Wilson can see it lasting generations. "We may not be carrying keys forever. We may not be carrying phones or we probably won't have cash forever. But then hopefully these things won't find their way into obsolescence. They'll actually get repurposed in the kitchen on the table, in your bedroom for jewels. They are undefined enough for you to be able to use however you like."
Émilie Delalande's experience of her own Vide Poche reveals how it can become an important part of the day, making the transition from inside to outside.
"I use my vide poche every day. It sits at the entry of my apartment and I drop my keys and sunnies in it. It is like a ritual for me, like leaving the outside world out and being totally unencumbered in my personal space."
As currencies become ever more abstract and virtual, moving from metal to paper to bytes, it's reassuring to think that its base materiality can still be there as something we encounter every day.
About Henry Wilson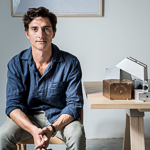 I am a designer living and working in Sydney. I studied at the Australian National University School of Art in Canberra, graduating with first class honours in visual arts, specialising in woodwork. During my time at ANU I went on exchange to Rhode Island School of Design. I then moved to Europe to do my Masters at the Design Academy Eindhoven before returning to Sydney to set up my own studio in 2012. Visit henrywilson.com.au and follow @studiohenrywilson
✿
Like the article? Make it a conversation by leaving a comment below.  If you believe in supporting a platform for culture-makers, consider becoming a subscriber.
Tags