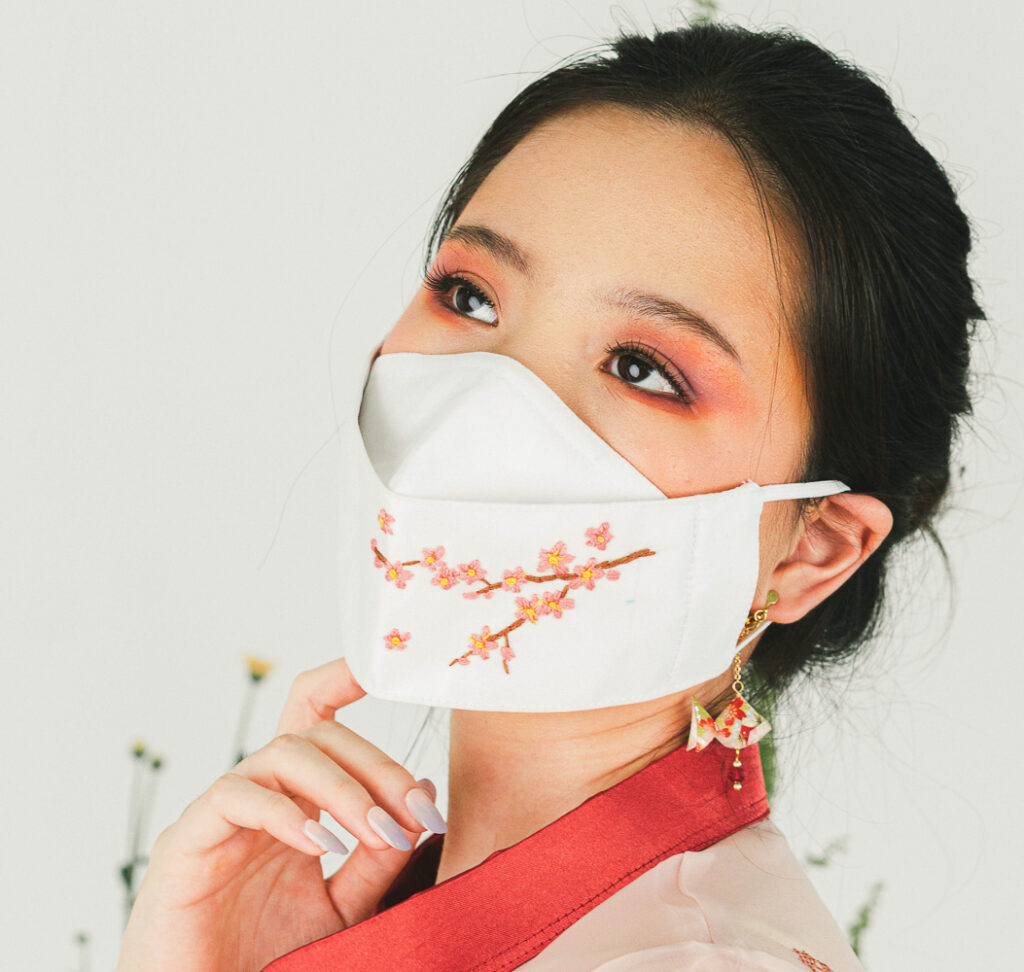 Bella Lucianto and Salma Haudia Atmaja describe how they incorporate the spirit of the Japanese cherry blossom into their fashion.
These days sustainability is a common phrase in our society. People expect everything to be possibly sustainable. From the food we eat, stuff we use, to the clothes we wear. The industries are not the only ones who should be conscious about It, but we as a society should also take a part in sustainability. We can be a part of it, start by buying fewer clothes and renewing what we have in our closet.
In this pandemic, people are staying at home, and activities are not as flexible. It prevents us from going on a shopping spree. But it couldn't stop us from wanting some new items in our wardrobe. So rather than splurging on clothes from online stores, and creating more waste. We can try decorating our old fashion items in the style that we want and wearing them instead.
As an example, In this pandemic, we are advised to wear masks in public areas every day. We needed to wear masks to keep us safe from the virus spreading, and at the same time it is a new category for fashion items. To make our masks more fun to wear daily, we can create or decorate our plain masks by adding accessories or embellishments with many different techniques.
Blossom mask by Bella Lucianto
The Blossom mask was created using a delicately hand-embroidered technique. With the inspiration of Japan's iconic cherry blossom, well known for its radiant and delicate beauty. A few flowers on the mask were hand-embroidered in full bloom to show how Sakura can only fully bloom in a brief period of time, then a few small, round-shaped flowers start to flutter gracefully from their trees and at this stage are said to be the most beautiful blossoms.
Cherry blossom tree branches symbolize human life and nobleness. Therefore, applying handmade embroidery of cherry blossoms on a fashion mask to show the beauty and deep meaning of cherry blossoms can bring a light of happiness in this grey world for the ones wearing the mask and the people around it.
The design of the cherry blossom in the mask was put on the left side of the cheek with a plain white colored mask to give a minimal yet elegant look. Easily styled and fit into many different outfits. Suitable for daily to night glam look for youth and mature women.
Cherry blossom motif was slowly handcrafted with embroidery technique, using satin stitch to craft the flower petals, each stitched in different organic shapes with soft pink thread to freely mimic the natural beauty of the cherry blossom. Wide length of running stitch to draw the tree branches and top it off with french knot technique using a faint yellow thread to finish the whole design.
The mask itself was sewn in a 3D shape mask to give a cleaner and more modern look. It is made with high quality silk for the outer layer, and comfortable Japan Cotton for the inner layer. It is equipped with a flexible nose wire for a snug fit and reduces steamy glasses. The fabric is soft on the skin yet breathable to wear.
I carefully handcraft the mask surface to learn a lesson of patience and appreciation towards time. I begin to reflect on the meaning of cherry blossom itself, and how to pour the gracefulness of cherry blossom into the final piece, making sure that the mask is an art piece to express the meaning of cherry blossom.
We will reach a point where wearing a mask isn't just for protection, but a symbol of renewal that can brighten up one's gloomy days and give the confidence to show off personality. It is also a way to make the process of creating more interesting and meaningful.
Blossom shoes by Salma Haudia Atmaja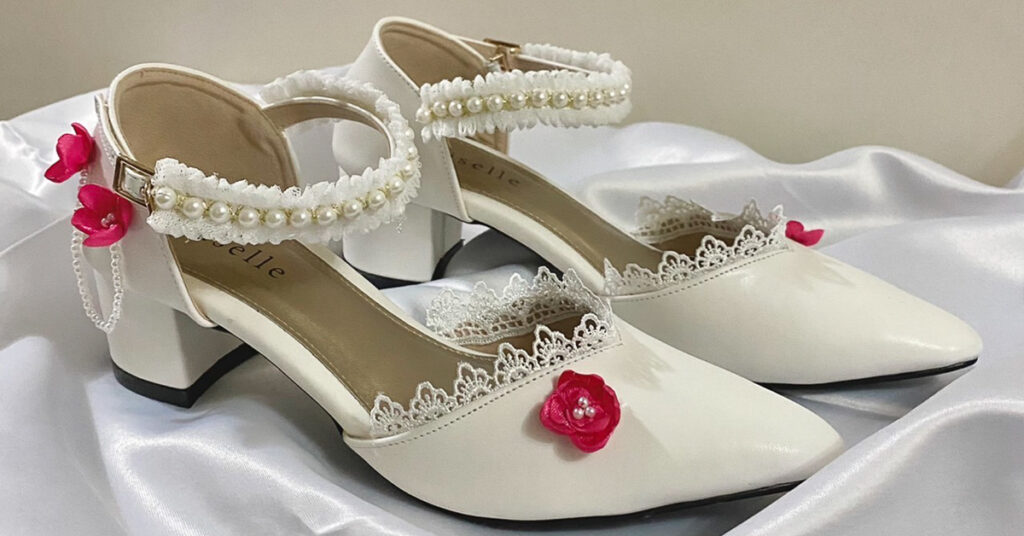 To create a perfect look, we can pair the mask with the other items that we wear. Another fashion item that is an essential part of our daily life are shoes. Considering the high price of buying a new one, I encourage people to start decorating their old shoes using many different techniques at once.
The blossom shoes are created using a pair of plain white fantofle shoes, embellished with lovely accessories. It takes inspiration from Lolita, one of the Japanese iconic fashion subcultures. Lolita refers to cuteness, quirky, and elegance. It is generally characterized with ruffles and lace, to express girly ornaments.
I created the blossom shoes were created using three decorative techniques. The straps are embellished with lace ruffles and pearls stitched on top. It is so easy to create, or we can buy ruffle trims at a local sewing store for convenience. We can also buy small laces to add some pretty details on the shoes. Lace glued inside the shoes to create an illusion of dimension.
Using the same ornament on the mask, cherry blossom flowers are made with pink ribbons and small pearl details to match the ruffles straps. Each petal is cut into an oval shape, and heated on a flame to create a curved shape like flower petals.
To add more fun, pearls are hanging on each side of the shoes stitched into two cherry blossoms, placed unaligned with each other. The pearl chains are made with small pearls beads onto a thread to create more swings.
Mask: @Bellalucianto
Photographer: @howardfd
Stylist: @michelleamelia @reynataayrin_
Muse: @Carolinetjondro
Makeup: @Nadyamelissamua
Studio: @narastudio.idn
Shoes, Photographer and stylist: @salhawd
About Bella Lucianto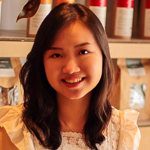 Bella Lucianto is a third-year fashion student at Ciputra University, Surabaya, Indonesia. She has an embroidery business in Surabaya focused on handmade and computerized embroidery techniques. She has a very high passion for embroidery and hopes to inspire people by decorating garments and accessories with embroidery to create art with meaningful pieces.
About Salma Haudia Atmaja
Salma Haudia Atmaja has always been a Fashion student at Ciputra University. She has a clothing brand with a trendy teenage-style based in Surabaya. She's very passionate about expanding her skills and knowledge.
✿
Like the article? Make it a conversation by leaving a comment below.  If you believe in supporting a platform for culture-makers, consider becoming a subscriber.
Tags