Claire Grant writes about Brian Robinson and Tamika Grant-Iramu of Zenadth Kes (Torres Strait Islands) heritage, who unite their practices in a confluence of freshwater and saltwater country for the dual exhibition A Carved Landscape: Stories of Connection and Culture.
I spoke with the artists, Tamika Grant-Iramu and Brian Robinson, at Onespace Gallery just hours before the opening event of their collaborative exhibition. A Carved Landscape was initially conceived as a mentorship between emerging practitioner Grant-Iramu, and Robinson, who has had a prolific career in both printmaking and public artworks. Since then, the project has evolved into an intergenerational reflection of male and female approaches to carving traditions, informed by urban and Far North Queensland environmental responses to country and a shared practice in contemporary Torres Strait Islander printmaking.
Grant-Iramu saw the project as a way of exploring this shared heritage:
We live in diaspora, we both don't live in the Straits. Our two cities are also quite different. I wanted to see: are there similarities and differences with how two people can work together, that have these other connections? . . . It was really interesting to see how another printmaker who specialises in vinyl-cut carving approaches their block and approaches the content that they want to use.
Personal stories of connection to the land and sea are carved into this collection of linocut and vinyl-cut relief prints. The flowing lines are meticulously cut by hand in a dynamic contrast of crisp white on velvety black. The artworks are printed by master printmaker Theo Tremblay. His Cairns studio, Editions Tremblay, is renowned for working with Torres Strait Islander artists, showcasing their unique culture through the medium of printmaking.
Creeping branches, foliage, blooming flowers, the sea and the sky coalesce into intricate designs. Grant-Iramu's starburst motifs are inspired by her local environment and Robinson's minaral patterns are informed by traditional Torres Strait Island wood carving techniques, where surprising characters lie hidden amongst the foliage and waves. There's Papa Smurf, Pac-Man, a Very Hungry Caterpillar . . . can you spot them all?
As an artist myself, when I look at an artwork, part of my fascination beyond the "Wow!" is the "How?". I am always intrigued about how an artwork came to be: the process, materials, techniques, and challenges. When two artists combine their talents to create this story, the resulting process is doubly captivating.
The stories of A Carved Landscape culminate in the large-scale collaborative relief print Carving Country. Upon first entering the gallery, I was immediately drawn to this complex and compelling artwork. Our discussion naturally focused on its creation. The trunk of a majestic Jacaranda tree is mirrored in positive and negative. This grounds the conversation between the two artists' carving styles. The tree extends its branches horizontally across the two central panels of Carving Country, spreading and flourishing into each artist's personal expression of heritage and country. Grant-Iramu's foliage starbursts and Robinson's blooms spring over into one another's blocks to further the exchange.
For a two-dimensional work, Carving Country has a surprisingly sculptural feel. Thirty-seven individual panels are mounted on aluminium, appearing to float off the wall, enhancing the shadow play between the printed areas and the negative spaces in between. This unique multi-panel composition stems from Grant-Iramu's investigations during her final year of university when she set out to challenge the standard rectangular form typical of print media. As she says, she has found a way to create pieces that "feel like they're growing out of each other".
She says:
I do like having different blocks that have their own story, their own little world that's part of the bigger picture. I also like thinking about the composition of where there aren't prints. Your brain still wants to put in what those blank areas would be because you can actually see that they continue from different blocks.
Some of the blocks from Carving Country are available for individual sale. These small prints make the work more affordable and accessible to a wider audience. This is an important aspect for both artists.
Positioned at the rear of the gallery and displayed across a corner in the space, Carving Country draws you in, enveloping you in its wide boughs. Robinson says of this unique choice: "installing it in the corner gives you that more immersive feeling when you experience it . . . I like the idea that you're able to get amongst all of the mark-making. It's like the environment, when you are out in nature it's not just one flat thing, it encompasses everything."
On Grant-Iramu's suggestion, we take turns standing in the corner with our backs to the artwork, as Robinson looks on. From this viewpoint within the work, the branches appear at the edge of my peripheral vision, creating the panorama of a living, growing tree surrounding me.
At almost three metres high by seven metres long, the massive scale of Carving Country posed some interesting technical challenges to the artists. Not least of these was that the artists do not live in the same city. In conversation with Robinson, Grant-Iramu recalls multiple trips flying from Brisbane to his Cairns studio to plan out the composition:
In December 2019 I came up to Cairns . . . that's when we started to properly think about the blocks. We got given all of the vinyl and we cut it all down. Then I came back a month later in January and we put out all of the blocks in that random car park near your house.
Laughter comes from Robinson at this memory. He adds: "That's right! My space isn't big enough to lay it all out neatly so we had to go to a local shopping centre car park."
Finding the space to plan such a large artwork in its entirety—laying down the sketch, numbering the blocks, taking reference photos—was just one of the challenges involved in creating this complex and large relief print.
Then COVID-19 hit.
The project was postponed and the bulk of the carving was completed in 2021.
Vinyl-cut printmaking is a rigorous process. When I stand in front of Carving Country I remind myself that each one of the tiny white marks is a permanent cut made carefully by the artist's hand. Grant-Iramu and Robinson shared with me the trials and triumphs of their chosen medium.
"I didn't have that callus before, it's literally from this!" Tamika says, pointing to a mark on her finger. Robinson even had to alter his carving implements, explaining: "from the amount of carving that was being done over a short period of time, it started to really dig into my palm. So I modified my two tools to ease that [problem]."
He continued, "Even though this work is a lot larger than what I usually carve, it was good that it was in multiple blocks so that you could just focus on the block in front of you . . . you get your little section of it and tick it off."
A Carved Landscape: Stories of Connection and Culture is a perfect symbiosis between two artists at the forefront of Zenadth Kes contemporary printmaking. Grant-Iramu and Robinson showcase their personal styles, stories and culture in the individual pieces throughout the exhibition. In the ground-breaking artwork Carving Country, their story of shared culture unites and freshwater and saltwater intermingle. Through this collaboration, a deep and powerful connection is made. A connection I hope will continue to bloom and grow into the future.
Brian Robinson and Tamika Grant-Iramu, A Carved Landscape: Stories of Connection and Culture, Onespace Gallery Brisbane, 22 October–10 December 2021
About Claire Grant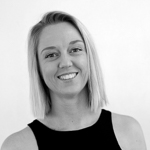 Originally from Aotearoa New Zealand, Claire Grant moved to Australia in 2009 and currently lives in Meanjin (Brisbane), Australia. She is an emerging arts writer, recently completing postgraduate Museum Studies at the University of Queensland. With a passion for works on paper, particularly experimental and alternative photography, she studied Fine Arts majoring in Photography at the University of Canterbury and regularly exhibits her artwork around Australia. Visit www.clairegrantart.com and follow @_loudandclaire_
✿
Like the article? Make it a conversation by leaving a comment below.  If you believe in supporting a platform for culture-makers, consider becoming a subscriber.
Tags