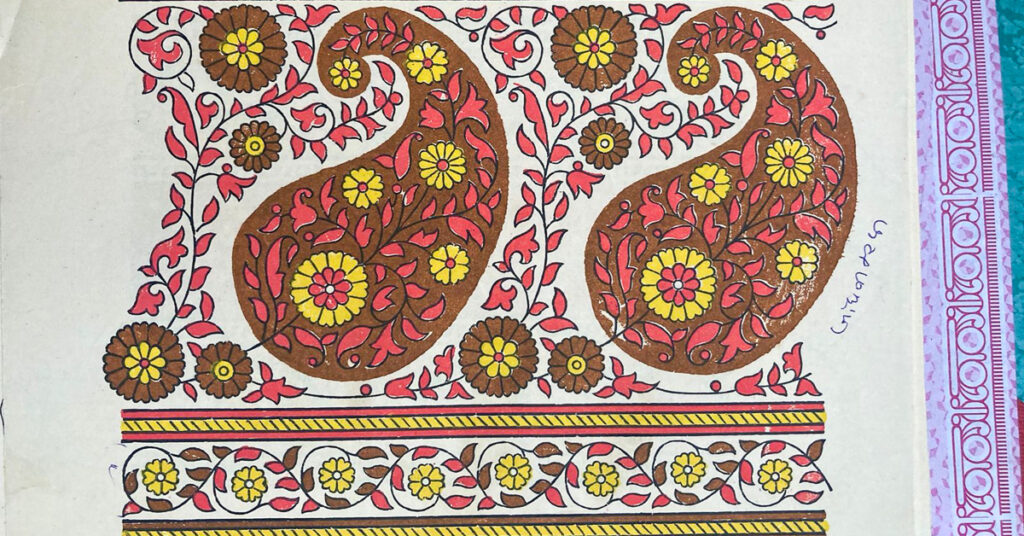 LOkesh Ghai presents a keri motif, a Western Indian version of paisley, by master block carver, Govindbhai.
In Western India, the paisley motif is referred to as keri, denoting the mango as a symbol of fertility. The impression on the paper is of a hand block print. This wooden block was carved by the Master carver, Govindbhai Prajapati, to stamp on fabric (with natural or synthetic dyes) as a border for sarees or bedsheets.
A set of four blocks is carved to achieve the design. There is a block for each colour. The black outline (rekh) is the most detailed. The rest of the colours are filling.
A trader from Mumbai commissioned this design some 40 years ago. According to Govindbhai, the print was a great success in the market. Later there was a request by a buyer to adapt the design as a block that imitates the craft of bandhani, tie-dye. This instruction is written on the right of the design with words bandni karvi in Gujrati.
Govindbhai is 74 years old. He has hand-carved over 10,000 designs in his lifetime. He is semi-retired now. He has passed his craft to his son Satishbhai who due to the scarcity of work juggles as a property agent and block maker.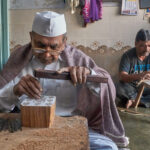 The Firebird Rises: Story-making
A unique series of story-making events opens our imagination to the beautiful world of block printing and making.
✿
Like the article? Make it a conversation by leaving a comment below.  If you believe in supporting a platform for culture-makers, consider becoming a subscriber.
Tags