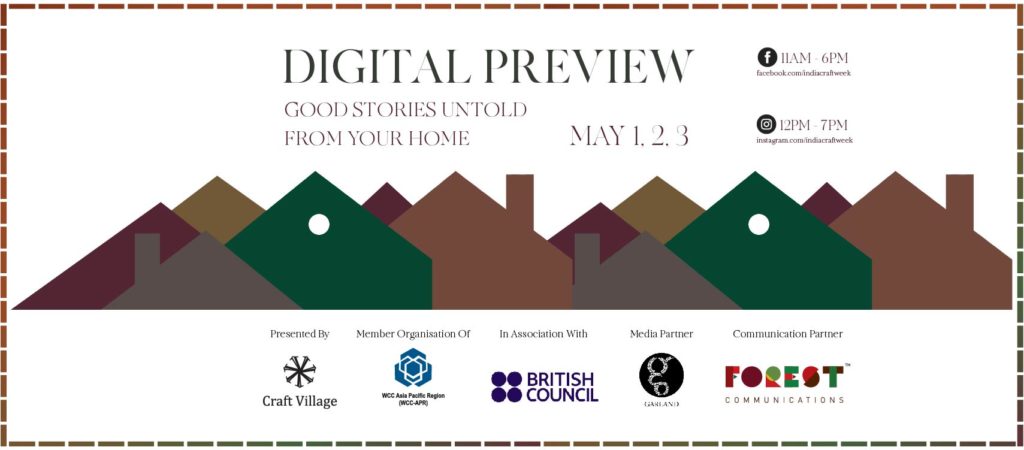 Garland supports Craft Village in its India Craft Week online forum 1-3 May 2020, covering the breadth of the nation's impressive crafts.
COVID-19 has an extraordinary global impact. Like any other sector, World Crafts has been also affected badly. Such extraordinary times require innovative solutions and a new interface to bring everyone together, and create a feel-good factor with hope and optimism, especially when the world is under lock-down due to pandemic. In order to begin the dialogue amongst various stakeholders, the Craft Village, a young member of World Craft Council – APR, is back with India's Official Craft Week, but this time in its new avatar of Global Preview (Digital) in partnership with British Council, India and Garland Magazine, Australia.
Scheduled from 1-3rd May 2020, the digital edition aims at connecting craftsperson, craft organization & companies, with Global & Urban Population, Craft lovers, Craft Patrons and the general public at large through a range of activities. This small gesture of ours can help Artisans and the Craft Community in dire need to connect back with potential consumers and revival of interest in the global community.
Participated by more than 70- Brands, Artisans, Experts & others, the 3-Days ICW-Digital Preview would be inaugurated by Shri Dinesh Patnaik, Director General, ICCR, Ministry of External Affairs, Govt. of India, and Keynote to be delivered by Dr Ghada H. Qaddumi, President, World Craft Council-APR, (Kuwait), Dr Barbara Wickham OBE, Director, British Council, INDIA, Dr Jonathan Kennedy, Director Arts, British Council, INDIA.
The other eminent personalities joining ICW (Global) Digital are Dr Darlie Koshy, Former Director, NID, Deepikka Jindal, MD, Arttdinox, Manish Saksena, Lead Advisor, Aadyam Handwoven, Sundeep Kumar, CEO, Craft Beton, Dr Kevin Murrey, Editor, Garland Magazine, Australia, Ms Lisa Cahill, CEO & Artistic Director, Sydney Craft Week & Australia Design Center, Dr Fatina Saiklay, Director, Co-Creando, Italy, Rahul Mishra, Fashion Designer, Anju Modi, Fashion Designer, Rina Dhaka, Fashion Designer, Rajeev Sethi, Founder, Asian Heritage Foundation, Jaya Jaitley, Craft Revivalist & Founder, Dastkari Haat Samiti amongst many others.
You can download the program here. The whole program is webcast on Facebook & Instagram
✿
Like the article? Make it a conversation by leaving a comment below.  If you believe in supporting a platform for culture-makers, consider becoming a subscriber.
Tags