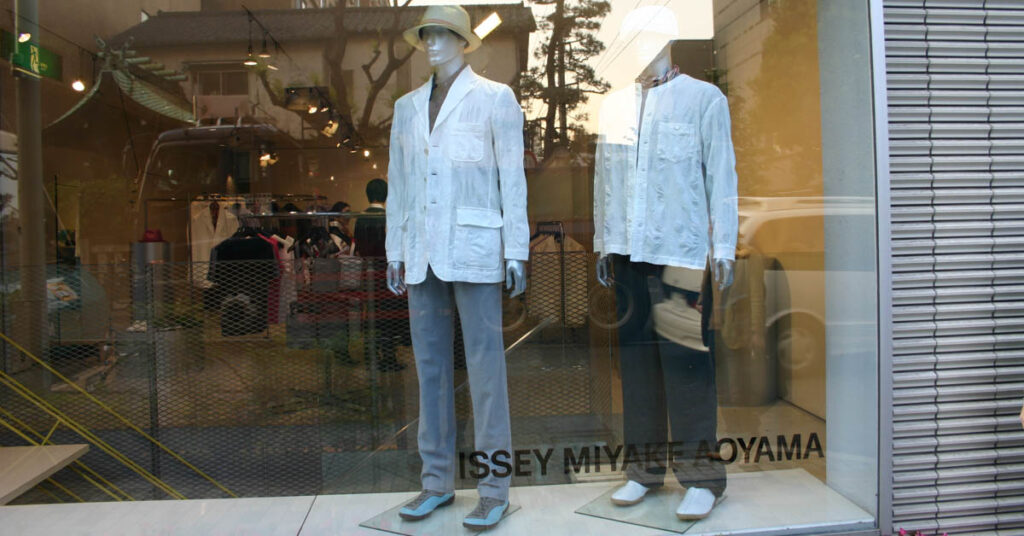 LOkesh Ghai offers a personal tribute to the Japanese designer who did so much to bring Asian creativity to fashion, including an appreciation of Indian handmade textiles.
"Are you from India?" I turned around, and in that instant I knew that it was Issey Miyake. The year was 2005, those were the early years of my career. I was part of a design collaboration between India and Japan. Miyake was an avid admirer of Indian textiles and appreciated the regional cuts. He knew that the way to the future was through connecting with the roots, to culture and crafts.
Miyake's technological technique drew on the Japanese heritage and crafts with integrity. He was inspired by the handlooms of India too. During a visits to India, early in his career, he travelled to interior villages finding inspiration for his designs. Les Textiles de l'Inde et les mode`les cre´e´s par Issey Miyake, French Edition (tentatively translates as): "The Textiles of India and the Patterns Created by Issey Miyake: Gold, Wool and Silk, Cottons and Peacock Feathers", in one of the lesser known publications celebrating of his elegant affairs with the Indian textile crafts.
Miyake was a national treasure, a household name in Japan. As I passed through the security check at the Narita airport the visa officer inquired what brought me to Tokyo.  On mentioning the "Issey Miyake Inc." he only said two words "vêtements, Please-Please", and he bowed down with a welcoming gesture.
A true visionary, he had the ability to look into the future.
Miyake's world was full of subtle surprises, which would stay with you. He along with the creative team introduced these lasting surprises in designs, clothes, photography, architecture and so on. The Issey Miyake Inc. headquarters was like a brain-house of design. Each floor was dedicated to a brand.
I unfolded the page of a pamphlet to introduce myself to this fascinating idea of computer-made garments from a single piece of cloth, with minimal or no waste. The garments were produced in machine-made rolls of knit fabric pre-sewn or fused with finished patterns. The product line was conceptual, yet very wearable. APOC, (A Piece of Cloth) launched in 1997 was way ahead of its time. Terms like "Slow-fashion" or "Zero-waste" were yet to be coined.
With the Indian collaboration, the focus was quality, lasting craftsmanship and unpredicted ideas of material explorations. There was no sequins or gold. There were cotton threads, fraying threads, stitches and more hand stitches, yarns pulled in or out. It was a pure joy, a world of TEXTURES. It was about celebrating handmade, celebrating the highest quality of craftsmanship, celebrating perfection and imperfections of the handmade. The garments drew on Indian cuts and married to handcrafted textile innovations, something that may still take years for fashion designers in India to fully comprehend.
The understanding of material and its relationship to the body was approached by Miyake with a fresh approach. He understood how the body moved. This movement was translated into clothes. "Pleats-Please" remains the classic signature of the designer. I was told by staff how in most difficult times, this was the brand that saved him. Miyake had a dedicated following across the globe. According to Alison Welsh, a UK-based fashion designer, "I have to confess I have some of his Pleats Please garments. They are the best, they last forever. I will cherish them even more."
Miyake is also significant for the East, as he alongside Rei Kawakubo and Yohji Yamamoto are the first to introduce a new approach to fashion, which until had been dominated by Europe.
In the age where we experience that technology at a level brought us the world close, it cannot be denied that technology also continues to distance us from others. Miyake knew the balance mantra, he knew technology without a soul would not last, for this he kept his roots in craft and culture alive.
He liked the shirts, I was told. Shirts that held a touch of wax from Ahmedabad cotton.
What struck me most was his kindness, his generosity, I was touched by the humble approach of this great master.
✿
Like the article? Make it a conversation by leaving a comment below.  If you believe in supporting a platform for culture-makers, consider becoming a subscriber.
Tags