You are invited to hear Toolika Gupta present her new book about the influence of the British Raj on what seems a distinctively Persian costume.
Toolika Gupta explores the history of Indian menswear fashion by looking at the changing trends— clothing preferences, popular garments, and style—during the British rule. She traces Indian menswear from the 17th century to the early decades of the 21st century narrating how the flowing jamas and angrakhas of the earlier era changed to the achkan which was followed by a more tailored sherwani during the late nineteenth and the early twentieth centuries. The new garment that came into fashion was the result of the elite Indians looking for style, like the British, that matched their new status. This garment later goes on to become the universal choice, as 'traditional Indian menswear' preferred by the Indian upper class and also by the royalties, and for occasions. Not only in India, but in the entire subcontinent, this garment today is referred to as either the achkan or the sherwani.
Wednesday 21 September 2023, 1:30pm India time.
Toolika Gupta is Director of the Indian Institute of Craft & Design.
See also: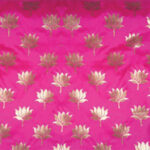 The year of the lotus
Toolika Gupta introduces the lotus motif as a guide to Garland's journey in its seventh year.
This talk is part of the Reinventing the Wheel series presented by Garland for the Knowledge House for Craft.
✿
Like the article? Make it a conversation by leaving a comment below.  If you believe in supporting a platform for culture-makers, consider becoming a subscriber.
Tags