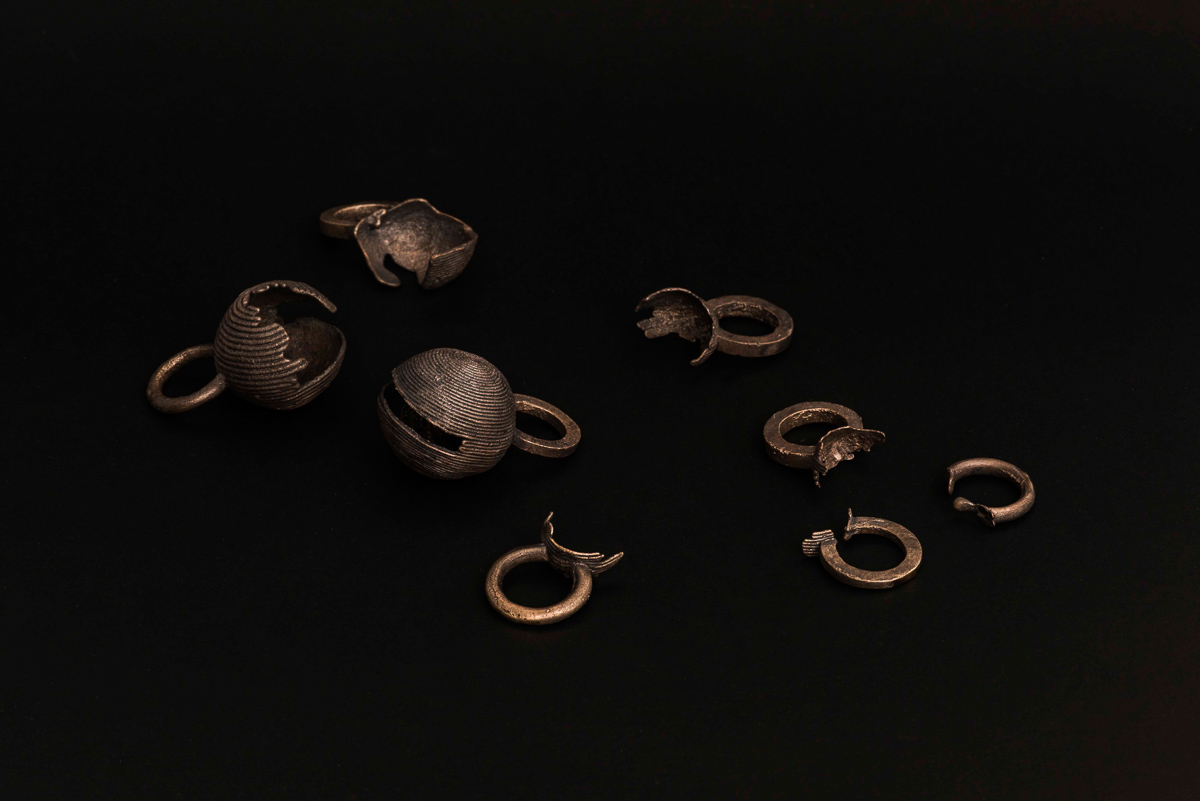 Rudee Tancharoen shares the lost wax casting work made with the village of Baan Pa-Ao for the sake of staying in touch with a grounded way of life.
Kan Doenthang 2021: coexistence is an exhibition consisting of an interactive installation, a documentary, and a collection of bronze jewellery. This exhibition is a continuous work from การเดนทาง (Kan Doenthang: voyage, journey), a series of bronze bracelets, rings, and necklaces made by lost wax casting process, using organic moulds made of clay, paddy husk, termite hill, and cow dung. It is a result of several journeys to Baan Pa-Ao village in Northeast of Thailand since 2012. I lived with the villagers and worked with the crafts family where the ancient clay mould casting craft has been practised and passed on for generations.
The rough texture of clay mould imprinted on the bronze surface reveals the truthfulness of the material and process which involves the four elements: earth, water, air, and fire. The bare surface of bronze without any tarnish-resistant treatment allows the pieces to bravely face the aging process. No fear, no refusal, no resistance. With the awareness of the beauty of aging, it is delightfully accepted.
It is not to imitate the primitive artifacts. This series of works is created using the clay mould casting technique because it is the perfect way to transmit the statement.
The work appearance shows its journey from past to present but what I'm interested in is its journey from present to future.
I have brought many foreigners to Pa-Ao village. They told me that they used to have this kind of work in their country but unfortunately, it disappeared.
They said they are sorry for that.
What exactly are they sorry for?
I don't want to be another one to feel sorry when it's too late. As it still exists in this place, there are still chances to do something.
In the past ten years, I have seen changes in this small village. Kids are more obedient to strangers on social media than to elders in their own house. Family bonds become fragile. Drug problems emerge.
For me, extending the life of this ancient casting is not only about preserving a technique of craftwork, or beautiful objects.
But it is about preserving a way of life. A life where people live together, work together, give importance to creating bonds between family and community.
Is it too much to expect? Is it too far beyond creating or making objects? I don't know.
I do it today because I can.
Time will let me know.
Exhibition concept
As the exhibition space is a National Museum where ancient artefacts are collected and exhibited, I would like to create an exhibition that relates to the site by provoking the audiences to question themselves about the coexistence of us, in the present and the past. This is one of the issues that Thai society is facing at this moment.
The audiences are invited to enter the exhibition space by walking through the installation which consists of almost a hundred cylinder shape bronze bells, made by an ancient lost wax casting process, suspended from the ceiling to 1.5-2.0m and scattered around the space. While walking through the installation, the audience, or part of the body of the audience. may unintentionally touch and toll the bells.
The bells are reachable but are they touchable?
The bells are in the way. Are they blocking the way or are they delighted it? The audiences can decide how to interact with the work.
The old: old belief, old culture, old art, old craft.
They are roots that we grew from but are they there only to be admired but untouchable?  Are they barriers? How do we coexist and move on together?
Could our coexistence resonate with beautiful melodies?
Kan Doenthang 2021: coexistence is as Phimai National Museum, Thailand, as part of Thailand Biennale Korat 2021, 18 December 2021 – 31 March 2022.
Follow @rudee_tancharoen, like RudeeTancharoen and visit www.rudeetancharoen.com.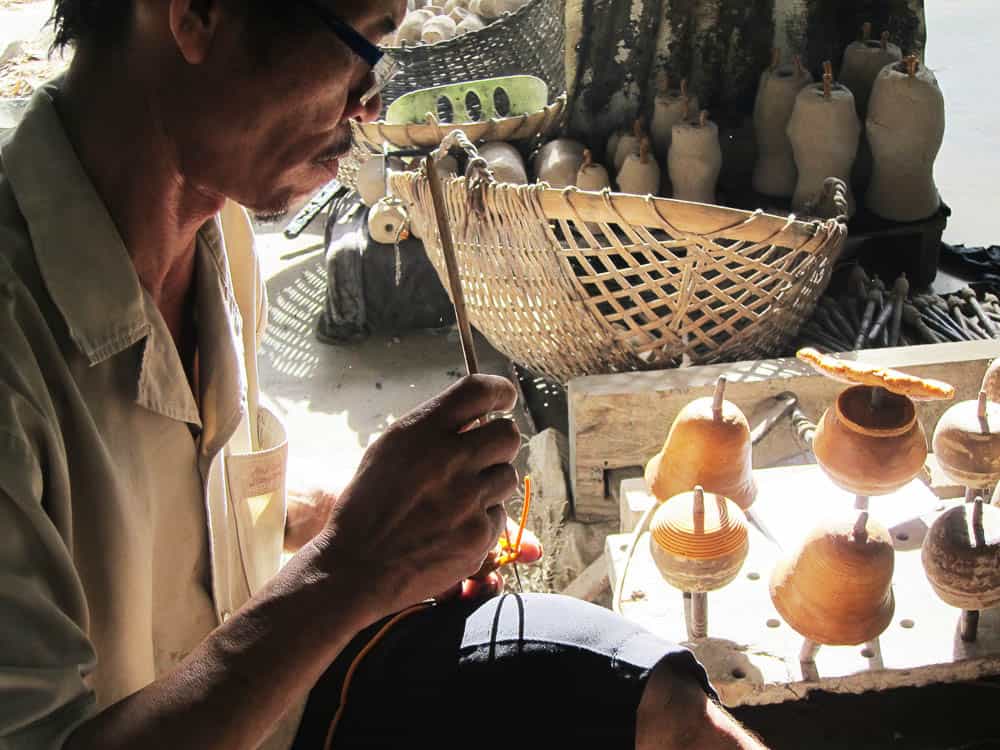 Quest for the lost bronze casters: A journey to Ban Pa Ao
A dinner party conversation sets Rudee Tancharoen on a quest to find the lost casters of northern Thailand. She discovers an ancient village who welcomed her visit.
✿
Like the article? Make it a conversation by leaving a comment below.  If you believe in supporting a platform for culture-makers, consider becoming a subscriber.
Tags