The New York Times recently ran a story about floral art, The Power of Wearing Flowers, by Ligaya Mishan. It's a fascinating read, featuring some amazing traditions such as the monjas coronadas:
In 18th-century Mexico, an entire genre of portraiture was devoted to monjas coronadas, or crowned nuns, young novices pictured taking their vows of celibacy in teetering headdresses made of roses.
From a more recent perspective, the article also profiles a number of successful "floral artists". Our attention was caught by the work of Lauren Liana Shearer, who lives in the Hawaiian island of Maui. Our online exhibition of lei-making was limited mostly to artists working in Aotearoa New Zealand. We thought it also worth inquiring how a floral artist in Hawaii makes a life out of her work. Here are her responses to our prompts over email:
Mahalo for reaching out to me. To start out I am born and raised on the island of Maui. As you know, lei is a common thing in Hawaii and was a part of daily life for Hawaiians beginning thousands of years ago. Hawaiians used to wake up in the morning and make a lei to adorn their day. However, this was not encouraged when the "white" man arrived, putting this tradition on hold. Now I feel this tradition is becoming more commonplace, expanding from not only gifting or wearing a lei for a special occasion, birthday, or funeral but also, as a part of daily life.
I have had a few aunties teach me some traditional techniques. However, I don't even think they were Hawaiian. I have indigenous Hawaiians, such as a close uncle, that I am constantly asking questions to, about what specific native plants symbolise or how this/that lei can be made. The thing is, Hawai'i is a mixed plate of races, myself being Greek and Italian. I have taken to this art form and this traditional idea of a lei as a way to root humans back to their surrounding nature. I am using flowers grown from the land, whether I am in Hawai'i making a lei or New York City. I am taking a traditional art form and creating this contemporary product as a means of education.
One of my most favourite features of a lei is its impermanence. Therefore many of my lei are ephemeral. I am constantly experimenting and coming across new things, not being scared to try something that many might think, "This will not last." Sometimes a specific flower or plant proves to be way sturdier than I thought it would be. I do use a lot of seeds and berries which when dried properly can last forever, taking on shapes of little beads.
At what point does it become a lei, connotating flowers that will not last or a necklace with beautiful seeds that will last for a lifetime? For a split second the flowers in a lei can be perfect, in all their glory, and then it slowly begins to morph into its drying stage or blooming stage. It really depends on the material used and at what stage of life the plant was currently experiencing.
Most lei, in general, are ephemeral, such as life. Life is fleeting just as a flower blossoming, fruiting, and seeding is. A lei can provide a means of bringing a new perception to a specific plant, flower, fruit, or seed. Wearing a lei or even a lei in your vicinity is powerful. It has a lot of mana (power) in it, and though some are not made to last forever for many moments they are perfect. By wearing it, feeling it, and looking at it you can get a major endorphin boost. My main goal is to use a lei as a means to connect humanity back to our surrounding nature and to appreciate that life is an ever-changing entity. Most often they are made for special occasions, but not always.
Instagram is my way of sharing an art with many people in a quick concise way. I am not sure how many people actually read about the plants or necessarily even care. I am sure there are a few, but it becomes an educational tool. This is really how it all started. More and more people became interested and gave a lot of good feedback. We begin to look at all plants in a different context especially when it can be placed into a lei. It's an open-ended view. How amazing that some flowers can be placed together, sometimes mimicking how it grows in nature, and sometimes taking it completely out of its natural growth habitat.
The afterlife of a lei is in most cases unknown. I recommend watching the drying process. Hang it somewhere that you see it and observe the lei morphing to its dried state. We are so used to having something impermanent and immediately throwing it away, not taking the time or moment to reflect on what it has become. Many times I either bury the lei, hang it in a tree, or take the flowers off the string once it has dried, usually putting them in places around my garden and then reusing that same string for another. The options are endless. I sometimes put a plant or berry that might grow in the lei specifically for the reason that it can be planted. I do make quite a lot of lei and just give them away. Otherwise, I do custom orders for special occasions, such as birthdays, weddings, and even funerals. A lot of wedding lei. This is how my business is able to sustain itself.
More and more people are steering away from the generic lei flowers. I also teach workshops, which provide a platform for people to create from their surroundings and in turn make their own lei to gift to their loved ones.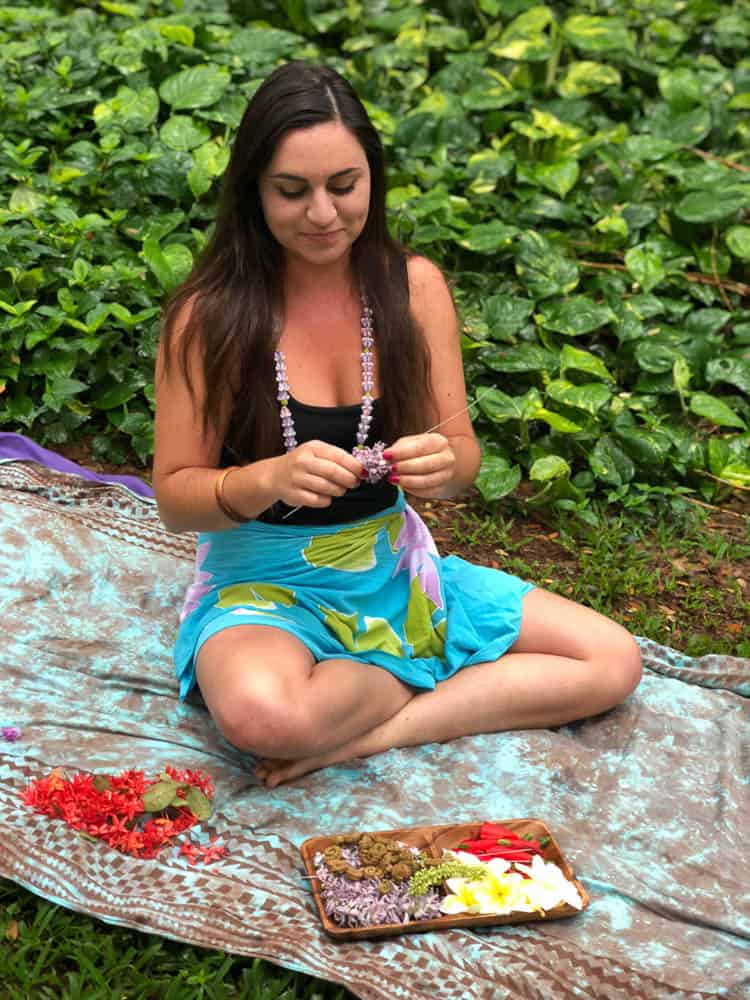 To see more of Lauren Liana Shearer's work, you can follow her on Instagram or visit her website.
✿
Like the article? Make it a conversation by leaving a comment below.  If you believe in supporting a platform for culture-makers, consider becoming a subscriber.
Tags