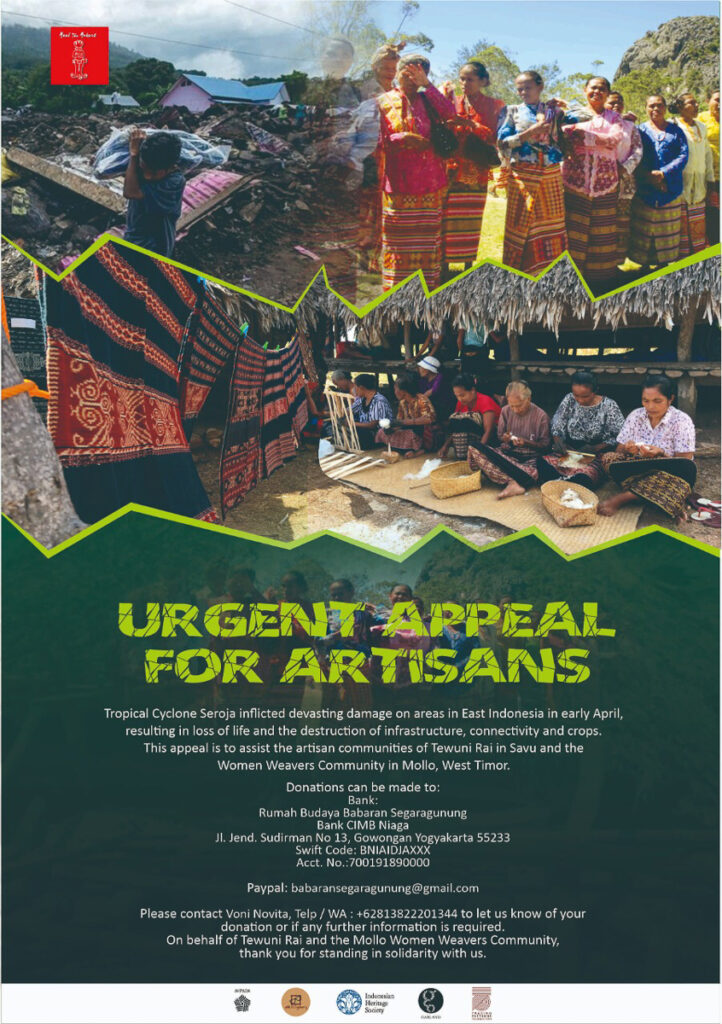 Ikat weavers from the "placenta of the earth" in eastern Indonesia seek help to rebuild their communities
On the 4th of April, Tropical Cyclone Seroja whipped through the Lesser Sunda islands of Eastern Indonesia. The resulting winds, floods and landslides inflicted devastating damage on these islands unaccustomed to such forces of nature. Loss of life is reported at 181 at the time of writing and at one point, nearly 60,000 inhabitants were displaced. Homes, roads, bridges, power lines and crops were destroyed across the region of East Nusa Tenggara from East Flores through to the islands of Sumba, Savu, Alor, Rote and Timor. Due to the extent of this disaster, its effects are likely be felt for some time to come.
The tropical cyclone impacted many craft communities in this area, renowned notably for its rich textile traditions. Meet the Makers Indonesia, a collective of artisans, craftsmen, designers and grassroots organisations, are raising this appeal for two affected craft communities amongst its grouping, that of Tewuni Rai on the island of Savu and the Women Weavers Community in Mollo, West Timor.
Tewuni Rai, which means Placenta of the Earth, specializes in the distinctive warp ikat weavings of Savu. Its members have travelled to various textile symposiums in Jakarta and further afield in Thailand. Pedero, the traditional weavers' village, was badly hit with brick houses losing their roofs and parts of the walls. In Ledetadu, the ancestral heart of the village, wooden houses tilted or outright collapsed, including, most heartbreakingly, their Rumah Adat, the founding house of the community. Paddy, sorghum, corn and peanut fields were flattened from the force of the rain. Immediate private donations from Jakarta have assisted in provided zinc roofing for the brick homes. Funds from this appeal would go towards helping the villagers further rebuild their houses and to provide some food security through the dry season which has just started and will last until the end of the year.
The Women Weavers Community in Mollo is headed by Mama Aleta Baun. Mama Aleta's accolades include the 2013 Goldman Environmental Award, for organizing "weaving protests" where as many as 150 weavers spent a year weaving their traditional textiles on marble rocks to protect these sacred forest lands from mining interests. Today, the community produces high quality and environmentally-friendly textiles.  Several villages in the Mollo-Amanuban areas where the weavers reside remain isolated due to roads that have been cut off and there has been crop failure in agricultural areas. Similar to Savu, funds raised will go towards providing food aid and helping to rebuild houses that have been damaged by the disaster.
To assist, funds can be transferred to Rumah Budaya Babaran Segaragunung either through bank transfer or Paypal, as below.
Bank: CIMB Niaga
Account Name: Rumah Budaya Babaran Segaragunung
Account Number: 700191890000
SWIFT Code: BNIAIDJAXXX
Paypal: babaransegaragunung@gmail.com
For enquiries, contact Voni Novita (tel: +62 813 8222 01344).
This appeal is also supported by the following organisations – AHPADA, aNERD Gallery, Indonesian Heritage Society and Tracing Patterns Foundation.
✿
Like the article? Make it a conversation by leaving a comment below.  If you believe in supporting a platform for culture-makers, consider becoming a subscriber.
Tags