We share a film that documents the life of a master embroiderer, Zahra Mohseni, inspired by the nature of Khorasan, Iran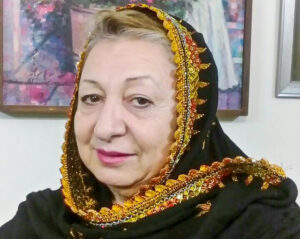 Dr Zahra Mohseni was born on March 24th, 1948 with a naturalist spirit in Sari, Iran. Her father was a railway employee and a locomotive driver, so because of his job, the family was transferred to the south of Iran, Khouzestan. Mohseni spent her elementary and high school in Andimeshk. She passed the medical university admission exam in the field of Medicine in Mashhad and her father also relocated to Mashhad. She dropped out of the medical university, and got married in 1968. She was not suited to the field of medicine and despite the objections of her family, she changed her field of study and in 1972, was accepted to the Guidance and Educational College, ranking first. Mohseni began to study in the field of Technical and Vocational Education, in Khorasan. She chose Technical and Vocational Education because she thought it was art. Of course, it had art as well. In that one hour of housekeeping class, they explained some arts briefly and trained the students. That boosted this motivation in her.
Mohseni was selected for teaching in Chenaran in 1974 and worked there for 4 to 5 years. Then, she was transferred to Mashhad and began working in district 1, Tabadakan, and finally, in district 4. In 1988, she established a workshop for the first time in the Education Office, called the Central Workshop for Girls. So that all girls could attend it in their Technical and Vocational class and make handicrafts.
In 1991 to 1993, Mohseni began working with the Department of Islamic Guidance and cooperated with them. And then she held handicrafts training courses, particularly Kilim, rug making, and Iran's traditional embroidery courses to train the Technical and Vocational instructors.
In a project Mohseni did at Malek House, decided to provide a foundation for women with economic difficulties, so that they can receive financial benefit while working from home, next to their family and children. She undertook the establishment of Farrokh Cultural Center and Art Studio.
In 2003, she was invited by the Chairman of the Organization of Libraries and Museums, Dr. Baradaran, to teach the employees of Museums and Conservation & Restoration Office of Astan Quds Razavi. It was the first time such classes were held in Astan Quds Razavi by her, and the handmade textiles were correctly certificated, labeled, packaged, presented, and photographed. She identified 2000 valuable textiles of Astan Quds Razavi.
In 2011, Mohseni received the UNESCO Seal of Excellence for Handicrafts for Kalat embroidered silk needlework. That is why the sole representation of the cultural identity of our country was our handicrafts.
Follow @mohseni.zh
✿
Like the article? Make it a conversation by leaving a comment below.  If you believe in supporting a platform for culture-makers, consider becoming a subscriber.
Tags