In the Breathe Project, the creation of beaded masks expresses a distinct cultural energy, led by Indigenous artists from across Canada.
(A message to the reader.)
---
Hundreds of thousands of beads. Countless hours. Infinite connections.
Inspired by a simple query posed on social media, the Breathe project has grown from a single conversation between makers to a massive online collective. In the early days of the global COVID-19 pandemic, multi-disciplinary artist Nathalie Bertin posed the question, "Where are the beaded masks?" Immediately answering her call, traditional Métis artist and knowledge carrier, Lisa Shepherd, reached out. This very first question set a chain reaction into motion, leading to an avalanche of creativity.
Recognizing that makers were facing the same high levels of anxiety and fear as the wider global population, Bertin and Shepherd were determined to inspire a creative outlet to help artists recapture and redirect their energy. Together, they launched the Breathe Facebook Group, encouraging Indigenous artists to create beaded masks. The works are definitively non-medical, intended as protection for the soul rather than from the virus. They are a symbolic expression of the artists' concerns, hopes, and dreams, created in order to wield a sense of control and purpose during a time of great uncertainty. Through the group, artists shared their progress as well as their finished works, building a virtual community of makers steeped in positivity, celebration and encouragement.
Over the first two weeks, the number of followers exploded, garnering over 1,200 members. In the months to follow, this would grow to over 2,200. As the number of artists expanded, so too did the scope of the project. Bertin explains, "the Indigenous groups of Canada have experienced pandemic in a not so distant past, so it made sense to include the Métis, First Nations and Inuit groups of Canada. But as the pandemic started to wear on, we realized… the virus doesn't know any borders, and so it makes sense to include everyone". Works from all across Canada and beyond have graced the wall of the group, with hundreds of sculptural masks posted, ranging in medium from beading, textiles, fur, and paper, to the more unconventional materials of glass, quillwork, wood, bark, and metal.
Beading, however, continues to take centre stage, highlighting the beauty and skill of this traditional Indigenous art form. Celebrated for its contemporary voice, revered for its historic connection to cultures that were once, and are far too often still silenced, a beaded mask is a clear and meaningful symbol of the brutal history of pandemics, racism and oppression that continue to impact Indigenous populations to this day—blended with a vibrant, bold and exquisite celebration of community strength and beauty. It is a shared expression of recognition, remembrance, and resilience.
These themes could not be contained to the virtual realm only. Overcoming the barriers of social distancing, lockdowns, financial strains, and the sheer complexity of coordinating a multi-artist show in a time of COVID-19, the Breathe project has shifted from the virtual halls to public exhibition halls. 45 artists were selected as part of the first showcase of masks, presented at the Whyte Museum in Banff, Alberta, Canada, from September 24th, 2020, to January 17th, 2021. A "second wave" featuring all-new works is destined for the Art Gallery of Guelph, in Ontario, Canada, later this year. Bertin and Shepherd also partnered with the Guelph-based Upper Grand District School Board to develop a free educational toolkit for use in schools, which can be accessed by contacting Nathalie Bertin directly. Including a welcome letter, introductory presentation, videos, and student assignments, this educational guide touches on Indigenous studies, wellness, art, social studies, and history, tackling the many facets of culture that this exhibition exudes.
The ongoing engagement that the Breathe project has inspired is evident in the continuous flow of information, storytelling and community building that populates its Facebook page. With every new post, this exhibit stands as a pillar of what craft can be: a healer, teacher, community leader, and guide. As we continue to navigate these uncharted waters, we can collectively relate to one another, if we just take a moment to—safely—breathe.
All photos courtesy of Nathalie Bertin.
The Art of Masks
The eighth Reinventing the Wheel talk focuses on the craft of protection, as featured in the latest issue of The Journal of Modern Craft.
About Maegen Black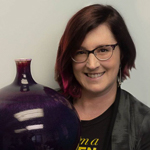 Maegen Black is the Director of the Canadian Crafts Federation, a national arts service organization dedicated to advancing the Canadian craft sector through collaborative action, networking and community development. In December 2020, she became the President of the World Crafts Council: North America, after volunteering with the organization for more than a decade. A graduate of the Ontario College of Art and Design University's material arts program in Toronto, Canada, Maegen is now an arts consultant, writer, curator, host of the Citizens of Craft podcast, and occasional teacher at the New Brunswick College of Craft and Design.
✿
Like the article? Make it a conversation by leaving a comment below.  If you believe in supporting a platform for culture-makers, consider becoming a subscriber.
Tags