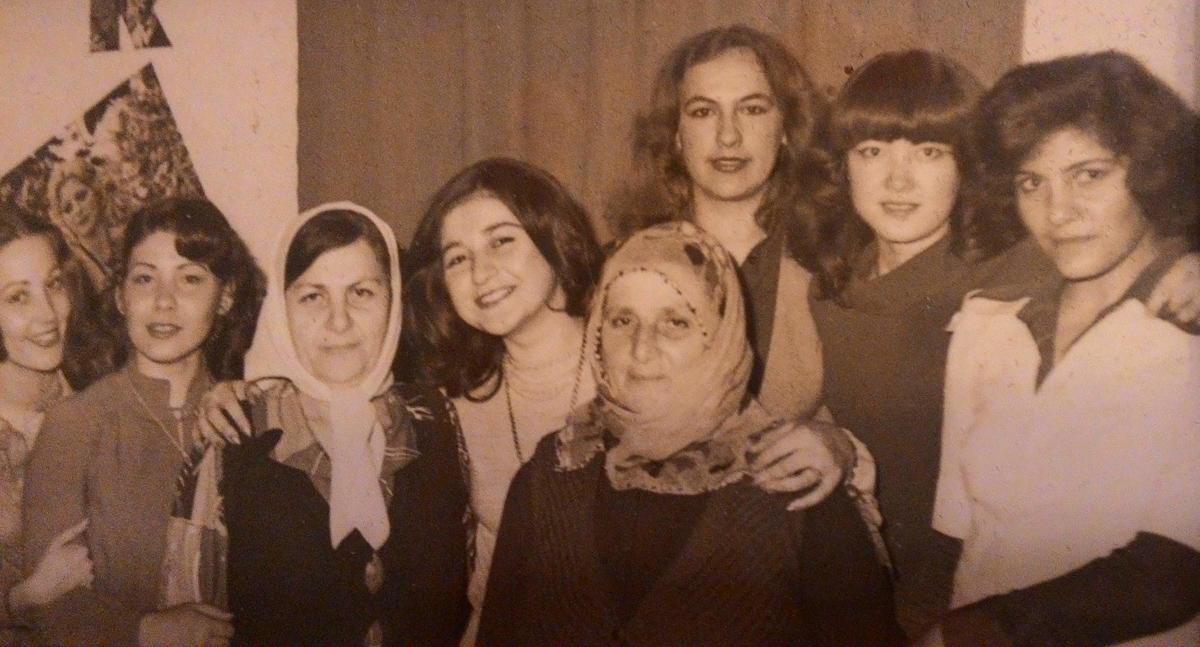 Songül ARAL visits Turkey's only hat museum and witnesses a unique historical revival (English and Turkish)
Lale (tulip) is deep-rooted in Anatolian history. It has many stylistic expressions in art and craft works of the Ottoman Empire and the Republic of Turkey. In old houses, it is possible to see the tulip motif in many traditional crafts and art works, starting from the pattern of the garden and front entrance doors, and extending to hand-woven fabrics. Today, Lale festivals continue to be held in many cities in April-May with the arrival of the spring season in Turkey, especially in Istanbul.
Apart from describing a flower, the word tulip is adopted in our culture as an indicator of human values. Families give the name Lale to their daughters, which means that they will lead an honorable, honest and upright life.
The life story of Lale, who is the subject of the story, is also in a structure that identifies with her name.
Lale was born in Samsun in 1956. She learned to produce handicrafts from her family elders in a small village in the Green Black Sea region in the north of Turkey, 1979. The village was founded in the Republican Era and provided education in accordance with Atatürk's definition of ideal youth. She graduated from Ankara Başkent Girls' Technical Higher Teachers' School as a Handicrafts Teacher. The school does not continue today.
With a love for history, she set out to learn about the past of her own lands, to examine the works of art bearing the traces of the past and to adapt them to the present.
When they produce; You may encounter images of a stone tablet or traces of a monument in museums, or you may come across a reflection of an archaeological excavation that has been sketched.
In handicrafts; believes that the concepts of acquiring, designing, producing and protecting knowledge are an inseparable whole.
Lale is the founder of Turkey's first and only hat museum. You can learn much about the cultural history of the country from this museum in the city of Kastamonu on the Black Sea. You can witness the rich and poor gatherings of Anatolian farmer village hats and modern city hats collected and donated with the support of Lale and her friends.
It is interesting to see the nostalgia showcase in the museum where the hats used by many famous people are exhibited.
Lale has chosen the titles of the figures in the stone artifacts found in the Gordion museum in the Polatlı district of the capital city of Ankara for its final exhibition. She interpreted the heads of the one-dimensional stone figures with felt and designed them in three dimensions.
As a material, she turned the raw wool fibres into felt with the help of soap and water. She tightened the wool with its natural colour or dyed wool with her hands, pressed and applied the felt fabrics to the patterns she created with paper and drawing.
After producing hats from felt, the remaining small pieces were evaluated in different handicrafts, especially felt dolls or boutonnieres.
The museum also hosts a series of commemorations and hat events in Kastamonu, where Atatürk, the founder of the Republic of Turkey, greets the people with his hat for the first time in August every year.
In Lale's words, it is not a coincidence for her that her dream of establishing a museum in Kastamonu, located in the Black Sea, where the hat reform took place in the history of the Republic and modernization, came true, but it is a link of values ​​education.
We can say that the feature that makes her not an ordinary educator in her story extending to the capital is her effort to reflect the culture of preserving and keeping the handicrafts alive. She leads many academic studies on the culture of historical accumulation and preservation.
Today, the "doll museum" where you can see examples of handicrafts in Turkey and a group of dolls in the showcases of this museum. It consists of rag dolls that Lale's mother made for her.
Dolls are miniatures of all the people of the village they live in (including the village's shepherd, teacher, headman, neighbors and father) and you can take a journey through the memories of the past.
When you examine the babies, you can admire the fine details, you can catch the clues of the traditional dress and decoration culture with the vest and cap, like the moustache of a Black Sea village headman.
These cute dolls that put a smile on your face attract the attention of not only children but also many adults. The tourism route passes through the museum to see miniature examples of a village from the past. Lale emphasizes that she fulfills a moral responsibility by giving the name of her lost mother to the museum.
Another small museum located next to the hat and doll museum is the lace museum, and the third hard-working living museum founded under the direction of Lale.
With the support of the local government, Atatürk's arrival in Kastamonu and the Hat Revolution celebrations are held as official festivals in August every year (pause in the pandemic).
Handicraft activities and historical meetings are held in the garden of the museums for a week. Those who practice and preserve these crafts, as well as those who try to teach them to new generations, are living treasures.
Lale's two daughters also preferred to be teachers like her. When they want her to be the name maker for their grandchildren; She stated that the names of mountains, rivers or flowers (Ilgaz, Tuna, Açelya) of the geography she lived in should be put together with the date. She believes that the names given to babies are important in the formation of their personalities and in the protection of the future.
If one day your way passes through Turkey and the Black Sea, you can donate a headgear and a handmade doll that will keep your mother's name alive, like me, to museums and share this historical pride.
In Lale's words; "The door opens to a 3-day world, what you see is a window (yesterday-today-tomorrow) if you know how to look with the eyes of the heart, the only thing reflected from the other side of the glass is only human, only good person…"
Further reading
The Evaluation Of Museums On The Protection Of Our Cultural Heritage And The Evaluation On A Sample Which Works From Our Near History: The Hat Museum *Dr. Lecturer Lale Özder
III. International Vocational and Technical Sciences Congress 2018, Gaziantep. The Importance of Conservation of Handicrafts and Example Containing Donation Works: Kastamonu Bebek Museum Dr. Instructor Member Lale Özder Gazi University, Laleozder@gmail.Com
III. International Vocational and Technical Sciences Congress 2018, Gaziantep Importance of Conservation of Handicrafts and Donation Example-1: Kastamonu Lace Museum Dr. Instructor Member Lale Özder Gazi University,Laleozder@gmail.Com
Turkish
"LALE" İYİ BİR EĞİTİMCİ İYİ BİR ZANAATÇİ VE İYİ BİR KORUYUCU(MÜZECİ) OLABİLİRMİ?
Köklü Anadolu tarihi içinden süzülerek bir devre adını veren bir çiçek adıdır LALE; Osmanlı imparatorluk ve Türkiye Cumhuriyeti dönemi sanat ve zanaat eserlerinde farklı üslup anlatımları ile öne çıkmaktadır.
Eski evlerde, bahçe ve ön giriş kapılarının desen parçası olmasından başlayarak, el dokuma kumaşlarına uzanan geniş yelpazede ki birçok geleneksel zanaat ve sanat eserlerinde Lale motifini görmeniz mümkündür. Günümüzde İstanbul başta olmak üzere Türkiye'de bahar mevsiminin gelmesiyle Nisan- Mayıs aylarında birçok şehirde Lale festivalleri düzenlenmeye devam etmektedir.
Lale kelimesi bir çiçeği tanımlamak dışında, insani değerlerin üst göstergesi olarak kültürümüzde benimsenmektedir.
Aileler doğacak kız çocuklarına, onurlu dürüst ve başı dik bir yaşam sürmesi anlamında Lale ismini vermektedir.
Hikaye ye konu olan Lale'nin yaşam öyküsü de ismi ile özdeşleşen bir yapıdadır…
Lale, 1956 yılında Samsun'da dünyaya gelmiştir. Türkiye'nin kuzeyinde yer alan Yeşil Karadeniz bölgesinde küçük bir köyde el sanatlarını üretmeyi aile büyüklerinden öğrenmiştir.
1979 yılında; Atatürk ve onun ideal gençlik tanımına uygun eğitim öğretim veren ve Cumhuriyet Döneminde kurulan; "Ankara Başkent Kız Teknik Yüksek Öğretmen Okulu" ndan El Sanatları Öğretmeni olarak mezun olmuştur. Okul günümüzde devam etmemektedir.
Onun, tarihe olan ilgisi ve sevgisi; kendi topraklarının geçmişini öğrenmeye, geçmişin izlerini taşıyan sanat eserlerini incelemeye ve günümüze uyarlamaya yönlendirmiştir. Çevre duyarlılığı ve sanatçı kimliği koruma kültürü ile bütünleşmiş bir üretici haline getirmiştir.
Tarihi okumayı ve gördüğü tarihi eserlerden ilham alarak, çalışmalarına aktarması yorumlaması ilgi çekicidir.
Ürettiklerinde; müzelerde ki bir taş tabletin görselleri veya bir anıtın izleri ile karşılaşabilir veya eskizi çıkarılmış arkeolojik bir kazı buluntusunun yansımasına rastlayabilirsiniz.
El sanatlarında; bilgi edinme, tasarlama, üretme ve koruma kültürü kavramlarının ayrılmaz bir bütün olduğuna inanmaktadır.
Türkiye'nin ilk ve tek şapka müzesinin kurucusu ve proje uygulayıcısıdır. Karadeniz'in Kastamonu kentinde ki bu müzede ülkenin kültür tarihinde görülen birçok kadın başlığını izleyebilirsiniz. Yanı sıra köylü ve kentli ve şapkalarını, Anadolu geleneksel baş süslemelerine ait görsel kaynakları, koleksiyonerlerden satın alınarak veya yeniden tasarlanarak kazandırılan eserleri de inceleyebilirsiniz.
Lale ve arkadaşlarının desteği ile toplanan, bağışlanan Anadolu'nun çiftçi köy şapkaları ve modern şehir şapkalarının zengin ve fakir buluşmalarına müzede tanıklık edebilirsiniz.
Müzede bir çok ünlü insanın kullandığı şapkaların sergilendiği nostalji vitrinini görmeniz ilgi çekicidir.
Lale son sergisi için Ankara başkentinin Polatlı ilçesinde bulunan Gordion müzesinde ki kazı buluntusu taş eserlerdeki figürlerin başlıklarını seçmiştir.
Bu görsel tek boyutlu taş figürlerin başlıklarını keçe ile yorumlayarak üç boyutlu başlıklar olarak tasarlamıştır.
Malzeme olarak ham yün liflerini sabun ve su yardımı ile keçe haline getirmiştir. Doğal rengi ile yün veya boyadığı yünleri elleriyle sıkılaştırmış, preslemiş ve keçe kumaşlarını ardından kağıt ve çizim ile oluşturduğu kalıplara uygulamıştır. Keserek dikerek ve çeşitli elişi süslemeler ekleyerek tarihi başlıkları elde etmiştir.
Keçeden başlıklar ürettikten sonra artan küçük parçaları ise keçe bebek veya yaka çiçeği başta olmak üzere farklı el sanatlarında değerlendirmiştir.
Müze; her yıl Ağustos ayında Türkiye Cumhuriyetinin kurucusu Atatürk'ün halkı şapkası ile ilk kez selamladığı Kastamonu'da bir dizi anma ve şapka etkinliklerine ev sahipliği de yapmaktadır.
Kendisinin geçmişte ürettiği çeşitli başlıkları, şapkaları, baş süslemelerini ve koleksiyoner olarak toplama,bağış birçok eseri bu müzede tarihin tanıkları olarak geleceğe aktarmıştır.
Lale'nin ifadesi ile Anadolu'nun Karadeniz bölgesinde Atatürk'ün bağımsızlık gemisine bindiği kentte gözlerini hayata açması aynı zamanda Cumhuriyet ve modernleşme tarihinde şapka inkılabının yapıldığı Karadenizde bulunan Kastamonu'da bir müze kurma hayalinin gerçeğe dönüşmesi onun için tesadüf değil, değerler eğitiminin bir halkasıdır.
Başkente uzanan öyküsünde onu sıradan bir eğitimci olmaktan çıkaran özelliği, el sanatlarını koruma ve yaşatma kültürünü yansıtma çabasıdır diyebiliriz. Tarihi biriktirme ve koruma kültürü üzerine birçok akademik çalışmaya öncülük etmektedir.
Bugün Türkiye'de el işçiliğinin öne çıktığı örnekleri bir arada görebileceğiniz "oyuncak bebek müzesi" ve bu müzenin vitrinlerde ki bir grup bebek; Lale'nin annesinin ona yaptığı bez bebeklerden oluşmaktadır.
Bebekler, yaşadıkları köyün tüm insanlarını (köyün çobanı, öğretmeni, muhtarı, komşuları ve babası dahil) minyatürize halidir ve geçmişin anılarında yolculuğa çıkabilirsiniz.
Bebekleri incelediğinizde ince ayrıntılara dalıp hayran kalabilirsiniz, bir Karadeniz köy muhtarının bıyıkları gibi, yelek ve başlığı ile geleneksel giyim kuşam ve süslenme kültürüne ait ipuçlarını yakalayabilirsiniz.
Yüzünüzde gülümseme yaratan bu sevimli bebekler sadece çocukların değil birçok yetişkininde ilgisini çekmektedir. Geçmişte kalan bir köyün yaşadığı minyatür örnekleri görmek için turizm rotası müzeden geçmektedir. Lale, kaybettiği annesinin adının müzeye verilmesiyle, manevi bir sorumluluğu yerine getirdiğini vurgulamaktadır.
Şapka ve bebek müzesinin yanında yer alan bir diğer küçük müze dantel müzesidir ve Lale'nin başkanlığında kurulmuş üçüncü yoğun çaba harcanmış yaşayan bir müzedir.
Her yıl Ağustos ayında (pandemi de ara verilmiştir) yerel yönetimin desteği ile Atatürk'ün Kastamonu'ya gelişi ve Şapka İnkılabı kutlamaları resmi festival olarak yaşatılmaktadır, şapkalarını takan yöre halkı ve ziyaretçiler kortej de yan yana köylü kentli birlikte yürümektedir.
Müzelerin bahçesinde bir haftalık süreçte, el sanatı etkinlikleri ve tarihi toplantılar düzenlenmektedir.
Tüm dünyada üretilmiş zanaatler; tarihi, kültürü, yaşayan insan hazinelerini ve ülkenin turizm potansiyellerini ayakta tutan üretimler olmaya devam etmektedir.
Bu zanaatleri uygulayanlar ve koruyanlar aynı zamanda yeni nesillere öğretme çabasında olanlar ise canlı hazinelerdir… Konuşan ve yürüyen kitaplar benzetmesi doğru bir tanımlama cümlesi olabilir…
Lale'nin iki kızı da onun gibi öğretmen olmayı tercih etmişlerdir. Ondan doğacak torunlarına isim koyucusu olmasını istediklerinde; yaşadığı coğrafyanın dağ, nehir veya çiçek isimlerini (Ilgaz, Tuna, Açelya )tarihi ile birlikte konulması gerektiğini ifade etmiştir. Bebeklere konulan isimlerin kişiliklerinin oluşumunda ve geleceğin korunmasında önemli olduğuna inanmaktadır…
Bir gün yolunuz Türkiye ve Karadeniz'den geçerse, sizde benim gibi annenizin ismini yaşatacak bir başlığı ve el yapımı bir oyuncak bebeği müzelere bağışlayabilir ve bu tarihi gurura ortak olabilirsiniz…
Lale'nin ifadesiyle; "kapı 3 günlük bir Dünya ya açılır, gördüğün bir penceredir (dün-bugün-yarın) gönül gözüyle bakmasını bilirsen camın öteki tarafından yansıyan tek şey sadece insan sadece iyi insan…"
✿
Like the article? Make it a conversation by leaving a comment below.  If you believe in supporting a platform for culture-makers, consider becoming a subscriber.
Tags