In this issue, we introduce two of the new artists from the "Ushida Collection", continuing our previous series.
Toru Kurokawa
Born in 1984. He studied sculpture at the University of Tsukuba. When he was a university student, he was fascinated by the "method for forming ceramics", and he chose the ceramic course at the graduate school of Kyoto City University. In recent years, he's been active internationally, attending some artist-in-residence programs overseas. In 2017, he won the Jury's Special Award at the 11th International Ceramic Competition Mino, Japan.
He keeps changing his styles continuously with much thought and labour. He is interested in "principle of nature" and "mathematical interpretation". While creating shapes, he is trying to explore things like the human spirit or things which are hard to explain in words.
Kei Wakao
In 1967, Kei Wakao was born into a family of Toshisada Wakao, one of the renowned ceramic artists of Mino ware. After studying photography at university, he studied ceramics and graduated from Tajimi City Pottery Design and Technical Center in 1995. In 1998 he won the Bronze Award at the 5th International Ceramic Competition Mino, Japan. In 2010 he won the Grand Prize at the "PARAMITA Ceramics Awards", which means that he was evaluated as a representative of Japanese ceramic artists. He was also invited to "Celadon Now" held at the Crafts Gallery of the National Museum of Modern Art, Tokyo in 2014.
He has aspired to create celadon works of which shape is strictly calculated yet spontaneous at the same time. He effectively uses several types of celadon glaze to make the shape of each work as beautiful as possible. Or, sometimes he creates a shape suitable for a hard-to-use glaze. As a result, his modelling is unique and attractive.
Some works by these two artists will be also exhibited in A Shape of Wan exhibition, which is to be held from 3 June at the Gallery Voice, Tajimi. In this exhibition, how to interpret the word "wan" (normally, a Japanese word referring to a tea bowl or soup bowl) is left in the hands of every exhibitor, who can submit any work in accordance with the given theme.
Author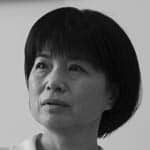 Tomoko Kawakami graduated from Ishoken (Tajimi City Pottery Design and Technical Center) in 1978.She won the Special Judge's Award selected by Yusuke Aida at the 5th International Ceramic Competition MINO (Japan) in 1998, and she also won the grand prize at the 54th Premio Faenza (Italy) in 2005 She has served as the general manager at Gallery VOICE since 2006.
✿
Like the article? Make it a conversation by leaving a comment below.  If you believe in supporting a platform for culture-makers, consider becoming a subscriber.
Tags