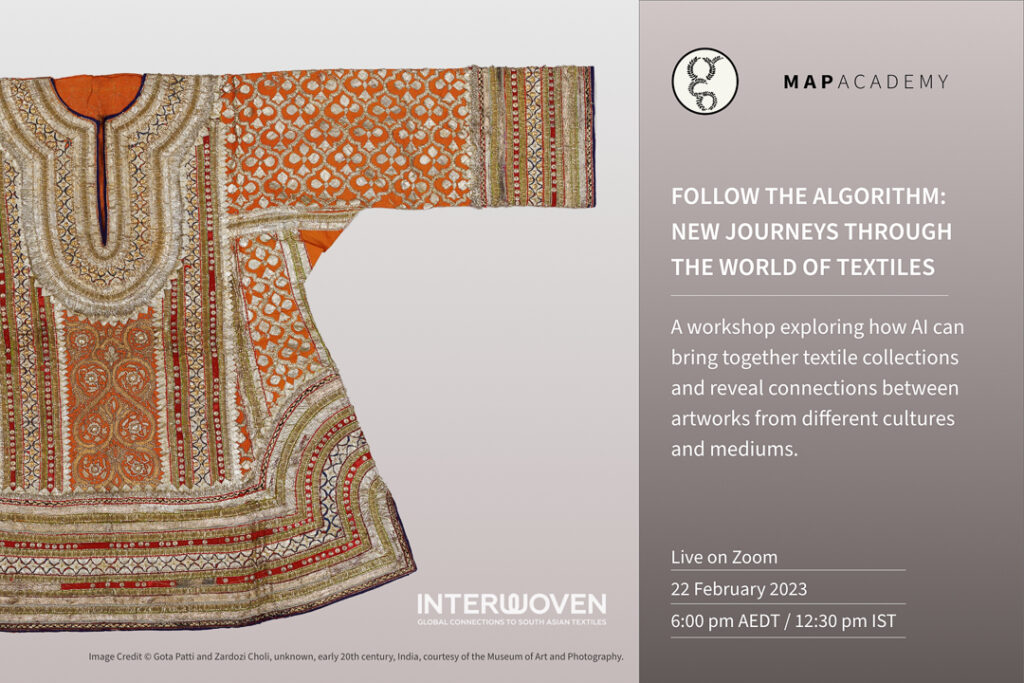 As part of Reinventing the Wheel, India's MAP Academy will present a new platform that helps in discovering new artworks and textile objects based on artificial intelligence.
There has been much interest in the use of new artificial intelligence tools for writing. What about AI for objects? Craft provides a critical perspective on technology. In this case, we can assess how well algorithms can help us navigate complex collections of craft objects. It also opens our eyes to the innovative culture of contemporary India which seeks to connect the past to the future.
We invite you to an online workshop to explore INTERWOVEN, an AI-based platform developed in partnership with Microsoft, that enables users to visualise and draw connections between textiles and other artworks across the globe, on 22 February 2023 at 12:30 PM (IST). An experimental interface for discovery and research that combines technology with storytelling through artworks, INTERWOVEN is a new way to explore textiles, art histories and visual cultures of the world. This workshop will be led by the MAP Academy and is free to attend. It is open to all age groups and to anyone interested in and curious about art, design or technology. No prior knowledge or experience in technology or art history is required to sign up.
In this session, you will:
Learn about how INTERWOVEN was developed using AI and machine learning
Discover diverse collections of artworks and learn to navigate the platform
Build a visual journey through artworks and explore new connections between them
Discuss the role of technology in art, art history and research
MAP Academy
The MAP Academy is a non-profit online platform consisting of an Encyclopedia, Courses and a Blog that encourages knowledge-building and engagement with the visual arts of South Asia. Maintained by a team of over 40 researchers, editors, and academic advisors from around the world, the platform is focused on increasing the visibility of art histories from the region through critically-researched, reliable, and jargon-free material made freely available.
The MAP Academy is a free online platform that endeavours to transform the way South Asia's art histories are accessed, taught and discussed — both regionally and globally. Created and maintained by over 40 researchers, editors and academic advisors from across the world, it comprises the first Encyclopedia of Art from the Indian subcontinent ever attempted — starting with over 2,000 articles and definitions and continuously growing — as well as a curriculum of online courses and a blog delving into stories and perspectives from Indian art history. These span pre-modern art, post-independence art, narrative and indigenous traditions, as well as popular culture, synthesising information on the region's over 10,000 years of art history and presenting it in engaging ways for diverse audiences. Inviting both the serious student and the curious reader, the platform focuses on the way the region's next generation — one of the largest demographics in the world — engages with its cultural and artistic heritage.
Interwoven
Developed by Microsoft in partnership with the Museum of Art & Photography (MAP), Bengaluru, INTERWOVEN is an artificial intelligence-powered platform that connects artworks and cultures around the world. It brings together collections from institutions across the world–including the V&A, MET, Rietberg, and the Royal Ontario Museum–to reveal connections between artworks from different cultures, mediums and time periods. INTERWOVEN represents these visually and intuitively, encouraging further exploration, discovery and cross-cultural exchange. The interface is also an explorative model for how AI might be used in museology and art historical research.
MAP Academy is an organisation member of the Knowledge House for Craft.
For a summary, go to the Knowledge House for Craft.
✿
Like the article? Make it a conversation by leaving a comment below.  If you believe in supporting a platform for culture-makers, consider becoming a subscriber.
Tags