Bakhiya is not just a form of sewing with long stitches. It also offers a sufi meditation on the beauty of the imperfect and fragility of life, as reflected in these poignant works at Threshold Art Gallery, Delhi.
The curator Tunty Chauhan introduces the exhibition concept:
Kintsugi is the Japanese art of repairing broken ceramic objects by enhancing the cracks in the ceramic-ware with gold embellishment. Here the gold fissure or scar becomes a testament to a difficult journey, and the marks of wear add value to the object. We find reflections of this deeper philosophy of "not rejecting the imperfect" in various other cultural traditions including Sufi.
The practice of bakhiya, suturing the garment, by the Sufi Darvesh (mendicant) symbolises the meditative activity of not letting things fall apart. Textile traditions of Kantha, Sujani, Rafoo come from a similar philosophy of repurposing rather than discarding. It is a metaphor for embracing flaws and imperfections present in all human existence, where the fragility of life itself becomes its strength.
Through the works of these artists, the exhibition explores the resilience and tenacity of the human spirit to survive against seemingly insurmountable odds. Serving as a subtle reminder to the viewer to embrace and appreciate all aspects of life and revisit our conception of beauty/desirability, not as the absence of imperfection but rather, by recognizing those very flaws as an inextricable part of what completes us, the fingerprints of life itself.
Rubaba Haider
To keep darning the cuts and slits in the vestments of memory: How can the heart survive on this alone? Undoing one stitch, and keep sewing in another: Can a whole life be lived like this?
Excerpt from a poem by Faiz Ahmed Faiz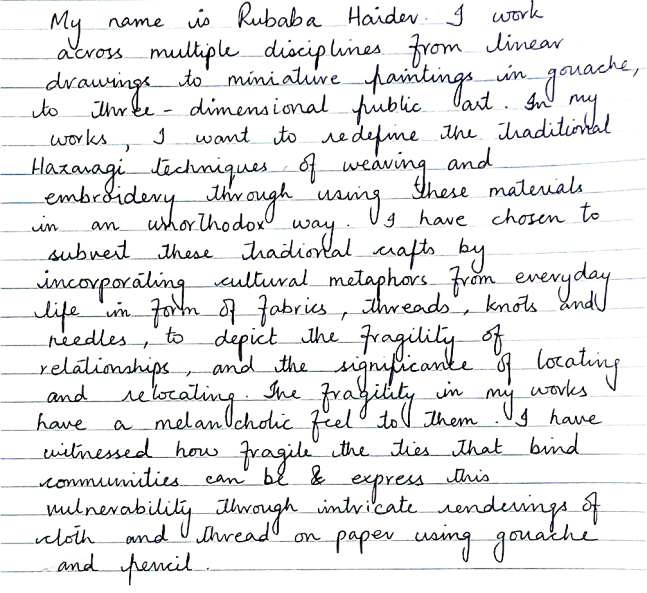 Rubaba Haider (1987) is a contemporary artist, born in Quetta, Pakistan. Haider holds a BFA (Miniature Painting) from the National College of Arts, Lahore (2008) and a BA (Criminal Justice with distinction) from RMIT University Melbourne. She works across multiple disciplines from linear drawings to miniature paintings in gouache, to three-dimensional public art projects. Her intention is to redefine traditional Hazaragi techniques of weaving and embroidery through unorthodox, intricate renderings of cloth and thread on paper using gouache and pencil. She chooses to subvert these traditional crafts by incorporating cultural metaphors from everyday life in form of fabrics, threads, knots and needles, to depict the fragility of relationships, and the significance of locating and relocating. The fragility in Haider's works has a melancholic feel to them. Haider's works have been shown in group exhibitions in Australia and overseas and is held in a number of private collections in Europe, the Subcontinent and Australia.
Priya Ravish Mehra
Priya Ravish Mehra (1961-2018) was a Delhi-based textile artist and weaver, researcher and designer. She graduated in Fine Arts (with a specialization in textiles) from Visva-Bhara University, Santiniketan, and later studied tapestry at West Dean College, Sussex and an advanced tapestry course at the Royal College of Arts, London under the aegis of a Commonwealth Fellowship and Charles Wallace Trust (India) Scholarship. She also received an Asian Cultural Council Grant to study the maintenance and preservation of Indian texties, especially Kashmir shawls, in public and private collections in the US. Priya's textile and mixed-media work has been featured as solo exhibitions in British Council, Delhi (1993), Commonwealth Institute, London (1994), Jahangir Art Gallery, Mumbai (1997), Instituto de Artes Plasticas, Mexico (2016), Presence in Absence curated by Tunty Chauhan at Gallery Threshold, Delhi (2017) and 'India International Center, Delhi (2018). She has also participated in group shows: Taumata Art Gallery, Auckland (1993), Rabindra Bhavan, Delhi (1997), Bri sh Council, Delhi (1999), 10th International Triennial of Tapestries, Lodz (2001), ILF Samanvay, India Habitat Centre, Delhi (2016), 'Evidence Room', KHOJ, Delhi (2017), C-13, FICA, Delhi (2017), 'Detritus', Serendipity Art Fes val, Goa (2017), and Pale Sentinels curated by Salima Hashmi at Aicon Gallery, New York (2018), Priya Ravish Mehra at the Kochi Murziris Biennale 2018-2019, Connecting Threads, Bhau Daji Lad Museum, Mumbai 2018. Ar st Memorial Wall at India Art Fair 2019 represented by Threshold. Woven Memoirs at Chemould Prescott Road, Mumbai 2019, Bakhiya curated by Tunty Chauhan at Threshold, New Delhi 2020.
Mahisha Gera Baswani
Manisha Gera Baswani (1967) was born in New Delhi. She received her master's in fine arts from Jamia Millia Islamia University, 1991. She completed bachelors in French language from the Alliance Francaise simultaneously and was then sent on a French Govt. Scholarship to Paris to study art. Her work has been shown in leading shows in India and abroad. She has been part of some recent group shows including 'Sightings-Out of the Wild', Curated by Roobina Karode for Kiran Nader Museum, 'Hashiya' by Anant Gallery, Contributors- Salima Hashmi, Dr BN Goswamy and Kavita Singh. Revisiting Beauty curated by Tunty Chauhan At Threshold in 2016, Painted Almanac 2019 at Threshold, New Delhi. Her sculpture has recently been shown at the 2019 Karachi Biennale.She has also been working on a photography project 'Artist through the lens 'for the last 16 years. The project focuses on photographing the Indian and Pakistani Artists in their studios and creative spaces. This on-going archive has been shown by the Devi Foundation in 2012 as their solo project and at the Kochi Biennale by the Kiran Nadar Museum and supported by Saffron Art Founda on in 2014. An extension of the 'Ar st through the lens' is another project 'Postcards from Home'. This project that brings together 47 artists, all photographed by Manisha in their creative spaces, from both Pakistan and India. 'Postcards from Home' has recently been shown at the Lahore Biennale in March 2018 and was shown at the recent Kochi Biennale 2018 by Kiran Nadar Museum as an invited collateral and at the 2019 India Art fair as a special project… Manisha has given a TEd X talk on her art prati ce in 2018.She has held solo shows of her works across the country like Hope is the thing with feathers, Gallery Espace, New Delhi in 2013; Pallette Art Gallery, New Delhi in 2007; Chemould Prescott Road, Mumbai in 2005.
Bakhiya, featuring Achia Anzi, Gargi Raina, Manisha Gera Baswani, Priya Ravish Mehra, Rajendar Tiku, Rubaba Haider and Yael Bartana,  was at Threshold Art Gallery Delhi, 10 January – 29 February 2020. Photography by Harry and Rana Chauhan
✿
Like the article? Make it a conversation by leaving a comment below.  If you believe in supporting a platform for culture-makers, consider becoming a subscriber.
Tags