Lycia Trouton writes about two Canadian artists whose work reveals a flowering of Métis culture in response to the challenges of settler colonisation.
"A core concern for the Australian [and Canadian] contemporary art has been a questioning of often violent histories and the understanding of land and language…" Tapestry weaver and archaeologist, Prof. Emeritus Diana Wood Conroy, one of the Chief Investigators of Fabric(ation)s of the Postcolonial Australian large discovery Research Grant, 2001- 4 (Fabrics of Change – Trading Identities, University of Wollongong, 2004, p.7).
---
As one climbs the stairs towards the alternative art gallery, Open Space (est. 1972), at 510 Fort Street, situated in Victoria, B.C., on the very West Coast of Canada, one ascends under a colourful contemporary mural curated specifically for this passageway. The artwork is by Jesse Campbell, an Indigenous (Métis/Cree) artist and curated by Eli Hirtle, curator. Campbell's mural directly references a traditional Métis/Cree quilting blanket technique.
Hirtle was responsible for Campbell's mural as part of his role, since 2018, as Aboriginal Curator. While the mural is not on Campbell's home territory, the significance of privileging a Métis image at this time (2020) is timely because of recent important historic political gains by the Métis Nation.* Also, Greater Victoria (population approximately 367,770) is home to approximately 6,500 persons who self-identify as Métis; Open Space has been de-colonising its curatorial practices recently.
Jesse Campbell's 2018 Métis Blanketing mural and Michelle Poirier Brown's 2019 poetry / performative oratory practice are illustrative of the current flowering of the Métis people in their cultural production, underpinned by the politics of language reclamation as well as new negotiation advantages with The Crown, Justin Trudeau's government. The significance of Métis imagery exhibited in alternative art spaces seem to me to be in direct relationship to the "anxious settler-audience-adjustments" needed in Canada's post-2015 Truth-and-Reconciliation world!
Canadian artists who are exhibiting with and/or supporting Open Space (in association with the local University of Victoria), are attentive to a revised post-2018 mission that privileges decolonisation. "Anxious settlers," such as myself, can attend educational workshops to process our colonial "sorrowed history" in visual and conceptual ways that influence ongoing arts practices.
The legacy of Canada's Residential School cultural genocide (that can be likened to the history of Australian's Stolen Generation genocide), together with Canada's post-2015 Truth and Reconciliation Commission action plan permeates the serious artworld here, and therefore, how a contemplative artist or self-reflective craftsperson makes, produces and shows their creative work. From my Northern Ireland perspective (N.I is another one of the 40 or so countries, worldwide, working on contemporary TRC – type processes), I position myself as an "anxious settler" and have gratitude to the resilient, creative energies of today's Indigenous artists whose land this has been "since time immemorial."
Jess Campbell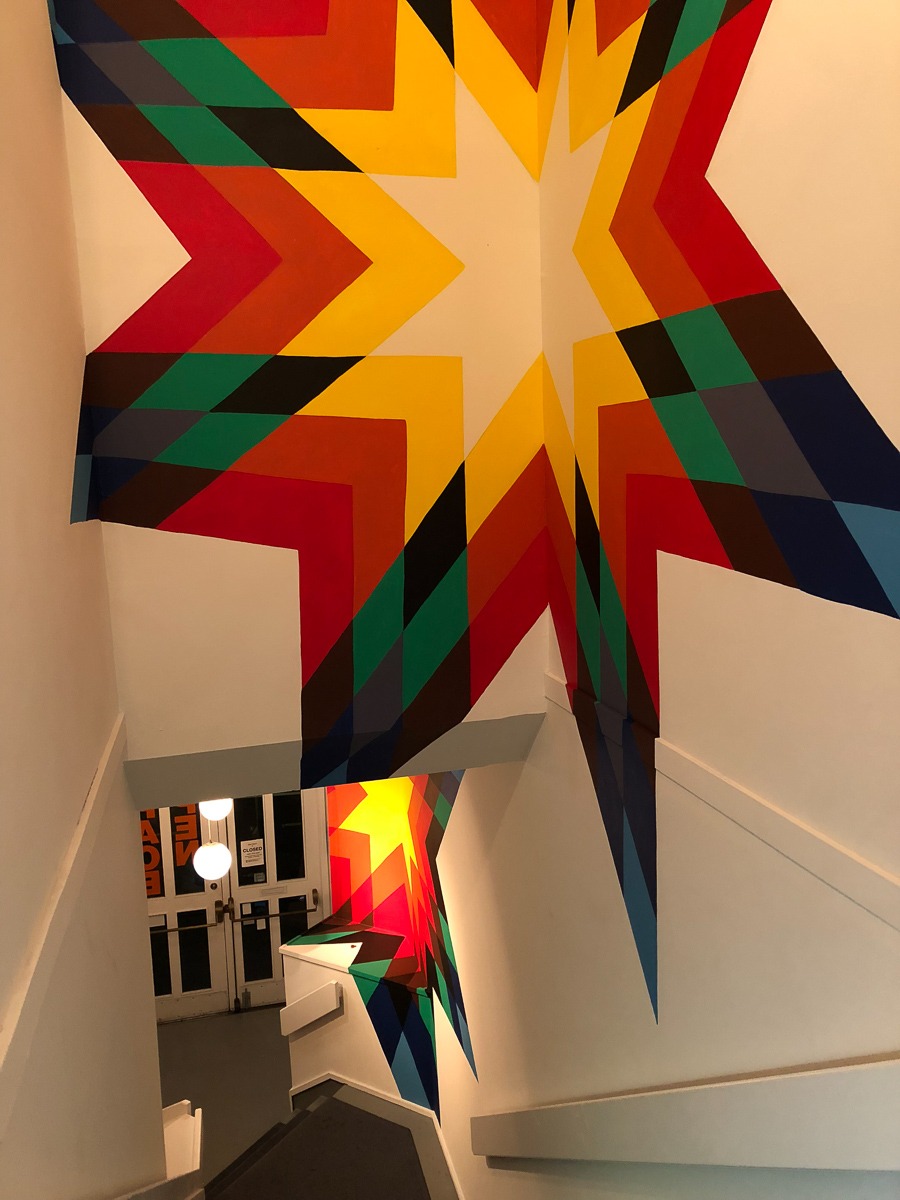 Jesse Campbell's bright, star-shaped murals reference a particular Indigenous quilting tradition. Since early 2019, his images have graced the walls of the downtown foyer and staircase of a very special art gallery in Victoria, B.C. Canada, called Open Space. This space is one of those key places that drive contemporary practitioners' alternative art practices locally within a global perspective and Canada Council of the Arts agenda. By necessity of social justice, this space has been key to the recent project of decolonisation in the Canadian arts and crafts scene. Open Space has actively engaged in the post-TRC (Truth and Reconciliation) era-Canada action plans.
Craft has emerged as key to the various installations, workshop processes and painted murals that have been an important part of the agenda of Open Space and University of Victoria (UVic) art /art education departments over the last year. For example, Artist-Curator Lindsay Delaronde who is Iroquois Mohawk (b. Kahnawake, near Montreal, Quebec) conducted beading workshops in 2018 at Open Space (see image). Beading artist, Teresa Vander Meer-Chassé (from Upper Tanana), a member of the White River First Nation of Beaver Creek/Yukon/Alaska holds a current residency at UVic. Other initiatives are public workshops held by Primary Colours for professional craftspersons/artists and cultural workers. These have their objective to honour the differences in one another, sometimes called intercultural arts awareness. The Primary Colours website explains their work as:
"a multi-year arts initiative which began in 2016. Its main objective is to place Indigenous arts at the centre of the Canadian arts system. Primary Colours/Couleurs primaires also asserts that creative practices by artists of colour, who have roots around the world, play a critical role in imagining the future(s) of Canadian art making."**
Campbell created the "star-blanket/quilt" mural with a specifically laborious process of linear mark-making, without any of the ordinary painters-taping or masking processes. One could say that this was akin to delicate stitching, instead of using sweeping brush-strokes. Campbell's title also suggests a second reference to the historic tradition of a performative cross-Canada Indigenous ritual called "Blanketing" (explained more in Michelle Poirier Brown's entry).
Campbell self-identifies as Métis-Cree and has been pre-occupied with the motif of the Star Blanket, an image which comes from the interior of British Columbia, Canada as a motif of the Métis nation.*
"The White Star represents my grandfather… The Métis history is kind of fraught, especially for an Indigenous woman [like my mother] who married a White man; we didn't actually get status until six years ago. I didn't actually live on the reservation growing up, we [me and my siblings] just hung out there… When my grandfather died, my mother [b. Swan River, Manitoba, Canada] moved here to Victoria British Columbia where I was born.

I am not sure where my talent and love of art came from, except that I was well aware of it in school and from local Indigenous artist visits to the school. My Dad used to draw a bit when I was young and his mother [English, Scottish, German] was an artist who lived in Iqaluit, [the capital of the Canadian territory of Nunavut].

The colors in my Star Blanket mural were chosen to represent different forms within my history. So, within Métis culture—like the different colors woven into the sash [infamous craft of a woven belt] represent different things from the Métis history. In my mural, the greens and browns are like the trees on the West Coast, the blues represents the oceans—so we have this connection to the East Coast but we can never quite reach it; we are still receiving the teachings in ways that I don't completely understand, but I am still connected to them…

And so with this, I want to both honour this space and wanted to give the gift of the Star Blanket to them [my Ancestors].

My mural is precariously situated above the staircase. And the color: the black trapezoid …represents a disconnect from my [Traditional] history…

I can't touch these teachings but I can bask in them; like extensions from the rays of the sun [in the middle of the blanket]."
Jesse Campbell's mural arches over the stairwell and "blankets" those who enter and exit this semi-public space, and climb up / down the stairs of the main hallway, leading to the gallery. In this way, all visitors are encouraged to acknowledge and try to action the promises held for one another in a highly politicised, post-TRC Canada.
Blanketing
In this section, I illustrate the significance of ceremonial "blanketing". Another Indigenous artist—Cree AND part of the citizenry of the Métis Nation—explained to me her recent creative practice and about a significant creative journey ending in ritual. In the summer months of 2019 my University of Victoria colleague, poet Michelle Poirier Brown, began a 67-day epic pilgrimage from Victoria, B.C. to her homeland—the traditional territory of Métis Nation. A First Peoples' Cultural Council Individual Artist's grant funded the project.  Michelle is specific about her "not-only-Cree" identity, but, that she is additionally "a part of the Metis Nation citizenry"; the meanings of her poetry and photographic publications, political background and the cross-country travel are developed in this entry.
Poirier Brown began her trip at a Sundance Ceremony in southwestern Manitoba, the first occasion at which she wore a ribbon skirt. She ended her trip in Maskwacis, Alberta, first attending a three-day conference entitled "Reclaiming Our Knowledge," followed by the Samson Cree Nation Pow Wow.
The three-day-long pow wow involved dance competitions organized by dance style and age group, a song competition among the several drum groups present, and several "specials"—competitions for which the prize money has been donated as a way of honouring a family member or commemorating an event. On the final day of these events—the last day of her artistic and creative cross-country journey into "witnessing her identity and heritage"—Michelle was presented to the Chief of the Samson Cree Nation by a woman from the nation she had met during the conference. The woman and Chief were both dressed in ceremonial regalia, and Michelle, wearing her ribbon skirt, was honoured with the gifting of a blanket, an offering given to guests to indicate they are welcome to return.
Michelle Poirier Brown (in her early 60s) was one of four Elders who was asked to pray during the "The Red Dress Special" event honouring the families of Missing and Murdered Indigenous Women and Girls. They prayed for healing and stopping such destructive violence.
Craftswomen from Maskwacis, a community with a special significance to the history of Indigenous resistance in Canada, make and wear these miniature felted and beaded brooches as an expression of resistance to the ongoing violence, each with a signature beadwork design. To show respect for Michelle as an elder, she was gifted with numerous objects, including clothing, a blanket, a braid of sweetgrass, and a beaded rose (pictured here) and Red Dress broach (similar to the one shown).
Poirier Brown told me this ceremonial welcoming, which included a "Blanketing" aspect, gave her a feeling of completion in the newly constructed narrative of her identity. She said she felt "Cree" and experienced a solidity and inspiration in her current and future political-poetic contribution to her Métis Nation, as seen in her poetry.
An example of Poirier Brown's work is this poem, "Wake," which was published in PRISM international 57.1, the "Dreams" issue and awarded the Earle Birney Prize for Poetry in 2019.
Wake
You dream me still. Racialized, de-racialized, de-colonized. You ask if I have or use a "pre-colonial mind." You suggest edits to my biography, tell me my stated identity doesn't exist, and that you know this because you are getting a phd in indigenous lit. You ask me flat out if I'm queer, if you can tick off another box on the grant application.

You dream we are friends, and I become someone you get to say you met for tea in the village. You dream we are friends, and you tell me you've taken oranges to the tent city because, of course, that is something I would want to know.

In your dreams, I am often too much, more often not enough. Because of your dreams, you find me repellant, take a prurient interest in my childhood. Your dreams make it hard for me to wake up. I dream I am drowning. I have this dream while I'm awake.

I remember the time we met on the phone, your rude awakening when I showed up at your door. I was still asleep. I checked my shoes to make sure they were clean. As if that had to be the problem.

There was the year you told me it would be best if I chose a different week to rent a cabin, that my daughters were two children too many. You stood beside me on the river bank as I watched the children float by in inner tubes, one of mine vibrant with excitement, the other grinning with fear. I think you dreamed I would never tell.

The grief from that one dreamed me for a long while.

The past is a dream that streams around me, my voice rising through it like bubbles void of vibration, their only sound an almost inaudible pop when they reach the surface. What you cannot see of me fills my lungs.

Always I am waking. I turn up in strange clothes, new words in my mouth, people I no longer know smile as if I remember. I look for others, also awake. Mostly go home alone.

Always I am swimming, cold and asleep, upstream. Bear dips a paw into the stream, flips me breathless against the sky. Wake, he says. Wake.
While this poem does not directly comment upon the cross-country grieving practices, (including the crafting of felt/beaded brooches) of the Murdered and Missing Indigenous Women and Girls – MMIWG), it talks about female survival and being lonely, without her sisters, and expresses fears for her daughters' intrinsic well-being.
Various artistic tributes and processional-protest walks help make visible and inform the greater public's understanding of the MMIWG. The Canada-wide MMIWG inquiry and ongoing community grieving/healing has taken various forms in the past fifteen years. Michelle Poirier Brown's journey this past season is "more than" her own and indirectly links with Jesse Campbell and her broader missing community of sisters/mothers/daughters.
Conclusion
By drawing attention to the "craft/textiles" symbolism of 'blanketing' in the Cree* culture, I want to honor the traditions of both artists. As well, I wish to bring awareness to cultural endeavours which may help, indirectly, with very real, tragic colonial legacies like the MMIWG. Small pockets of the artworld, like Open Space and "The Academy" (various institutions of Higher Education across Canada) are now, more than ever, addressing decolonisation more directly.
The Star Blanket quilting motif turned-into-a mural, situated in an entryway passage, is a generous reconciliatory gesture of "open arms" to both Indigenous and non-Indigenous practitioners and art-viewers in Victoria, British Columbia, Canada. As a settler artist, I am grateful to feel a part of the general"'blanketing" concept of welcome/welcoming-back when I enter and exit Open Space. Although the necessity to which Cree craft—indeed, craft-in-general—also opens up a call to "care" as well as to be activists/craftivists is boldly addressed in this recently published, Canadian Art article by Lindsay Nixon (Cree, Métis, Saulteaux) about the #shutdowncanada movement and creative production. Victoria-based Campbell and Poirier Brown have had journeys and created artworks which work to heal and awaken us.
This article is about a contemporary artwork, a semi-public mural, that references an Indigenous quilting tradition and their concept of 'blanketing'. The creative practices of visual artist Jesse Campbell and poet-photographer Michelle Poirier Brown focus attention to a wider debate about the current decolonisation of the arts in Western Canada through the lens of the Cree* culture.
– a footnote by Michelle Poirier Brown, November 2019.
* – "It is very important to understand the difference between the Métis Nation and people who self-identify as "metis." The legal status of people of mixed heritage who refer to themselves as "metis" is distinct from the legal status of citizens of the Métis Nation. "Métis Nation" is an equivalent to, say, Songhees First Nation, or Musqueam First Nation. We have a defined territory and a history of democratic government. The people who identify as "metis" in Eastern Canada do not share these collective attributes. That is why I make the distinction that I am Cree and a citizen of the Métis Nation. Culturally, I'm Cree. My government is the government of the Métis Nation. The Métis Nation has a distinct culture that has developed out of the fur trade and buffalo hunt and incorporates influences from both European and Indigenous cultures. Languages spoken by Métis Nation citizens include Ojibway, Cree, French, Michif, English, Bungee, Gaelic and Dene."
Excerpts are from an interview between the artist, Jesse Campbell, and Lycia Trouton, October 17 2019 and between Michelle Poirier Brown and Trouton, November 24 2019.
Biographies
Jesse Campbell is an emerging, self-identified Métis artist from Victoria, BC. He became involved in Open Space about 15 years ago when he was invited to a drumming workshop given by well-known Tahltan artist/performance artist Peter Morin. Jesse has more murals at the Greater Victoria Harbour Authority, M'akola Housing, and the City of Victoria. Jesse was the Assistant Coordinator for the Indigenous Youth Arts Program (IYAP), 2016. Campbell's biography is courtesy of the Open Space website and Jesse's discussion with me.
Michelle Poirier Brown is a Cree Métis poet and performer from Selkirk, Manitoba, currently living in Victoria, BC. Her work has appeared in Dis(s)ent (George Elliot Clarke, Sanita Fejzić, eds.), CV2 Magazine 42.1 and Grain Magazine 46.5  and in the forthcoming in Sweet Water: Poems for the Watersheds, a Caitlin Press 2020 anthology. A feminist activist, Michelle was the first woman in Canada to win a court case establishing reasonable accommodation in the workplace for breastfeeding women. She is retired from a career as a professional writer and, later, conflict analyst and Federal treaty negotiator. Personal work follows three major themes: Indigenous identity, queer identity, and speaking the unspeakable. She writes about her research in Transylvania that was the focus of a Community Sabbatical Fellowship at the Centre for Studies in Religion and Society at the University of Victoria, in 2017.Michelle's biography is an edited version from the one on her website.
Lycia Trouton is a Canadian-Australian-Irish artist (born March 8, 1967) in Belfast and grew up in Vancouver, British Columbia, Canada. Following an early career as an Earth or Land artist, she then became a Public Artist with commissions in Seattle, Washington, USA and then rose to international artistic significance (curated by Sarat Maharaj) with her Canada Council of the Arts-funded, post-conflict Northern Ireland artist-as-witness / peace project: The Linen Memorial. Trouton is also a write and educator. She states "the global artwork has changed considerably since I obtained an MFA in 1991 in mid-west of the U.S.A. By the time I did my doctorate in another part of the globe, near Sydney, Australia ( in the early 2000s) refreshing newly fluid boundaries of post-colonial "periphery and center" gave Canadian and Australian artists new creativity and more inclusive production and exhibition strategies. Engagement with differing, yet similar, colonial and "neo- " or "post-" colonial issues have broadened and deepened the field of craft. As an artist, I have been on a journey of coming to terms with poignant, traumatic histories through sculpture and craft."
Additional reading
www.kairosblanketexercise.org/blanket-exercise-truth-reconciliation/ 
www.slcc.ca/the-history-of-blankets-their-present-use-by-squamish-lilwat-nations/
Please note that I acknowledge that the writing of this article is done on the Lekwungen-speaking peoples traditional territory and that the Songhees, Esquimalt and WSÁNEĆ peoples historical relationships with the land continues to this day. The city of Victoria, where my settler home is located, is on established Coast Salish territory — the urban area of which is the home of the Lək̓ʷəŋən People (Songhees and Esquimalt Nations). The peninsula north of the city is the home of the WSÁNEĆ People (Tsartlip, Tseycum, Tsawout and Pauquachin First Nations) and Southwest are the Scia'new and T'Sou-ke First Nations.
**Open Space collaborates with Primary Colours on decolonisation arts awareness education, together with The Belfry Theatre and Pacific Opera Victoria together with Primary Colours.
✿
Like the article? Make it a conversation by leaving a comment below.  If you believe in supporting a platform for culture-makers, consider becoming a subscriber.
Tags