An interview with Yujin Moon, a writer and curator specialising in ceramics who has co-founded Written Hands to develop projects which bring craft into everyday life
Why was Written Hands formed?
When I was working as curator at Korea Ceramic Foundation, organizing Biennale programs and some other local and international projects, I've often felt frustration about the policy and timeline which were determined only for short-term planning. There was no possibility to plan for some long-term project which would require actual questioning, discussion, debate, collaboration and cooperation with artists and experts from all different kinds of artistic/academic fields. Some serious projects to contribute to liven discourses and practices of ceramics in our lives were not welcomed.
I was sharing these critical thoughts with a colleague curator at that time at KOCEF and some artists who inspired me so much (Philippe Barde, Matsui Toshio among others). Then I got to have an idea about forming a sort of 'think tank' for not only ceramic art, but for all different kinds of fields joining along ceramics.
Methodology is quite essential to me. And sociology has always fascinated me. For my master's thesis, I conducted research on post-human imagery and practices in art and society, via many references in the sociology of the body. When Philippe Barde introduced me to The Craftsman by Richard Sennett, I identified my own field I wanted to establish in the field of ceramics.
'Hands' don't signify only techniques. They represent human creation, not by an artist of genius but through what Richard Sennett identifies as "debugging," by a fallible human. 'Written' represents all kinds of interpretation, as I believe every inspiration and inspirational moments are come full circle, regardless of materials, genre, style, hierarchy, etc. It could be writings, exhibitions, musical pieces, or even protest.
Since beginning, the Written Hands has been managed as an open curatorial platform. Along with artists, graphic designer, sound artists, musicians, curators and editors have been and are to be invited. When I commission a project by public institutions, due to administrative regulations, I cannot work as the Written Hands, but the direction and fundamental problematics stay all the same.   
Why do you publish your website in English?
The website is still under construction. Only recently I could re-start to work on it. Basically, trying to achieve the previous projects but soon to upload some articles on ceramics and objects for human life.
Since I've always been working with international artists, it is natural for me to publish bilingual books and websites, or any other communication materials (and/or French/Japanese depending on project).
Another reason is related to a kind of sense of duty, as Korean curator. Korean artists, especially ceramic artists are so bad at promoting themselves (there is no education for self-presentation). Many of them even find it very hard to write CV in English. As for public institutions, they are disinterested and incapable of producing articles or creative contents in English, featuring Korean artists and their activities. I'm not approaching it in a nationalistic-promotion-wise, but rather searching for diverse possibilities of inspiring and getting inspired.
Can you describe the Korean coffee ceremony in Cafe au bol?
I don't think there is something like 'Korean' in Café au bol, not in our intention anyways. All members and ceramic bowls, and participants are Korean, so yeah, why not call Korean. I guess the word 'ceremony' could remind Japanese tea ceremony which is very severe and aesthetically controlled, but Café au bol is much more casual and liberal.. well, let me say, dynamic.
It is rather about inviting the general public to rediscover an unusual humble moment in their own everyday life, through appreciating the beauty of highly crafted objects and coffee. Served in a beautiful bowl that you have to hold in your two hands, feeling the warmth on the delicate surface of the bowl, touching the scent of coffee.   
A dynamic dialogue between coffee master Q and ceramic artist Huh Sang-wook makes this ceremony more concrete.  Inter-exchanges and appreciation of each other's work and expertise made specially designed bowls  and customized coffee (functional and aesthetic features were discussed in detail, including temperature, size, thickness, shape, angle, taste, favor reaction and look).
Surprisingly, responses from general public seemed more impressed than ones from usual art lovers. They brought their friends and purchased the package (coffee bean + a bowl) without hesitation – re-ordered even after the event ended. We still believe that a work of craft would shine when it permeated people's living, then let people appreciate their own lives through interaction with the beauty of the object where resides the artist's energy.
Where did the idea of Doreul–dakda come from?
The very first edition of Doreul-dakda was a trial work of Park Jung Hong who takes part in the art work in our project. The idea was about creating a sort of invisible string between the artist and visitors.
But since 2014, we started to reformulate the project, keeping the original title but reinforcing the concept of polishing action, because I found it very important to let people finalise the work, which will never be perfected. A repetitive action is one of the core elements in craftsmanship, and it is also a debugging practice in  human life, which allows us to empty our 'mind,' using our body. During the performance, restricting phones and talk, the project suggests to do nothing but polishing, to concentrate what you feel on your hands, and what your hands are realising, giving you a little break from watching or thinking.
Apart from that, I think this project suggests to think about collectivity in craft creation. The project itself has many authors: designer, curator, ceramic artist and sometimes musician, and the participants. It is very much a craft work presented as a participatory performance or workshop, but the crafted stone is to be completed not when it becomes shining, but only when you come to shine.
How do you distribute the stones?
Participants come to look at the stones installed randomly on the floor or hung from the ceiling, and choose one. They can look, touch and compare, and finally get to choose one. It is interesting to see how they choose their own stones. Some people do after a very careful observation and some people just instinctively choose one without consideration, just at first sight.   
After this choosing ceremony, they have to polish their stone for a while (we suggest average three hours and people stay polishing for an average of one hour), then they can take it home. When they leave, we give them spare pieces of sandpaper in a paper envelope, so that they could continue to polish afterwards.
Has anything surprised you about how people have responded to the project?
It has never been predictable. We thought that it would be appreciated by art people or enthusiasts, but actually general public, invited or random, seemed to get into it more intimately. A friend of mine, far from art consumer, who can never stay still at one place longer than fifteen minutes, actually enjoyed polishing his own stone, in a  very concentrated manner. He said, "Everyone has creativity and wishes to do something creative. I think it is very cool to offer normal people like me an opportunity to be a part of artistic work. With simple technique, using my hands, I enjoyed a peaceful moment of being myself."
Both in Café au bol and Doreul-dakda, public's perception is quite accurate. Without any sophisticated rhetorics, they just get to the point and are actually quite good at finding their own pleasure and interest in the suggested situation.
Do you have any future projects in development?
The second edition of Café au bol is to be held in December. Doreul-dakda is also an on-going project, I have been planning to present it in Kyoto, also in an European city (Geneva among others) with a different thematic workshop in each city. But I feel the project needs to be identified more concretely as a concept in order to go on to meet more people from different cultures.
Apart from those two ongoing ones, written hands is going to edit some publications. Thanks to some national grant, two of them would be published in English, too. The most exciting upcoming project is a series of seminasr focusing on craft criticism. Reading several texts including Sennett, each session would produce new articles based on the discussion during the seminar. This seminar will be published on a website, too.
Author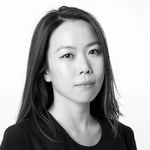 Yujin Eugénie Moon and an independent curator, co-founder of the written hands. She lives and works in Seoul, South Korea. She has a BA/MA in Science of Art(Kunstwissenschaft, 芸術学) at Hong-ik University and was curator at the World Ceramics Biennale Korea (2007, 2009, 2011) and executive curator at Icheon Ceramics Festival (2013). She is a researcher in the sociology of art and lecturer in art history as well as curator of diverse projects (exhibitions, workshops, performances, publications) to infiltrate aesthetical experience and attitude into ordinary life, excavating value of craftsmanship in the whole field of arts. Her main interests are "synesthetic appreciation" and "circulation of inspirations." She recently worked on several projects for the grand opening of Asia Culture Center(ACC), a national institution located in Gwangju, Korea. The Written Hands has been collaborating with professionals from various fields : a graphic design consultancy chuigraf; Japanese musicians Polar M, Marihiko Hara; and artists Huh Sang-wook, Park Jung Hong; coffeegamgak; and moon art translate among others.

Tags