Janet Teowarang finds innovation from nature among a new generation of batik artisans in East Java.
For the past two years, I have been researching the creative industry products from Pasuruan Regency. I have a strong interest in Pasuruan Regency after I have discovered the hand-weaving textile or ATBM (Alat Mesin Bukan Tenun) textile cloth from Purwosari Sub-District back in the year 2018.
Following my research about the ATBM textile cloth and fashion sustainability topic, I was selected as the recipient of the Alumni Grant Scheme in 2019 from the Australian Government administered by Australia Awards in Indonesia. The Alumni Grant Scheme project entitled "Promoting Three-Pillar of Sustainability in Fashion Industry" had a focus on community development in Pasuruan Regency. From this experience, I have met the diversity of local artisans, including batik and embroidery, using Pasuruan Regency elements such as flowers, nature, and scenery.
There were one hundred artisans who were the beneficiaries at The Alumni Grant Scheme Project series of training. I was very delighted and enthusiastic when the project was implemented, although I had to spend most of my weekends travelling back and forth to Pasuruan Regency for six months. After the Alumni Grant Scheme Project ended last June 2020, I published an e-book about the journey of the project and I still stay in touch and communicate well with most artisans. I often share any collaboration project information, webinar, or other opportunities for the beneficiaries' further development. For instance, some keen artisans such as Pak Nasech, Ibu Isnaini, and Andre were contributing their new collaboration project for Garland Australia's Pembaharu edition. Despite the COVID-19 pandemic period, these artisans enthusiastically prepared the project where each of them introduced their specialty skills.
One of the artisans, Pak Nasech from Dusun Panumbuan located in Raci village, Bangil Sub-District has shown a great interest in fashion sustainability after attending the early training series from the grant scheme project. Pak Nasech who resides near rice fields and ponds still surrounded by fresh air where he is connected with nature; therefore he has decided to try a new experiment of eco-printing beside his current business creating wire jewellery and batik. The activities of the Dusun Panumbuan community are rice fields, ponds, and mineral salt farmers, as well as creating hand-made batik and Batik Jumputan.
The distinctive Raci village batik is called Batik Bugem whose name was inspired by a mangrove tree. For this village, the mangrove tree has an important role in preventing pond erosion. Pak Nasech was the initiator for Batik Bugem, in which the batik has created a unique motif from mangrove seeds. Other than Batik Bugem, the tie-dye or jumputan process combined with artistic hand-made batik is also well known in this village: Batik Jumputan uses a natural dye from fruit or seed of mangrove tree. Pak Nasech has experimented with friendly materials such as the species of tree leaves which are available in the neighbourhood and other unusual natural dyeing material from teak wood powder, as well as coconut fibre.
Another artisan is Ibu Isnaini Rodiyah from Dusun Karang Ploso in Ngerong village, Gempol Sub-District. The location is about 24.2 km away or 45 minutes from Pak Nasech's residence. The weather in Dusun Karang Ploso is refreshing because there are still plenty of rice fields and farms within the area. The neighbourhood is also serene and pleasant with less pollution and highlands water resources. Last year, in September, I visited Dusun Karang Ploso to create a short documentary film about the Pasuruan Regency batik artisans who are the housewives. They developed themselves from zero competencies to be skilled batik makers by using canting and batik malam (wax).
Ibu Isnaini is a housewife who has a strong will to learn and develop her capacity, inspired by the many fellow artisans whom she met during grant scheme training. She has made a few experimental batik cloths such as indigo-dyed batik, Batik Jumputan from mango leaves, and the unique Batik Kelor Permata. This batik was named after kelor or drumstick tree (Moringa oleifera) leaves where it has many functions. Kelor is known to inhibit the growth of cancer cells, is affordable in price, and widely available as a domestic plant or sold in a local traditional market. As for the word permata or jewel in English, Ibu Isnaini treats kelor leaves as precious. Other than useful as a natural dye for batik, she also consumes the leaves on a daily basis as healthy food or juice.
Pak Nasech and Ibu Isnaini have collaborated with Andre Setiawan, the young artisan from the grant scheme project. Previously, Ibu Isnaini and Andre have learned the eco-printing process from Pak Nasech and made their effort to practice the process until they have achieved the satisfying results. Andre was used to working as a factory worker although he is an artist. His earlier batik cloth featured his own designs. Andre originated from Dusun Krajan in Sukorejo Village, Sukorejo Sub-District, where the weather is relatively clean and cool and the local communities are mainly factory workers, farmers, also some artists. Until now Andre has created various artistic works such as Mahandini shawl with sailboat motif, Batik Tumpang Tindih with natural dyeing and abstract motif where the meaning of the motif design is about the people who will justify any means to get an important position. Another creation that was designed by Andre is the series of Batik Kusuma Harmoni.
About the collaboration project of three artisans, Pak Nasech explains their project has developed into a distinctive eco-printing batik textile cloth entitled "Jejak Sedap Malam" or The Trail of Tuberose. The word "trail" is from the teak (Tectona grandis) leaves where they are always leaving the trace behind by their existence. As teak is useful for many things besides wooden furniture, teak is also known for its strength. Meanwhile, tuberose (Polianthes tuberosa) is a white flower originally from Pasuruan Regency and has become the regency's characteristic flower for the batik motif. Tuberose only emits its fragrance at night and it is considered as an exotic flower. The process of Jejak Sedap Malam involved natural dyes from coconut fibres and mangrove fruits that are rendered in the artisans' style.
Each of the artisans has their specialties, such as Pak Nasech created the eco-printing designs and process, Ibu Isnaini featured batik philosophy on the textile cloth and Andre as the younger generation who included modern batik motifs. However, because of the COVID-19 pandemic period, they have adjusted their schedule of working in a group because the safety and health protocol must be complied. Therefore, the tasks have been individually accomplished at their home for eco-print and batik processes that include the finishing.
After this collaboration, these artisans have obtained insights into their plan. In the future, Pak Nasech wants to develop a larger scale and broader marketing plan of his business. He is currently researching about creating eco-printing for leather and later he will develop into other fashion products such as bags and shoes. Meanwhile, as for Ibu Isnaini, she wants her batik products to be more advanced in terms of its technique and quality. Nevertheless, Andre as an innovative Pasuruan Regency artisan has plenty of creative ideas for collaborating music and tattoo artist to deliver a different style of batik motifs. He is also collaborating with the young designers in preserving batik culture, as well as popularizing hand-made batik works to the young generation for appreciating batik which is not merely just the value of the money but also the value and story of the creation.
The shared stories by the artisans remind me of this quote from Jim Rohn "Don't let your learning lead to knowledge. Let your learning lead to action."
Author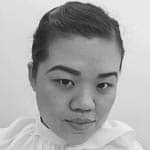 Janet Teowarang is a founder and creative director of her own fashion brand, Allegra Jane. She is also a lecturer at Universitas Ciputra Surabaya. Janet is one of batch two alumni from Australia AwardsIndonesia Short Term Awards of Fashion and Textile sector and Alumni Grant Scheme recipient. She loves the history of fashion, world art and crafts, very excited visiting every museum when she travels around the world.
✿
Like the article? Make it a conversation by leaving a comment below.  If you believe in supporting a platform for culture-makers, consider becoming a subscriber.
Tags