Astrid Kusumowidagdo writes about innovative and socially aware Topeng Malangan batik production, guided by Janet Teowarang.
Indonesia is famously known as the producer of various batik textiles as one of its indigenous heritage products. Having lived in Indonesia all my life, I have a keen interest in batik. One of the Indonesian batik creations that has gained popularity among collectors today is batik Malang. Malang is located in East Java Province, a city that boasts a lot of creative industry riches, a mere 2-hour drive from Surabaya, the province's capital city. Many businesses are based in the town, and some have gained quite a prominent growth, including the textile and batik industry. Batik cloths produced in Malang are aptly called batik Malangan. They are characterized by the patterns depicting Topeng Malang (Malang-style masks), Tugu Malang (the Statue of Malang), lions, and lotus flowers. The city of Malang can take pride in being the birthplace of this distinctive artwork, which later becomes the inspiration behind batik Malangan's unique motifs.
Malang-style masks as inspiration for batik
As I observed, the characters depicted on the masks add to the attractiveness of the batik Malangan motifs. Several notable characters that can be seen in the batik patterns include the Panji Asmorobangun figure with his slanted eyes and downward pointed nose, the Klono Dewandono figure with his round eyes and long nose, and the princess character with her oblique eyes, Dewi Sekartaji, pointed nose and white-painted face. Other characters are shown in the batik Malangan pattern, inspired by the wooden masks. Sometimes, these characters are combined with other Malang icons to create a more distinctive design.
Batik and disability
Each batik artisan with disabilities has individual capacity on batik process such as specialty in designing motif or fine hand-drawn batik process.
Batik artisans with disabilities are able to hand-drawn batik process (mencanting) with small size pen (canting) achieving good quality of batik Topeng Malang.
One interesting fact about the batik Topeng Malangan is that some are produced by batik artisans with disabilities in Malang's Klojen Regency. They are based at Tithiek Tenger Foundation, where the foundation advances people with disabilities into active communities with an entrepreneurial approach. With great detail and diligence, these batik artisans with disabilities hand-made the batik cloth, and their graceful flair in creating the designs somehow concealed their disabilities. Like average batik artisans, they follow the process of batik making, including designing the patterns, mencanting (hand-drawn way using canting, a traditional pen-like tool used to apply liquid hot wax on cloths), mencolet (dabbing the patterns with colors using a paintbrush), and submerging the finished batik cloths in boiling water to remove the wax. The batik artisans at the foundation with different types of disabilities, such as hearing impairment, speech disability, autism, and mental disability. Despite their shortcomings, the beautiful batik cloths they created are popular as souvenirs from Malang.
The local government and members of the academic profession continuously cultivate this batik technique. These include Janet Teowarang and her team at Universitas Ciputra Surabaya. Janet Teowarang, one of the Indonesian fashion designers and lecturers, initially introduced the batik process development technique to Malang's batik artisans with disabilities, which later developed and refined the method. She introduced fashion sustainability practices, using natural dyes and improving batik Topeng Malangan's patterns. For Janet, this community service program is managed in stages starting in February 2023; later, the program will be followed by another training focusing on using natural dyes and developing batik motif patterns from Topeng Malangan motifs, which is planned to be conducted in the mid-of year 2024.
Janet's noble cause is to ensure gender equality between male and female batik artisans. She wishes to eliminate the notions that batik artisans have to be female, or that the enchanting process done by female artisans will yield better quality and more beautiful designs, and also that men can only do the process of submerging the cloths in boiling water because of the high heat involved. Janet also aims to promote disability inclusion in her program. Her two objectives, as mentioned above, are based on UNESCO's Sustainable Development Goals (SDGs), which have been declared by the Indonesian government since 2019. All of these activities, in my opinion, align with the SDGs, including Gender Equality, Decent Work and Economic Growth, Reduced Inequalities, Sustainable Cities and Communities, Responsible Consumption and Production, and Partnerships for the Goals
First, the principles of Gender Equality, Decent Work and Economic Growth, and Reduced Inequalities are evident in this Cultural Centre; both male and female batik artisans with disabilities at this foundation have the same working opportunities.
The second principle is improving Economic Growth. Today the business has been proven to support the development of Malang's creative industry. The betterment of this fashion industry has added to the overall regional income of the area. Including many modifiable workers in the center, the Reduced Inequalities point on the SDGs list can be ticked off.
The third is the points of Sustainable Cities and Communities, Responsible Consumption, and Production. These principles demand that materials for the batik cloths come from natural resources, which will not harm the environment because some factory-made artificial dyes can be detrimental to the natural world. We often see existing batik industries use synthetic dyes, meaning their waste products must be processed before disposal.
Finally, the Partnerships for the Goals point. Completing this training process means a long-term partnership to improve the quality of the fabrics produced by the artisans and the quality of life of the batik artisans with disabilities who partake in the industry.
Yet this noble effort should continue further. Instead of only introducing a sustainable process for batik artisans, there are other means that we can pursue so that these artists can find a fitting market for their products. Our next assignment would ensure that in the current globalization era and fast-changing world, local fashion scenes, including the batik Topeng Malangan, would find their place amongst today's youth and could be enjoyed by the younger generation. As we know, young Indonesians are more commonly drawn to fashion trends influenced by foreign countries. If action is taken to preserve it, batik, one of the indigenous textiles in Indonesia, will be remembered and included in the advances of the modern fashion scene.
One of the ways that we, as the country's younger generation, can do to ensure the continuation and preservation of batik as the cultural heritage of Indonesia is to advocate the use of batik in our daily lives. As a prominent part of Indonesia, young people shall start wearing batik for all occasions, including at school, at home, and in their leisure time, as an expression of national pride. In addition, the batik artisans with disabilities of Topeng Malangan should also be well-informed and up-to-date about the latest fashion trends to comply with the market demands. I believe when this is achieved, market demands are met and the batik-making process follows the correct sustainable means, we can hope that the heritage value of batik as a tangible asset, as well as its moral value as an intangible asset, can be well-preserved for many years to come.
About Astrid Kusumowidagdo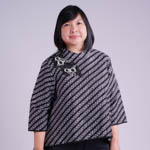 Astrid Kusumowidagdo the Dean of School of Creative Industry at Universitas Ciputra Surabaya, East Java, Indonesia. Astrid has research focus and writings on commercial design and behaviour, cultural and conservation heritage, lifestyle and creative industry.
✿
Like the article? Make it a conversation by leaving a comment below.  If you believe in supporting a platform for culture-makers, consider becoming a subscriber.
Tags