Peixuan Lyu plumbs the story of a contemporary Chinese craft hero.
Xiaoxi is a young man who would make a steamer before starting to enjoy dim sum.

He goes deep into the mountains, finds the bamboo, made bamboo strips, and sketches his ideas, then brings a steamer to real life.
Hand-made pots, wooden boxes, handmade ovens…He finishes one by one without a hurry. He is a person who freezes time.
On Youtube, he has 331K subscribers and 210K fans on bilibili, one of the most popular video platforms in China,
He aroused the curiosity of people all over the world. So who is this craftsperson?
Three years ago, Xiaoxi was just an ordinary worker in Shenzhen. When many young people were struggling to stay in Beijing, Shanghai, Guangzhou, and other big cities, he decided to go against his current life. Xiaoxi gave up his stable job in 2018 and decided to return to his hometown.
One day, he accidentally saw a documentary about the hand-made process of Damascus Steel. He said, "I found my answer." The detailed hand-made process in the film made him excited. He found the life he wanted.
His father used to be a carpenter in the village. It has a subtle influence on Xiaoxi's childhood experience. Since Xiaoxi was a little boy, he was fascinated by his father's daily work. Thus he often tried to make bows and arrows and kites by himself. Other children in the village bought toys while he could make toys for himself.
Besides the basics of handicraft, he actually didn't know anything about the media industry. He didn't know how to show others at the beginning without any ideas of photography and camera. Therefore, he attempted to learn everything from scratch, such as the selection of the camera, composition, and lighting.
The people around him could not understand why he quit his decent work and came back.
In order to capture footage, he dug the pool in the yard. He quarrelled with his uncle, who believed he would break the Feng Shui in his family home. To arrange workshops, Xiaoxi often picks up things he finds useful from abandoned factories and waste recycling stations. People in the village did not understand him very well. Under huge pressures, Xiaoxi persisted.
Although most videos are no more than 20 minutes, there may be more than half a month's handicraft stories behind each of them. Xiaoxi claims, "If you love something, you will strive for perfection."
In an era when obtaining things is so convenient, there are fewer young people who choose to learn traditional handicrafts. However, Xiaoxi chose to live his life in a poem.
He said, "If you really want to have something, your belief will keep you going."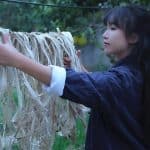 Liziqi ✿ China's craft princess
"Nowadays time goes by so quickly that we yearn for Li Ziqi's lifestyle." The story of Liziqi tells us much about the wave of interest in China's traditional culture today.
✿
Like the article? Make it a conversation by leaving a comment below.  If you believe in supporting a platform for culture-makers, consider becoming a subscriber.
Tags