Mentorship is a very variable concept, and can range from opening doors for mentees through the mentor's professional networks, to a more direct teaching and/or guiding process. The recent (20 July – 20 August, 2015) Beyond Limitations Mentorship Camp held at the ClayArch Gimhae Museum in Korea was an exercise in coordinating widely differing styles of mentorship with widely different expectations of the menteeship experience over a four-week period. The 'camp' was conducted in the splendidly well-equipped residency studios attached to the museum. In some respects, it was the generosity of the facilities, and of the museum, that gave rise to differences in approaches to the camp on the part of mentors and mentees both.
The structure of the camp, and the process by which it came into being was driven by Thai/Australian ceramic artist Vipoo Srivilasa, who had been an invited participant in a similar event at the Korean Ceramic Biennale in Gyeonggi two years previously. Srivilasa's  experience had been rich, especially the cross cultural aspects,  and seeing the potential of such a program, he worked with the Gimhae Museum staff, in particular Kim Seung-Taek, in putting together a similar program.
Initially he invited two other Australian artists (Stephen Bird from Sydney and myself from Canberra), and three Korean artists (Lee In Chin, Han Young-Sil and Choi Seung Jae) to write a short description of how they saw the mentorship process, what they expected from their mentees and what might be achieved during the month of the mentorship program. These can be read on the Beyond Limitations website http://www.claymentoring.com/
Early career artists (defined as not yet represented by a commercial gallery) from both countries were then invited to apply to the program, to a particular artist mentor, with a second choice mentor if they were not successful with the first. They were also asked to state why they wanted to work with the chosen mentor, and what they expected to get out of the process.
From the many applications, each of the senior artists then chose at least one mentee from Australia and one from Korea, and in some cases, because of the strength of the applications, a third mentee was selected. The final number of participants was six mentors, 15 mentees and two special invites to emerging artists Ramesh Mario Nithiyendran (Australia) and Yoo Eui-Jeong (Korea). The inclusion of these two was an excellent decision of Srivilasa's, and introduced fresh and different perspectives to working with clay.
The successful applicants (and their mentors) were Anne-Marie Jackson (JDB), Kim Jun-Myoung (JDB), Sophia Nuske (SB), Fred Fowler (SB), Han Jung Geun (SB), Alison Smiles (VS), Yoo Kyung Ok (VS), Heidi Strachan (LIC), Sarah Ormonde (LIC), Thomas Quayle (HYS), Kim Minah (HYS), Sarah O'Sullivan (CSJ), Jung Hye-Sook (CSJ)
Very quickly, after an initial orientation tour, the artists got to work. Those artists who were familiar with the opportunities that working at the museum residency provided (endless clays of several kinds, large kilns and equipment), came ready with projects that had specific outcomes—fulfilling commissions, making work for competitions/exhibitions, etc. The others were variously daunted or stimulated by the rapidity with which large work was started, and either followed suit, scaling up their own pieces, or were in an initial 'lost' phase. The latter, far from being a problem, is in fact a good place to be in, as nothing is fixed, and everything is possible. It is frequently a necessary phase of the creative process when there are externally imposed expectations of outcomes. In this case, the outcome was to be an exhibition, thought initially to be a smallish 'show and tell', a vernissage of what had been attempted and made during the residency. It eventuated that the exhibition was a substantial affair, very professionally mounted in three rooms of the 'Cubic Space'  (a "smaller" (!) exhibition area of the museum), and reflected the size and quantity of the artists' output.
The almost five weeks went by at a cracking pace- with all the ups and downs of any event where people are living and working in close proximity. But the team at the museum managed everything with an impressive goodwill and humour, and work emerged, problems were solved, and extra-curricular activities were squeezed into the spaces between studio times.
There were two 'off campus' cultural visits, demonstrations by invited Korean Onggi master Lee Kang Hyo and a presentation on professional practice referencing his own career by Lee Hun Chung, as well as talks every night by the artists, both mentors and mentees. This was particularly valuable in establishing an easy and engaged relationship between all the artists, held as it was each night after dinner, and often with drinks.
There was also an 'Australian-themed' Museum Open Day that saw a very cross cultural barbecue lunch turned on by the museum with the indefatigable Lee In Chin wielding the tongs, and myself leading a team of team of the Australian artists (ably supported by the ultra-efficient education department of the museum) take many Korean families through Australian indigenous storytelling practice. The participants then made bookmarks using their own stories told in a language of symbols that they developed in the workshop.
There was an energy generated in all this activity that became the driving fuel for making and learning. What is often not acknowledged in mentoring partnerships is that it is not only the mentees who learn, or are guided. Speaking for myself, I learnt heaps through just being there, and through working with younger artists as well as other mentors. There were a number of notable exchanges, and interest shown by mentors in new ways of working, as well as the anticipated influences on mentees work.
When I am with people (whether from same or another cultural background), I find myself looking for commonalities rather than differences. This means that often I will observe something, like respect for teachers, which it is very pronounced in most Asian countries (as is age and status) and examine my own culture to see how those relationships manifest in that milieu. There is not the automatic formal respect shown through behaviour that young Asian artists practice, but it still evident, illustrated more in a desire to be a 'friend' of the teacher. But despite these apparent differences, underlying both is a desire for approval. So they seem to me just slightly different ways of doing the same thing.  I must say, though, that I on occasions I LOVE the formal respect and assistance that is offered under the Asian model—rather than the 'she made the mess, she can clean it up…' approach of Australian students. But again, it is sometimes quite difficult to manage when help is offered—particularly when help is not needed. It requires some restraint to allow oneself to be 'helped' as that is also part of the mentoring deal.
It was also interesting that whenever there was a formal demonstration offered- EVERYONE gathered 'round. I do think there was a bit of a desire, maybe even a need, for more actual teaching, rather than mentoring. Most of these young people were pretty savvy, and 'on their way'. I suspect that the greatest value was in the informal conversations, and the ongoing contact that participants have with each other
Working cross culturally is always such a privilege, and there is much that is learnt through non-studio based activity. Perhaps the most important of these in Gimhae was the food, served to us three times a days by a lively team of young Korean artists who were unfailingly entertaining and good humoured. We were fortunate to see presentations of their practices in the evening sessions, and this dismantled the boundary that might have existed between service staff and fellow artists. This event showed how valuable a return Mentoring Camp held in Australia would be. In the same way that the Australian participants learnt so much about Korean culture by actually 'living it', there was a great desire on the part of the Korean artists to come to Australia and learn more about both indigenous and settler culture in Australia. During the artists' talks there were images of things Australian, but experiencing first hand is so completely different.  Already there have been discussions about where we might hold such an event in Australia in the absence of the kind of available facilities at ClayArch Gimhae Residency, and what might be changed in the program to reflect practices here, and invitations have been extended to the Korean mentors to come to Australia to share their rich knowledge and skills.
The exhibition is still on display at the museum and a publication of the event is planned, but certainly the major legacy is the bonds of friendship and understanding that were created. It is these bonds that are at the heart of an international and engaged ceramic practice, and which was the gift from the Beyond Limitations Mentorship project to us all.
Acknowledgements
ClayArch Gimhae Museum (particularly Curator Kim Seung-Taek)
The Australian Government through the Australia Korea Foundation
The Australian Embassy, Seoul
Hyeyoung Cho, Creative Director, Cheongju International Craft Biennale 2015 and Adjunct Professor, Department of Craft, College of Art and Design, Seoul Women's University
Author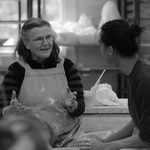 Janet DeBoos lives in the bush, in the Brindabellas, a mountain range outside Canberra. Since her university days she has always either lived in the inner city (Sydney) or in the bush. These polar opposites characterise many of her enquiries into practice and have informed her career of almost fifty years in teaching, writing, production and exhibiting. 'The Space Between' is a recurring theme in her work (city/country, production/exhibition, skill/expression, handmade/industry, home/away) and has allowed her to use her early science training at Sydney University as well as her direct experience living and/or working in Australia, New Zealand, China, Korea, Japan, South Africa, Indonesia, the USA, the UK and Europe. Projects working with industry in China have dominated the later years, and have resulted in collaborations that are ongoing, including symposia and design projects. DeBoos is currently Emeritus Fellow, Australian National University and Australasian and South African representative on Council of the International Academy of Ceramics based in Geneva.
✿
Like the article? Make it a conversation by leaving a comment below.  If you believe in supporting a platform for culture-makers, consider becoming a subscriber.
Tags