Prompted by devastating bushfires, Julie Bartholomew produced cool but water-tight terracotta hives that reflect their ovoid form in nature.
I was representing Australia at a Global Art Symposium in Gujarat, India, during January 2020, before the pandemic changed our lives on a global scale. The group included ten ceramics artists from New York, Lithuania, Taiwan, China, and India.
We created our objects within a large tent, assembled in the White Salt Desert of Kutch, using local clay and traditional wood firing techniques to complete the cycle of making.
As news of Australia's Black Summer fires spread throughout India and the world, I felt paralysed by distance, watching in horror as people, homes, and wildlife were dislocated, scorched, and destroyed. I was moved by the great empathy expressed by everyone at the Global Art Symposium, but when the event concluded, I was eager to return home. After touching down in Canberra, I was immediately greeted by waves of choking smoke as bushfires raged across vast areas of land.
We were in shock as a nation, reeling from the devastating loss of lives, species and vast expanses of bushland and property. The public outrage grew after the Royal Commission confirmed that the super fires were caused by extraordinarily dry and catastrophic conditions exacerbated by climate change. It was clear that a decade of irresponsible political inaction, using climate policy as a battleground fuelled by power and ambition, had to come to an end.
At the time I was thinking about the impact of the super fires on the unnoticed, minuscule world, and I realised that little was being said about the loss of billions of insects. Bees were already in trouble on a global scale, and now they have been severely impacted, with consequences for humans and non-humans alike because bees are major pollinators. These circumstances prompted the beginning of the bee project titled Habitat.
The aim of the Habitat project is to create aesthetically appealing architectural but habitable clay hives in order to raise awareness about bees and their declining population on a local and global scale. As a result, the creative rationale combines imaginative intent, functional design solutions and environmental concerns.
I began by researching the archaeology of beehives, and as an artist working primarily with clay, I was delighted to discover a long history of clay hives. Although modern beehives are made of wood, bee colonies have lived for thousands of years in clay hives and even the mudbrick walls of human dwellings.
Traditional clay vessels, whether hand built or wheel thrown, have a hollow interior, an opening, a base, and an emphasis on functionality. Beehive architecture addresses all of these characteristics so adopting the clay vessel form, and its processes of making, is a viable approach. Furthermore, the clay material is an effective insulator, and hives must stay warm in the winter and cool in the summer.
I wanted to avoid stereotypical box-like forms, normally associated with the human-built environment, by designing hives that exemplify bees and their natural environment. The initial prototypes responded to the exquisite u-shapes of hexagonal prismatic wax cell structures built by bees in the wild. These ovoid forms can be found hanging from tree branches or attached to man-made structures. The larger hives retained these aesthetic qualities while also incorporating utilitarian features that allow bee occupation. Examples include ventilation holes for airflow, the size of the hive's entrance (minimum is the width of two honey bees), a raised base, and a removable lid.
Because hives must remain dry, I developed terra sigillata surfaces, which were invented by Ancient Roman potters, to seal the surface and create a visually appealing satin finish across the outside walls of the hives. In order to explore the tonal range of terracotta, I used a different clay for individual hives so each terra sigillata surface was developed from and for that specific clay.
The development of the Habitat project is aligned with focused research that draws on the knowledge of experts in the field of investigation. I conferred with Hamish Tsa, the beekeeper and photographer who established Bowral Beekeeping. After the construction of a clay beehive, it was installed at Bowral Beekeeping, connected to a major hive containing the queen, and populated by local honeybees over a three-month period in the spring of 2021.
The interior honeycombing created by the bees to hold the queen's eggs, honey, and pollen can be seen when the lid is removed. The honey scent is enticing, but the interior space is visually stunning, filled with labyrinthine cell structures.
Habitat was on display at Craft ACT with artist Mahala Hill in August 2022. The exhibition, titled BEEing, is aspirational because it refers to the continuing survival of bees, beeing pollinators and beeing in existence. Mahala and I are both concerned about species extinction, specifically the decline of Australian bee populations since the Black Summer fires and, more recently, the Varroa mite outbreak.
I am a firm believer in the aesthetic power of craft practice, particularly its capacity to engender empathy through a shared spatial experience between object and audience. Clay, in particular, is a powerful and elemental material. It is of the earth and draws attention to the material world, making it capable of re-establishing connections with the natural environment.
Ceramics and craft practice, in general, are manifestations of interconnectedness, with an ongoing dialogue between the maker, the object, the materials, the processes, and life, providing a powerful means of communicating ideas and feelings.
My intention is to utilise the aesthetic power of craft practice to engage audiences in critical discourse about the decline of bee populations, thereby raising awareness of our ongoing global environmental crisis.
About Julie Bartholomew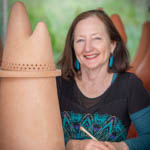 Dr Julie Bartholomew is a Sydney-based artist, educator and writer, formally Head Ceramics at the University of South Australia and the Australian National University. Through her art practice Julie explores contemporary issues, social debates and recently environmentalism. Julie holds a Doctorate in Visual Arts, a Masters in Ceramics and is the recipient of five major Australia Council for the Arts grants and numerous awards. Julie's work is held in the collections of the Australian National Gallery, National Museum of Australia, Manly Art Gallery and Museum, Wollongong City Gallery, Shepparton Art Museum, Victoria, Yingge Ceramics Museum, Taiwan and Shanghai Arts and Crafts Museum, Shanghai, China. Follow @juliebartholomewceramics and visit www.juliebartholomew.com.
Tags