LOkesh Ghai continues his journey through the Himalayas in quest of the legendary choga over-garment.
Having spent a month crossing the pines, I was less of a stranger in the valley.
Over a cup of tea, I met Tiger-Baba, and his doctor friend.
Tiger-Baba had been involved with regional folk theatre, the Nati. The conversation illuminated three kinds of wearers of the chola/ choga. Firstly, the dancers of Nati wear the garment as a costume for dance performance. Their dress has slight variations depending on what part of Himachal Pradesh they represent. Secondly, the Gaddhi community revere the chola as their cultural identity. A few from the Gaddhi community continue to wear the chola: those who still look after the sheep and live in higher altitudes. Most of them are now giving up their older lifestyles. Thirdly, the priests in specific temples wear the chola with particular details.
It was evident that I would have to travel to higher altitudes. I had to spiral through the mountains, through Chamba district, looking for the makers of the chola and their few remaining wearers.
Two days later, flowing through water, fog and rocks, I made it to Chamba, a region rich with heritage crafts.
An unexpected landslide and a few missing vehicles that were claimed by the fierce river delayed my travel. With a night halt in Dharamshala, the next morning I arrived at a place which was "Not on the map"!
My phone service by now had lost its signal amongst the beautiful valleys. My host in Chamba welcomed me with questions about the ethics of my visit. What would my research bring to the community, Manubhai-cofounder of the Social Venture at "Not on map" asked me?
"it is sad that knowledge about our community is taken from us and written without publication access to us"
"Several students, teachers, designers from NIFT, NID, CEPT and other design institutes had used our organisation as a base in the past. We have been generous with knowledge sharing and guiding them, with no acknowledgement in return. I am from the Gaddhi community and it is sad that knowledge about our community is taken from us and written without publication access to us. Our culture is changing fast. While it is important that you propose certain documentation, shouldn't it reach us? Something, which is easy to read, with visuals, available as an open-source."
I assured him that what I write would be available in the public domain. I would address ethics as much as possible. A presentation of my previous work helped in establishing trust with the locals. Over the next few days, my gatekeeper introduced me to various craft people and artists. The local Bhuri Singh Museum, besides the royal costumes on display, also presented mannequins of a Gujjar and a Gaddhi couple, the two major communities of the region. The Gaddhi female mannequin was in natural brown sheep wool choga and a white one for the male with details of hand stitching. For males, it is always full sleeves. A short sleeve or sleeveless for females along with various accessories complete the attire. It was a very long multipurpose (felted) belt that stood out. The belt was a thick rope that wrapped five to six times over the waist. It looked like the hair "locks" of Lord Shiva, the deity, for whom the Gaddhis have the highest reverence.
The curator narrated a humorous anecdote. When the missionaries, during the British Raj, were trying to convince the Gaddhis to take up Christianity, they would argue that Shiva was never depicted with a sheep, but with a bull or cow. Jesus was a shepherd with sheep. Hence, the Gaddhis should follow Christianity.
The museum also housed old photographs of the British rule in Chamba, colonial buildings, and people wearing the chola. These were all memories of the past. Everyone I met over the next few days had the same answer: I was perhaps a little late by a few years. There were no chola makers left working as a craft heritage. All the tailors were copying the old existing garments and producing duplicates. What fashion designers often do is to take the visual image as an inspiration, failing to address the cultural context, not acknowledging the concepts such as zero wastage in making, emotional community association of the garment or relation with the environment and Gods.
By now, I had given up hope of finding a chola maker. My last appointment was with a scientist. I went to meet the man without much expectation.
"We were ashamed to acknowledge our identity as Gaddhi earlier. With the association of sheep herding and our semi-nomadic lifestyle, we were looked down upon by mainstream Indian society. I am one of the first to be educated with a higher degree. I am so happy to know your research intent. I'm glad to find people who are from outside communities with a genuine interest in our culture…. Well, there are two people I can connect you to, a male and a female tailor", said the scientist. I was cautioned that the male tailor lived in a remote village that could be reached after a climb. Moreover, the tailor has the temperament of an artist. I explained the route and scribbled a map.
The village had no name by the road. It certainly was not on the map. After being stuck due to a landslide on the route to the ancient religious town of Bharmour, we finally made our way, which was once an important travel route to various lands. I finally reached my destination along with my driver Lokesh, a trained rescue worker. Encountering another Lokesh was like entering a parallel world.
In search of the dressmaker, we climbed a slope along with two women who wore a digitally printed dress. I finally met the choga maker. "I would talk to you if you promise not to steal my golden earring". This was my man with a sense of humour.
To him, I shall return, to live, to stay to make the choga.
By now, I have realised that understanding the craft of making Indian garments is a lifelong project. Soon I was wearing a choga made for a priest. The clothes were transforming me to another world. The weight and cut of the chola and related garments themselves told me how to move my body and how to feel the richness of the culture and the geography.
In my absence, and with post-Covid anxiety, my father was attended by the doctor whom I had met during tea with Tiger-Baba, before leaving from Kullu in search of my new Guru.
I must leave now, to return one day.
About LOkesh Ghai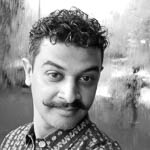 LOkesh Ghai is a textile artist and researcher working with traditional craft practice. He is interested in cultural making of craft and clothing. He has showcased his textile art at V&A Museum of Childhood, London; Harley Gallery, Nottinghamshire, Blackburn Museum, Costume, Manchester and Harris Museum, Preston, England. As a designer and associate curator, he presented 'India Street' exhibition in Scotland; the show was a runner up for the most sustainable design practice award in the Edinburgh International Art festival 2014. LOkesh has been founding faculty at Somaiya Kala Vidya, Kutch, India's premier design institute for traditional craft communities. He has recently joined UPES, Dehradun as a design faculty. He is currently working in Ladakh with blackstrap loom weavers.
Read the first part of this story here: 
In search of the keys: The chola regional over-garment, from the mountains of Himachal Pradesh
LOkesh Ghai shares his journey into the Himalayas, in search of a remarkable pleated fabric.
✿
Like the article? Make it a conversation by leaving a comment below.  If you believe in supporting a platform for culture-makers, consider becoming a subscriber.
Tags