The fourth talk in Reinventing the Wheel takes us to Laos, where Linda McIntosh will introduce the life and work of a master who uses his royal background to uphold craft.
Linda McIntosh will present the phaa phra bot or Buddhist narrative or storytelling banners in the medium of gold thread embroidery or goldwork by the artist Tiao David Nithakhong Somsanith.
A descendant of the Vang Naa or viceroy lineage of the former Lao Lan Xang kingdom, Prince or Tiao Say (TS) Nithakong Somsanith was born in Vientiane, Laos, on August 28, 1958. His father, TS Somsanith was an advisor to the king and prime minister of the royal kingdom of Laos, and his paternal grandfather, TS Khamman Vongkot, was a court historian. Nithakong up surrounded by courtly arts, such as painting, lacquer, embroidery, dancing, and flower and banana leaf arrangements. His grandmother and mother patiently practice this aristocratic art, making traditional triangular pillows, royal sashes and sabai, jackets, collars and dowry pieces. While exiled in France, he completed a master's degree from the Institute of Visual Arts, University of Orleans, and a PhD in Psychology from Sorbonne. After return to Laos, Nithakong devotes his time to art and education programs for the community with the mission to preserve, promote, and transmit the cultural and artistic heritage of Laos.
This conversation opens up the question of royalty in craft. The institution of monarch seems like an anachronistic hierarchy at odds with modern democracy. Yet the royal court has played a major role in the development of crafts. What place does it have in our world today?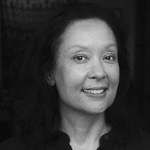 Linda McIntosh is based in Laos. She received her doctorate from Simon Fraser University, Canada, and Masters of Arts degree from the University of Wisconsin-Madison. She is the author of several publications celebrating the textile culture of Southeast Asia, including Art of Southeast Asian Textiles: The Tilleke and Gibbins Collection and Thread and Fire: Textiles and Jewellery from the Isles of Indonesia and Timor, and is also a contributing editor to Textiles Asia. McIntosh recently redesigned the Xieng Khouang Museum in Laos.
This screen conversation will be by Zoom on Wednesday 20 January 2021 at 3pm (Laos time). To attend please register here.
Works by Nithakong can be found at Art Exchange Gallery. 
✿
Like the article? Make it a conversation by leaving a comment below.  If you believe in supporting a platform for culture-makers, consider becoming a subscriber.
Tags