G30 – Taste-makers
"Vision separates us from the world whereas the other senses unite us with it."
Juhani Pallasmaa
With this issue, we begin the Sensorium series about the non-visual senses. A feast of stories helps us appreciate the craft of taste: the objects and practices that transform the satiation of individual appetite into a meaningful shared experience.
For many, the COVID era was lived in a sanitised bubble, often without smell and touch. It's time to "come to our senses" and reconnect with the world at hand.
Meanwhile, we face the challenge of an environmental crisis created by consumer capitalism. A world has been served up that answers to immediate needs, particularly in the visual feed provided by apps like Instagram and Tiktok. There is no time to appreciate what is happening behind the scenes in the landfill, disappearing species and carbonised atmosphere.
A goal of the Sensorium is to reconnect the senses. Many cultures have learnt how to do this through ceremonies, such as the Japanese chanoyu tea ceremony, Catholic mass, Jewish Havdalah and Hindu panchopachara.
Thanks to those who contributed to the Sensorium pathway: Arihia Latham, Bridget Nicholson, Caitlin Eyre, Carolyn Leach-Paholski, Chloe Wolifson, Duncan Meerding, Hūfanga Dr. 'Ōkusitino Māhina, Japneet Keith, Keri-Mei Zagrobelna, Laila Al-Hamad, Lee Tran Lam, Liliana Morais, Paul Schutze and Rangimarie Sophie Jolley. We appreciate the partners specific to this issue, including the Australian Tea Culture Society and Maker & Smith.
Our guest editor, Liliana Morais, contributes voices from Japan and the Lusophone world. You can read here introduction here.
You are invited to the online launch on 9 March (register).
For the table
For the mouth
Recipes
Slow food and drink
Haberdashery
Online exhibition
✿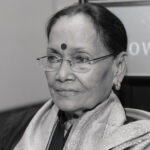 This issue is dedicated to the memory of Ruby Ghuznavi.