The Hydroponic Garden is a place to appreciate the root system of plants, just as the migrant experience exposes cultural roots to be transplanted.
The steward for the hydroponic garden is Bic Tieu. Bic was born in a refugee camp in Indonesia to parents who fled Vietnam. She grew up in Western Sydney and is now teaching object making at University of New South Wales.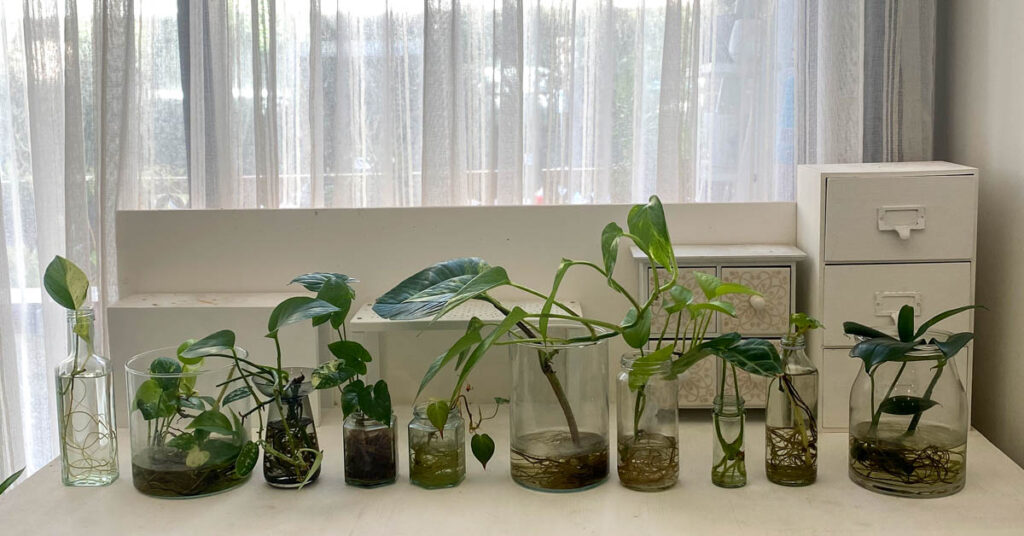 She describes the attraction of hydroponic gardening:
Growing plants in water is a term described as hydroponic gardening. Hydroponic is the practice of growing plants without soil. A south-facing unit teaches you many things about plants. I have learnt which species of plants can thrive in limited conditions such as low light and no soil. Through this process, I discovered succulent plants are wonderful natural designs and propagate easily in inner city urban environments. I grow a species of plant called Philodendrons. I have the common types, with climbing trails of heart-shaped leaves. A fascinating fact about these plants is that they can survive on trees, on the ground and in water without soil. They can take root anywhere! This makes me think of the human condition, abilities, and migration. Often movement in migration takes on a similar toll where one has to adapt to new places and cultures.

I have a selection of philodendrons growing in recycled glass bottles and glass cylinders. I love that I can see their roots and leaves flourish. It is an easy plant to adore and we can understand why its origins from the Greek words; philo meaning "love, affection" and dendron meaning "tree". Looking through my glass bottles and seeing roots take place without soil is a strong metaphor and reminder of my personal experiences of family migration and many shared stories on the Australian soils.
See also the Safe Harbour issue #14.
✿
✿
Like the article? Make it a conversation by leaving a comment below.  If you believe in supporting a platform for culture-makers, consider becoming a subscriber.
Tags